---
Black and White Strangers
Race and American Literary Realism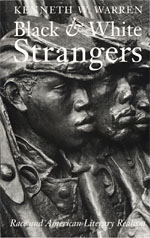 178 pages | 5-1/2 x 8-1/2 | © 1993
In a major contribution to the study of race in American literature, Kenneth W. Warren argues that late-nineteenth-century literary realism was shaped by and in turn helped to shape post-Civil War racial politics. Taking up a variety of novelists, including Henry James and William Dean Howells, he shows that even works not directly concerned with race were instrumental in the return after reconstruction to a racially segregated society.
Contents
Acknowledgments
Introduction
1: Reading Henry James
2: Aesthetics, Race, and "Warrants of Decency"
3: The Persistence of Uncle Tom and the Problem of Critical Distinction
4: Black and White Strangers
Conclusion
Notes
Index
Gustavus Myers Ctr/Study of Human Rights: Gustavus Myers Center Outstanding Book Award
Won

View
Recent Awards
page for more award winning books.
For more information, or to order this book, please visit https://press.uchicago.edu
Google preview here