---
An Algebra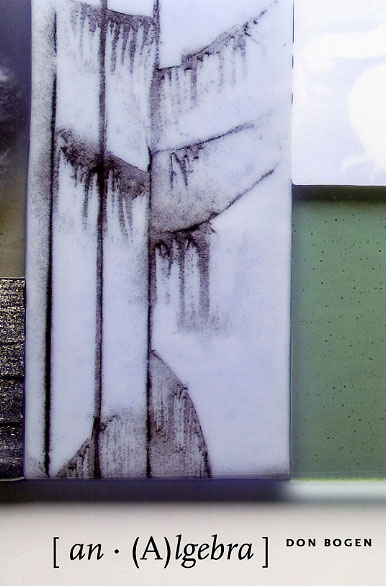 88 pages | 5 1/2 x 8 1/2 | © 2009
from Bagatelles
Bagatelles,
mere gestures
                        in dry air,
each pluck a dot,
strokes marked on silence
reaching into the dark. 
Beauty is strict,
                          it passes: 
an echo, a wedge
of harmony, sudden,
broken—Who goes there?
An Algebra is an interwoven collection of eight sequences and sixteen individual poems, where images and phrases recur in new contexts, connecting and suspending thoughts,   emotions and insights. By turns, the poems leap from the public realm of urban decay and outsourcing to the intimacies of family life, from a street mime to a haunting dream, from elegy to lyric evocation. Wholeness and brokenness intertwine in the book; glimpsed patterns and startling disjunctions drive its explorations.
An Algebra is a work of changing equivalents, a search for balance in a world of transformation and loss. It is a brilliantly constructed, moving book by a poet who has achieved a new level of imaginative expression and skill.
Praise for After the Splendid Display
"In his best work . . . conscience and craft fuse seamlessly, and the result is original and arresting."—The Nation
Table of Contents
Contents
Acknowledgments
I
Run
Proteus
A Cage
Wants
Air
Who
Edge
Have To
Swim
Vaporizer
A Language
Flowers
II
Variations on an Elegiac Theme
Bagatelles
Barcarole
Sky
Read
Stage
Anything That Happens
Slash
Give It Back
A World
An Algebra
Could Not Speak
Review Quotes
D. A. Powell
"Don Bogen is a wise and playful poet who manages the political and the personal with equal aplomb. He takes hold of poetry, the shape-shifting god, and in his hands it twists, morphs, relinquishes. Bogen reinvigorates the art by defining its limits, then pushing bravely past."
C.D. Wright
"A private, clarifying testimony refracted by sensuous moments and clawed reflections of a speaker shedding everything that isn't wanted or needed—everything except the intoxicating pull of the past bound to the deep desire to be 'always becoming.' The subtle operation of these skillfully interset lyrics makes for a consummate reunion of broken parts, an algebra."
James McMichael
"An Algebra registers a series of unrelenting impingements upon a sensibility that may in more guarded moments find ways to deflect them.  What comes through are only the essentials, pared down to the force with which they insist on being taken account of.  The movement from poem to poem is headlong but strangely not rushed.  The lines are short, the diction a model of clarity, and the rhythms impeccable.  It's one of the most compelling books I've read in years."
Library Journal
"At his best, Bogen provides a multilayered lyric adventure for anyone interested in the directions of contemporary poetry."
Alice Fulton | Poetry Foundation
"As I reread
Don Bogen
's
An Algebra
, I'm struck by the subtle use of abstraction and adroit sense of the line. 'Algebra . . . uses mathematical statements to describe relationships between things that vary over time,' and this protean process is a trope throughout. Bogen's fragmentary lines suggest restless dichotomies, but things don't remain autonomous for long. The poems also consider liminal spaces where life and mechanism blur—the virus, the robot. When they speak to memory or our attempts to freeze the frame, the lines, like rulers, hold their edges rather than enjamb. Bogen's syntax is sometimes disjunctive, sometimes painterly, rich with 'flesh music.' I keep discovering new valences in this cerebral, beautifully realized book of 'shifting equivalents.'"
For more information, or to order this book, please visit https://press.uchicago.edu
Google preview here