---
America's Inequality Trap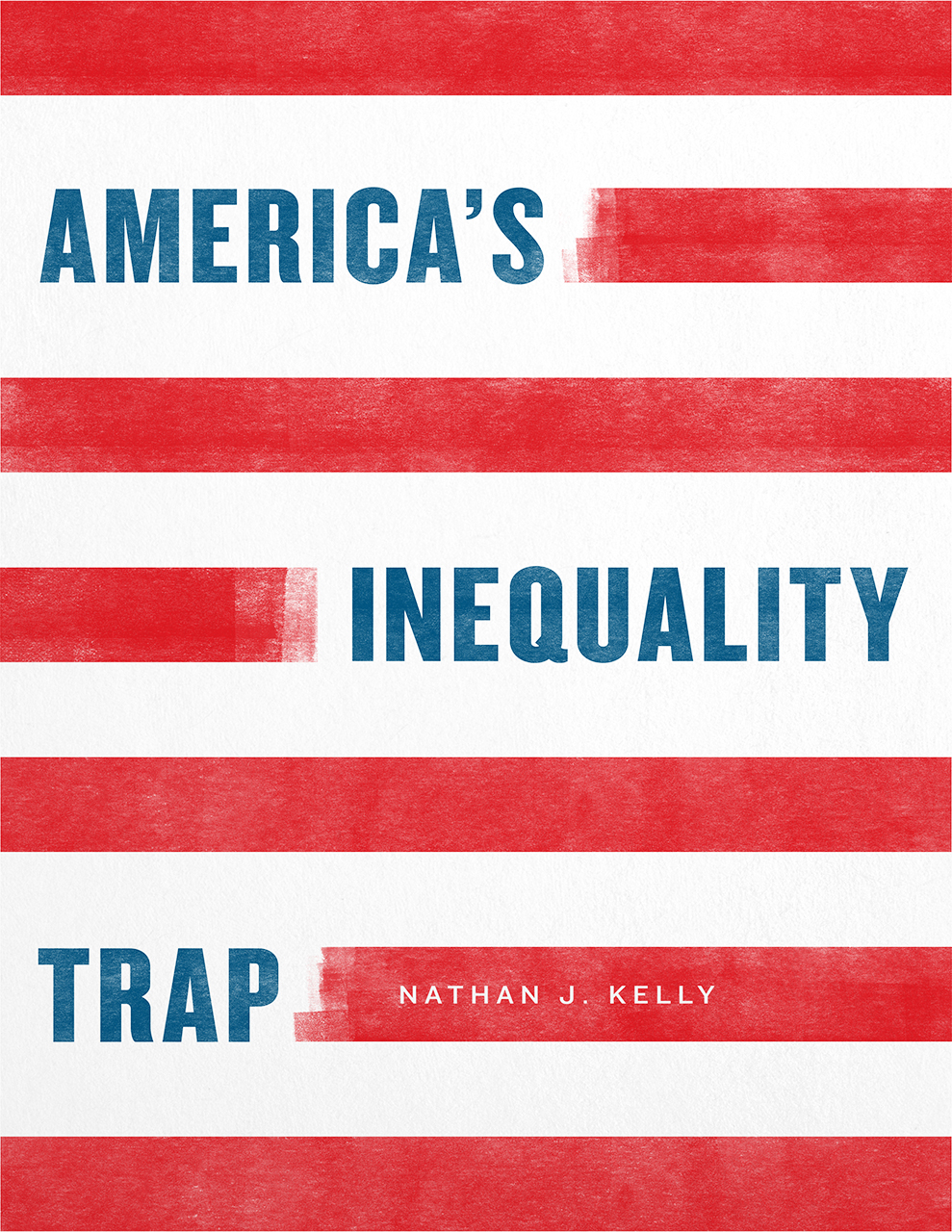 232 pages | 34 line drawings, 11 tables | 6 x 9 | © 2020
The gap between the rich and the poor has grown dramatically in the United States and is now at its widest since at least the early 1900s. While by most measures the economy has been improving, soaring cost of living and stagnant wages have done little to assuage economic anxieties. Conditions like these seem designed to produce a generation-defining intervention to balance the economic scales and enhance opportunities for those at the middle and bottom of the country's economic ladder—but we have seen nothing of the sort.

Nathan J. Kelly argues that a key reason for this is that rising concentrations of wealth create a politics that makes reducing economic inequality more difficult. Kelly convincingly shows that, when a small fraction of the people control most of the economic resources, they also hold a disproportionate amount of political power, hurtling us toward a self-perpetuating plutocracy, or an "inequality trap." Among other things, the rich support a broad political campaign that convinces voters that policies to reduce inequality are unwise and not in the average voter's interest, regardless of the real economic impact. They also take advantage of interest groups they generously support to influence Congress and the president, as well as state governments, in ways that stop or slow down reform. One of the key implications of this book is that social policies designed to combat inequality should work hand-in-hand with political reforms that enhance democratic governance and efforts to fight racism, and a coordinated effort on all of these fronts will be needed to reverse the decades-long trend.
 
Table of Contents
Contents
One / Contemporary Politics and the Perpetuation of Inequality
Two / An Inescapable Plutocracy?
Three / Public Preferences and Economic Inequality
Four / Elections and the Inequality Trap
Five / Partisan Convergence and Financial Deregulation
Six / Polarization and Policy Stagnation
Seven / Can We Escape the Trap?
Acknowledgments
Notes
References
Index
Review Quotes
Martin Gilens, coauthor of Democracy in America? What Has Gone Wrong and What We Can Do about It
"This is an important book that makes a significant contribution both in the original research it contains and by incorporating existing studies into a broader narrative about inequality and American politics. It is very well written, combining a 'friendly' and casual tone with complex discussions of both theory and empirical analyses. It draws from and speaks to a wide range of previous research and offers sophisticated original analyses to push the discussion forward."
Andrea Campbell, author of Trapped in America's Safety Net
"In America's Inequality Trap, Kelly argues that rising economic inequality in recent decades has changed politics in ways that makes 'reducing inequality more difficult.' The United States suffers from a spiral in which economic inequality induces political changes that subsequently make economic inequality even worse. Each chapter explores a different pathway by which economic inequality leads to these political changes, through public opinion, elections, policy stagnation, and 'inegalitarian policy convergence' between the two political parties. A fascinating read for all alarmed by the country's path."
For more information, or to order this book, please visit https://press.uchicago.edu
Google preview here