---
Anahulu: The Anthropology of History in the Kingdom of Hawaii, Volume 1
Historical Ethnography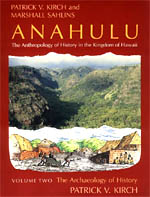 251 pages | 42 figures, 22 tables | 8-1/2 x 11 | © 1992
From the late 1700s, Hawaiian society began to change rapidly as it responded to the growing world system of capital whose trade routes and markets crisscrossed the islands. Reflecting many years of collaboration between Marshall Sahlins, a prominent social anthropologist, and Patrick V. Kirch, a leading archaeologist of Oceania, Anahulu seeks out the traces of this transformation in a typical local center of the kingdom founded by Kamehameha: the Anahulu river valley of northwestern Oahu.

Volume I shows the surprising effects of the encounter with the imperial forces of commerce and Christianity—the distinctive ways the Hawaiian people culturally organized the experience, from the structure of the kingdom to the daily life of ordinary people. Volume II examines the material record of changes in local social organization, economy and production, population, and domestic settlement arrangements.


Contents
List of Illustrations
Acknowledgments
Introduction: Historiography
Part I: Conquests, to 1812
1. Landscapes of Tradition
2. The Conquest Period, 1778-1812
Part II: The Sandalwood Era, 1812-1830
3. The Political Economy of Grandeur
4. Sandalwooding in the Countryside: Waialua
Part III: The Whaling Period, 1830-1860
5. Leviathan: Whaling and the State
6. Land and People in the Whaling Time
7. Aloha Gidiona: Waialua in the Whaling Time
Part IV: Kawailoa Society in the Mid-Nineteenth Century
8. Landscapes of History
9. Maka'ainana
Appendix A: Land Claims
Appendix B: Estates
Bibliography
Index

School of American Research: J. I. Staley Prize
Won

View
Recent Awards
page for more award winning books.
For more information, or to order this book, please visit https://press.uchicago.edu
Google preview here