---
Abortion, Choice, and Contemporary Fiction
The Armageddon of the Maternal Instinct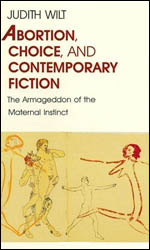 198 pages | 5.50 x 8.50 | © 1990
In recent years, public debate has raged over the issue of maternal choice. While personal testimony and political argument have received widespread attention, artistic representations of birth and abortion have been submerged. Judith Wilt offers the first look at how contemporary writers tell and retell the stories that shape our perceptions about abortion. She reveals that the struggle to plot these painful, complex narratives of choice, control, guilt, loss, and liberation has preoccupied an astonishing number of our most distinguished novelists, male and female alike. Readers of twentieth-century novels are more likely to encounter plots centered on maternal choice than those dealing with the more traditional problems of courtship and marriage.

In the opening of the book, Wilt discusses real case histories of several women. After studying the ambiguities of their decisions, she turns to their counterpoints depicted in contemporary fiction. Working from a feminist perspective, Wilt traces the theme of maternal choice in works by Margaret Atwood, Margaret Drabble, Joan Didion, Mary Gordon, Alice Walker, Toni Morrison, Gloria Naylor, Marge Piercy, Thomas Keneally, Graham Swift, Ernest Hemingway, William Faulkner, John Barth, John Irving, and others.

Behind the political, medical, and moral debates on abortion, Wilt argues, is a profound psychocultural shock at the recognition that maternity is passing from the domain of instinct to that of conscious choice. Although never wholly instinctual, maternity's potential capture by consciousness raises complex questions. The novels Wilt discusses portray worlds in which principles are endangered by sexual inequality, male power and hidden male fear of abandonment, impotence, female submission, and covert rage, and, in the case of black maternity, the hideous aftermath of slavery.

Wilt provides a resonant new context for debates—whether political or personal—on the issue of abortion and maternal choice. Ultimately she enables us to rethink how we shape our own identities and lives.

Table of Contents
Contents
Preface
Introduction: The Wreck, and the Story of the Wreck
1. Paradigms for the Plot of Maternal Choice: Novels by John Barth and Margaret Drabble
2. "We Are Not Dying": Abortion and Recovery in Four Novels by Women
3. Abortion and the Fears of the Fathers: Five Male Writers
4. Black Maternity: "A Need for Someone to Want the Black Baby to Live"
Notes
Index

For more information, or to order this book, please visit https://press.uchicago.edu
Google preview here