---
Aged by Culture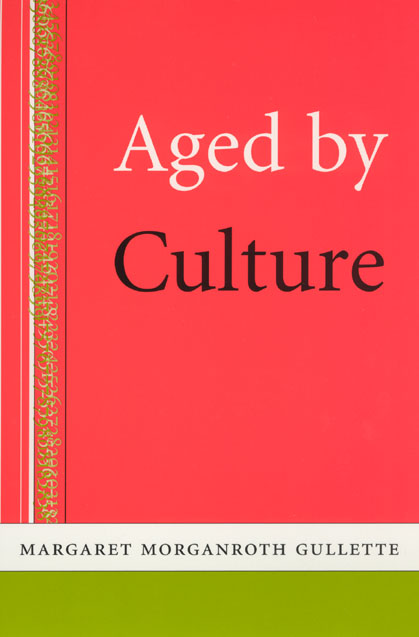 280 pages | 1 halftone | 6 x 9 | © 2004
Americans enjoy longer lives and better health, yet we are becoming increasingly obsessed with trying to stay young. What drives the fear of turning 30, the boom in anti-aging products, the wars between generations? What men and women of all ages have in common is that we are being insidiously aged by the culture in which we live.

In this illuminating book, Margaret Morganroth Gullette reveals that aging doesn't start in our chromosomes, but in midlife downsizing, the erosion of workplace seniority, threats to Social Security, or media portrayals of "aging Xers" and "greedy" Baby Boomers. To combat the forces aging us prematurely, Gullette invites us to change our attitudes, our life storytelling, and our society. Part intimate autobiography, part startling cultural expose, this book does for age what gender and race studies have done for their categories. Aged by Culture is an impassioned manifesto against the pernicious ideologies that steal hope from every stage of our lives.
Contents
Acknowledgments
Part One: Cultural Urgencies
1. Trapped in the New Time Machines
2. True Secrets of Being Aged by Culture
3. "The Xers" versus "the Boomers": A Contrived War
4. Perilous Parenting: The Deaths of Children and the Fear of Aging-into-the-Midlife
5. The High Costs of Middle-Ageism
Part Two: Theorizing Age Resistantly
6. What Is Age Studies?
7. Age Identity Revisited
8. From Life Storytelling to Age Autobiography
9. Acting Age on Stage: Age-Appropriate Casting, the Default Body, and Valuing the Property of Having an Age
10. Age Studies as Cultural Studies: Beyond Slice-of-Life
Bibliography
Notes
Index
Gustavus Myers Ctr/Study of Human Rights: Gustavus Myers Center Outstanding Book Award
Honorable Mention

View
Recent Awards
page for more award winning books.
For more information, or to order this book, please visit https://press.uchicago.edu
Google preview here