"Herring's argument, like most books written by professors in defense of things thought to be deplored by upstanding people, can be accused of slumming. . . . Still, he has a point. It is hard to understand why, all of a sudden, in the nineteen-nineties, we started seeing houses that were inundated with rat droppings and old newspapers. Maybe he's wrong. Maybe the war between hoarding and anti-hoarding isn't a struggle between individualists and conformists. But, if not, then what is it?"–New Yorker
Buy this book

: Hoarders
An Excerpt from
The Hoarders
Material Deviance in Modern American Culture
Pathological Collectibles
Sometime during the spring of 1988 — maybe the second week of April?— cookie jars became potentially hazardous objects. Sotheby's auction house in New York City had earlier announced a ten–day estate sale for Andy Warhol's effects that was to run from April 23 to May 3, and a number of obser vers were alarmed. Warhol had died from complications of gall bladder surgery more than a year before, and he left behind an Upper East Side townhouse filled with possessions that would soon net over twenty–five million dollars for what would become the Andy Warhol Foundation for the Visual Arts. Among the myriad items up for bids were Picasso sketches, pieces of Art Deco furniture, Tiffany silverware, and scores of abstract expressionist paintings. The auction also featured lots of more than seven thousand collectibles that included a Miss Piggy and Kermit the Frog beach towel, a Superman Touch–Tone telephone, and hundreds of cookie jars in different shapes and sizes. These last items drew no small amount of scrutiny laced with no small amount of disdain. Several commentators, it turned out, were distressed by these collectibles in what snowballed into a minor object panic.
Newspapers and magazines alike expressed consternation. One New York Times reporter dismissed the auction as "an obsessive shopping spree that lasted several decades," and she homed in on "the cookie jars — everything from a happy Humpty Dumpty to a plump panda" as "the most perplexing purchases" that she encountered while cataloging Warhol's "offbeat Americana." An observer for Newsweek derided the event as "the biggest garage sale ever" and expressed shock at "Warhol's vast jumble of objects d'art," particularly "the lower–priced collectibles." Jewelry, she proclaimed with dismay, "was found in cookie tins; a Picasso was stuck in a closet. Another closet was stuffed to the top with stunning Navajo blankets," and it all added up to telltale signs of "Warhol's collecting mania." Reviewing the sale after its completion, Time likewise found that "the extent of his hoard had largely been a secret. As compulsive consumers go, he was inconspicuous… . Time and again, Andy's kitsch —'collectibles' was Sotheby's more tactful label — fetched upscale prices."
Commentators agreed in other media outlets. House and Garden had earlier reproduced color photographs of the townhouse's spruced–up interiors taken by Robert Mapplethorpe, which the magazine accompanied with an essay disparaging "every new mad thing" and Warhol's "essentially nondiscriminatory" possessions. Art and Auction was equally aghast: "Andy Warhol's collection … is more the result of his compulsive shopping and hoarding than of any calculated, orderly plan of acquisition." Appalled that Warhol "had masterpieces alongside what would seem to be junk of the most worthless sort," New York inquired less than judiciously: "Is it just a bunch of stuff, or is it invested with a higher meaning? Warhol has been called a hoarder, which suggests he was in the grip of some eccentric or neurotic compulsion to acquire objects" (figure 2.1).
With their references to manic collecting, neurotic objects, and compulsive consumption, these notices approached Warhol's estate as a material perversion (his sexual proclivities for men were never really up for grabs). His acquisitions were a deviation of proper collecting; his refusal to distinguish between containers and luxury goods a sign of mental disorder; his home a secretive cache of material degeneration. As such, his collectibles were often characterized as representing a questionable act of irrational hoarding, another version of the perverse curiosa that we saw in newspaper reports of the Collyers. One article went so far as to diagnose an epidemic of " Warhol fever," the fear that auctioneers and spectators attending the sale might catch the artist's illness in their rush to acquire a bit of Warhol. Collectible cookie jars had become contagious objects of deviance as Andy's stuff became a sensational topic du jour.
Despite this seasonal interest in his possessions, Warhol proves to be one among the many. I begin with this snippet and return to it as one of this chapter's central case studies because it encapsulates anxieties that underpin discussions of his hoarding in the late 1980s as well as those found in numerous accounts of this psychopathology to this day. Given that both treat excessive accumulation as a synonym for pathological collecting, it seems as if the ever–cascading avalanche of clinical hoarding stories uncannily accords with these media reports. Less than two years after Sotheby's auction, for instance, Jerusalem–based psychiatrist David Greenberg and two of his colleagues published an over view of hoarding in the official journal of the American Society of Clinical Psychopharmacology, titled "Hoarding as a Psychiatric Symptom." The essay began with an extended survey of "normal collecting," a wholesome activity that "involved the collectors in a social world of dealers, artists, historians, art lovers, and other collectors." They then juxtaposed this act to the hoarder's "pathologic behavior," whereby "neurotic patients are unable to part with a variety of useless and valueless objects." In a common formula, later practitioners followed the essay's lead to reiterate that "collecting is a normal phenomenon, in contrast with pathological collecting, or hoarding." Or as DSM–5 states, "Hoarding disorder contrasts with normative collecting behavior." Hence just as we saw in chapter 1 that HD was typed as chronic disorganization, this diagnosis appears under the rubric of pathological or, alternatively, abnormal collecting.
Never mind that normal collecting has been something of a bugaboo. As they define hoarding behavior as pathological collecting, accounts such as Greenberg's anticipate later medical reports that also invoke tropes of "aberrant collecting behavior" and "abnormal acquisition." Much like the exposés of Warhol's perplexing possessions, these experts stress "the mixing of important with unimportant possessions" as they affirm that hoarded "objects cannot be differentiated or categorized according to their value since all seem at the moment to be 'very important' possessions." Given these descriptive similarities, is there little wonder that Warhol reappears as a prototypical hoarder in several recent accounts? Noting that "some collectors show extreme behaviors that straddle the border between eccentricity and pathology," two HD specialists spotlight the "unusual aspects of Warhol's collecting"— namely, that he "preserved nearly every bit of ephemera that came into his possession."
According to this clinical logic, everything is an aberrant collectible for off–kilter collectors like Warhol. Ergo another example of the hoarder's mental illness: extreme accumulators cannot differentiate between valuables and the valueless as they stash away "characteristic piles of unrelated objects ranging from worthless (e.g., trash) to extremely valuable (e.g., cash)." Yet as each of these select quotes inadvertently suggests, it is not solely the collector who goes deviant. It is as much collected things: that important piece of trash, that worthless hundred–dollar bill, that priceless Muppets towel, that necklace in the cookie tin. Such being the case, we cannot comprehend representations of pathological collectors like Warhol without also considering the starring role that collectibles and their deviations play in the historical development of this material disorder.
Shifting the tenor of hoarding as pathological collecting to hoarding as a nonnormative engagement with collectibles, this chapter argues that individuals typed as hoarders disturb not only the idea of the collection or the activity of normal collecting but also the concept of the normative collectible — a subtle distinction that deepens our appreciation of how one is made, not born, a pack rat. This tweak in nomenclature, we will find, further reflects how hoarders on the American front upset the modern material relations that I began to trace with the previous chapter's emphasis on socially disorganized curiosa.
To support these claims, I first lay out an abbreviated history of collectibles culture (a leisure activity introduced and popularized across post –World War II America) that illuminates how this concept slotted mass–produced goods into select categories of important value. Here I detail the mass publication of inexpensive reference guides such as Kovels' Antiques and Collectibles Price Guide that facilitated the practice of collecting normal stuff for ordinary Americans, and I trace how fears of hoarding agitated this system of classification as they informed clinical and popular takes on pathological collecting. I next return us to Warhol's belongings to substantiate this particular genealogy by looking at Sotheby's auction of his voluminous collectibles and then his Time Capsules, a collection of more than six hundred containers filled with over 400,000 personal effects, now housed at the Andy Warhol Museum in Pittsburgh, Pennsylvania.
Frederick Charles, Warhol's Hoard in Sotheby's Warehouse, 1988. Published in John Taylor, "Andy's Empire," New York 21, no. 8 (1988): 39. Courtesy of FCharles Photography. © Frederick Charles, fcharles.com.
My discussion of Warhol's objects does a disservice to this brilliant artist, but I am interested in tracing discourses of Warhol–as–hoarder precisely as a reductive distortion. Others before me have written eloquently on Warhol's field–shifting achievements in pop art, experimental film, and gay aesthetics (to name but three arenas of his innovation). While I make passing reference to several of the artist's exhibitions, I am more invested in how Warhol has been misrepresented as a freakish collector by both specialist and nonspecialist discourses since his death, how he has been mischaracterized as a typical hoarder, and what this reveals about the dynamic status of the extreme accumulator in American material cultures. Likewise, while I recognize that Warhol's possessions are in some respects exceptional given the artist's extraordinary wealth and fame, we have nevertheless seen that he currently stands in for an emblematic hoarder, and I believe that he left us with the most exhaustive record to date of the ongoing tension between deviant and normative collectibles. Less about Warhol than about a misguided reception of his things, this chapter handles his goods with critical care in order to showcase how collectibles such as cookie jars continue to play a vital yet woeful role in defining what may or may not count for material life.
Normal Goods
Before I detail how hoarding appeared as the abnormal inverse of collectibles, I establish a brief cultural biography of collectible objects. When the Newsweek commentator snickered at Sotheby's auction as "the biggest garage sale ever" and dismissed Warhol's inexpensive collectibles, she unknowingly situated his stuff within a recent social environment for material cultures: the garage sale and its companion piece, the yard sale, which first appeared across the United States in the mid– to late 1960s. While rummage sales existed before the rise of this relatively new marketplace, it was "only over the course of the 1970s [that] the garage sale captured the popular imagination and developed into a mainstream American institution, [and] by the end of the decade, the legitimation and institutionalization of garage sales was firmly established."
I likewise extrapolate from the Newsweek quote that whereas practices of collecting have been around for centuries, cultures of inexpensive collectibles have not. According to the Oxford English Dictionary, the first citation of collectibles as "things worth collecting, esp. rare, old, or interesting objects (not necessarily valuable or antique)," originated in the United States in 1955. While this definition should not discount the plethora of collectible things available prior to this date —collectable (its alternative spelling) as an adjective appears in the later nineteenth century with references to "souvenirs, objets d'art, bric–à–brac"— collectibles as a mass–produced phenomenon spiked in post –World War II material cultures.
How did this come to pass, and how does this relate to hoarding? As the OED notes, these midcentury items called collectibles initially distinguished themselves from objects that a few decades earlier had been called antiques. A generation prior, the 1930 Hawley–Smoot Tariff Act formerly classified antiques as any valuable good over one hundred years old. These goods included but were not limited to "works of art (except rugs and carpets made after the year 1700), collections in illustration of the progress of the arts, works in bronze, marble, terra cotta, parian [a type of Grecian marble], pottery, or porcelain, artistic antiquities, and objects of art of ornamental character or educational value which shall have been produced prior to the year 1830."
Collectibles were often contrasted against this official categorization of the antique. According to Warman's Americana and Collectibles, a popular price guide launched in 1983, four traits defined a collectible: "The item must have been (1) massed produced and (2) made in the twentieth century. The majority of the items in each category (3) must sell between a few pennies and a hundred dollars and (4) they must have been made in America or collected heavily in America." While the author later notes that "these divisions are artificial and deserve to be broken down," and while many mass–produced collectibles were certainly not forged on American soil, I underscore that the moderately low–cost collectible was differentiated from yet would eventually appear synonymous with the valuable antique. To this day the material kinship between the two announces itself in the ubiquitous yet elastic phrase antiques and collectibles.
This is not, however, to overlook that a postwar collectibles culture was made possible by a pre –World War II antiques culture, a wallet–emptying pastime that flourished in the early twentieth century and likewise emphasized the acquisition of Americana. Historian Michael Kammen finds that "the emergence of this passionate preference for Americana occurred swiftly and with remarkably little hesitation between about 1913 and 1923," and just as collectibles culture would be heavily if not exclusively invested in American goods, so too were early antiquing efforts often centered on the collected items from geographic regions such as New England. Journals such as the Americana Collector (1925 – 26) and the American Collector (1926 – 28) often promoted this Americana collecting, or "'antiqueering'" as some informally called it. Aimed at white upper and middle classes, these publications featured advice columns on how to assess and acquire antique items such as rare coins, glassware, hymnals, broadsides, and Revolutionary War propaganda. Coterminous with other collecting enthusiasms, such antiquing invested in "the mythologized New England roots of the newly dubbed primitive imagery," even though the activity expanded beyond this region to encompass non–American objects.
Collectibles culture was the popularization of this elite form of collecting, or what Kammen aptly calls "the democratization of collecting since the 1950s and 1960s."30 Enabled by the acceleration of postwar consumption, further interest in acquiring collectibles skyrocketed in the decades after World War II. The result was a new leisure activity centered on collecting items that were not necessarily bona fide antiques but were nonetheless desirable objects. One 1973 instruction manual, How to Hold a Garage Sale, diagnosed this material spin–off. Penned by American mystery writer James Michael Ullman, the manual notes that "prices of many items traditionally sought by antique buffs have been bid up so high that only the most affluent can now afford them," and it fi nds that collectibles culture consists primarily of middle–class and lower–middle–class consumers such as "people with collecting instincts but more modest budgets [who] seek new and less expensive things to collect." Acknowledging a "big demand" for "what dealers call 'collectible,'" Ullman then advised that, "generally speaking, the items most in demand by collectors are those no longer being produced which have a touch of 'Americana' about them." A good chunk of post–1945 collectibles culture was, we infer, affordable Americana for the masses, a means of antiquing that bypassed the traditional antique.
That the now–obscure author of this manual sensed a need and a mass market for a cheap how–to guide testifies to the prominence of collectibles culture by the 1970s, and a steady stream of price guidebooks and advice columns propelled this enthusiasm along. One year before the OED flagged the ubiquity of the term collectibles in America, a newspaper column appeared in the Cleveland Press that proved beneficial to these assessments. Collaboratively written by husband– and–wife team Ralph and Terry Kovel, this question–and–answer column grew to reach audiences in numerous media outlets by the end of the twentieth century, and the Kovels' affiliation with the quickening of post–1945 US collectibles culture is not coincidental (figure 2.2). "Their interest in 'old things,'" Terry Kovel once acknowledged, "seemed to coincide with our country's general postwar awakening." Like earlier journals such as the Americana Collector but with a wider readership, the Kovels' half–century of published work facilitated the institutionalization of collectible goods across the United States — the "normal collecting" later cited by scientists in their efforts to further refine hoarding as a mental disease.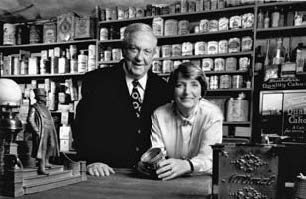 Ralph Kovel and Terry Kovel in their Ohio home, ca. 1986. Courtesy of Kovel Antiques, Inc.
Though crowned "the country's best known authorities on antiques and collectibles" by the late 1980s, the Kovels did not, of course, inaugurate the public's growing hunger for baseball cards, elongated pennies, nutcrackers, and all things Elvis. These pursuits were also stoked by corporations such as the Franklin Mint — begun in 1964 and "a pioneer of the collectibles industry, starting with coins, which the company minted itself, and branching out to include such items as limited edition paintings and books, commemorative plates, fi gurines, celebrity likeness dolls, jewelry, seasonal giftware, and die–cast model airplanes and automobiles." Newsletters, magazines such as Hobbies, competing guides such as Warman's, antique dealers and buyers, and more specialized manuals such as Petretti's Coca–Cola Collectibles Price Guide likewise played significant roles. Yet the Kovels stood out in this crowded field, and a quick synopsis of their achievements reveals how these two not only familiarized a new domain of material goods for many Americans but also normalized collectibles culture for these postwar consumers.
Self–taught specialists ("we consider ourselves experts on items that were made in the United States from 1750 to yesterday"), the Kovels may not have invented collectibles culture, but they did popularize it.36 For almost fi ve decades, the pair saturated the nation with their prodigious knowledge via radio, print, television, and the Internet. Two years before their syndicated column appeared, they published Dictionary of Marks: Pottery and Porcelain, 1650 – 1850. This book–length foray into antiques appraisal was followed in 1961 by A Directory of American Silver, Pewter, and Silver Plate and in 1965 by American Country Furniture, 1780 – 1875. Expanding beyond traditionally defined antiques in 1967, they released Know Your Antiques: How to Recognize and Evaluate Any Antique — Large or Small — like an Expert, a reference guide that included a later chapter called "Other Collectible Items." The year 1967 also saw the publication of their popular The Complete Antiques Price List, a price guide that has seen over forty revised editions and has sold over four million copies as of this writing.
It is difficult to underestimate the cultural contributions of this price guide. Then and now, it served as a gateway into the material and social worlds of mass–produced collecting. As mentioned above, the guide began as a singular Antiques Price List, a 436–page inventory of antiques and collectibles prepared using a computer program. The Price List's extensive catalog included no pictures for identification purposes, but it did feature an alphabetized roster of over thirty thousand items that suggested a price and offered a brief description of the object–at–hand. To cite one entry among the hundreds: carnival glass appears as "an inexpensive, pressed, iridescent glass made about 1900 to 1920 (Carnival glass is currently being reproduced). Over 200 different patterns are known." The guide then categorized this collectible by color, pattern, and intended use, just as it listed items such as glass hens, butterflies, ashtrays, piggy banks, and butter dishes. Overall, the Kovels recorded five hundred different variations of carnival glass, with prices ranging from $1 to $225.
By the first decade of the twenty–first century, this Price List ballooned into something that could have been called Know Your Collectibles. A behemoth of a book at almost eight hundred pages with more than forty–four thousand listed items, Kovels' Antiques and Collectibles Price Guide features color images on every page, and it pays equal attention to Ohio Valley cupboards and Little Orphan Annie metal lunchboxes. An online version has been available since 1996 to keep pace with the selling of antiques and collectibles on the website eBay, and the Kovels' website currently catalogs more than 750,000 goods. " The site," one journalist remarked, "tells visitors what is worth saving and what is just junk, answers questions and generally is a fount of information on history and collectibles." In summary, the Kovels' various guides function as one of the nation's more respected resources for a once burgeoning and now booming interest in acquiring collectible things.
How does this concise history of collectibles relate to the widening divide between normal collecting and pathological hoarders? As their best–selling guides recorded the cost of a Mrs. Claus cookie jar, the Kovels accomplished something else: they standardized the collectibles culture that their books evaluated over the decades, and this observation brings us a step closer to understanding how hoarded items began to appear as an off beat form of collectibles. "A lot of what we do is like biology," Terry contended in a 1980 interview with Smithsonian magazine, "devising categories and subcategories for things that have never been categorized before." Her comment suggests that she and her husband imagined themselves as biologists of postwar material culture, and her self–promotion as a Carl Linnaeus of tchotchkes is not that far off the mark. It would not push the historical envelope to say that Kovels' did more than introduce generations of Americans to the possibility of collecting mass–produced goods. These guides also taxonomized material cultures into potentially valuable collectibles by advocating Americana for the masses. As self–ordained specialists in object categorization, Ralph and Terry helped to regulate the monetary value of numerous collectible items ($1 for a carnival glass cup) and contributed to the ongoing social construction of postwar goods as things worth collecting — a construction that was already well under way with the popularity of auction houses, magazines and newsletters devoted to collecting, and flea markets across the nation.
Systematizing mass–produced items into this collectibles culture, the Kovels and their media dynasty thus further instituted the social limits of proper collecting as well as confirmed the definitional confines of a proper collectible. In so doing the two advanced the consumption of collectibles for the better half of the twentieth century, as their price guides determined how such goods were to be valued ("what is worth saving and what is just junk"). Establishing the economic relations of this material world by confirming an estimated market value, they simultaneously regularized the sociability of mass collecting with tips on appreciating your items, preserving your items, showcasing your items, and making scads of money off your items. Hence the two taught consumers how to approach some objects as collectible items and how to envision others as noncollectible. While glimpses into the arbitrariness of this task do pop up — a closing moment of Know Your Antiques informs readers in capital letters that "there is a collector for almost anything"— the Kovels nevertheless legitimized, familiarized, and documented a new leisure practice that centered on a new form of material culture. We might go so far as to say that their price guides functioned as object conduct books, since the two "helped create the modern mania for family heirlooms and flea–market finds."
The Kovels and their taxonomies, I mean to say by this last claim, made collectibles a normative part of American material lives, given their attention to "things that have never been categorized before." That said, I do not want the relationship between the couple and collectibles to appear too overdetermined. They were not alone in their achievements, and their price guides were often as much a response to the interests of elite and everyday collectors as they were an incitement. They did nevertheless promote collectibles acquisition as an ordinary cultural practice that was relatively easy on the pocketbook. Matched by competing guides and rival corporations, the two turned collectibles culture into a conventional activity for thousands, and they advanced the historical emergence of an identity category that would become the hoarder's inverse — the normal collector implied in works such as How to Hold a Garage Sale and cited in scientific documents mentioned in this chapter's introduction. "Our book was written for the average person, not a museum curator," stressed Terry Kovel in 2003, adding that "it was written for people like us who didn't know anything about pottery. You have to remember that 50 years ago collecting was a specialized interest. It was very genteel, now it's very popular. It used to be for the elite, now it's for the common man. Our first price book helped level the playing field."
As we proceed into a discussion of how hoarding perturbed this recent system of objects, we can pocket a few observations from this history of collectibles. First: as much as one couple cataloged postwar material cultures, they also propelled individuals into social roles of average collectorship. Second: the two normalized their readership into the mass cultures of ordinary object relations as the hunt for Snoopy wristwatches became a conventional hobby for many. Third, and most consequential for tracking the social deviance of hoarding: since the early 1950s "America's king and queen of collecting" helped to establish a leisure activity explicitly evoked by psychiatrists such as David Green–berg and implicitly cited by media accounts of Warhol's mad things. This last claim signals the reentry of pathological collecting into my analysis, and the pall that hoarders cast over this now–ubiquitous world of collectible goods.
Copyright notice: Excerpted from The Hoarders: Material Deviance in Modern American Culture by Scott Herring, published by the University of Chicago Press. ©2015 by University of Chicago Press. All rights reserved. This text may be used and shared in accordance with the fair-use provisions of U.S. copyright law, and it may be archived and redistributed in electronic form, provided that this entire notice, including copyright information, is carried and provided that the University of Chicago Press is notified and no fee is charged for access. Archiving, redistribution, or republication of this text on other terms, in any medium, requires the consent of the University of Chicago Press. (Footnotes and other references included in the book may have been removed from this online version of the text.)
© 2014, 208 pages , 24 halftones, 1 line drawing
Paper $29.00

ISBN: 9780226171715
Cloth $99.00

ISBN: 9780226171685
E-book $10.00 to $28.99

ISBN: 9780226171852
Be the first to know
Get the latest updates on new releases, special offers, and media highlights when you subscribe to our email lists!