---
What Color Is the Sacred?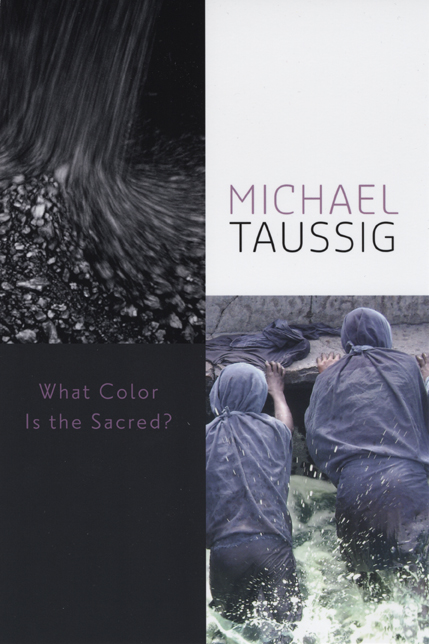 304 pages | 17 halftones | 6 x 9 | © 2009
Over the past thirty years, visionary anthropologist Michael Taussig has crafted a highly distinctive body of work. Playful, enthralling, and whip-smart, his writing makes ingenious connections between ideas, thinkers, and things. An extended meditation on the mysteries of color and the fascination they provoke, What Color Is the Sacred? is the next step on Taussig's remarkable intellectual path.

Following his interest in magic and surrealism, his earlier work on mimesis, and his recent discussion of heat, gold, and cocaine in My Cocaine Museum,this book uses color to explore further dimensions of what Taussig calls "the bodily unconscious" in an age of global warming. Drawing on classic ethnography as well as the work of Benjamin, Burroughs, and Proust, he takes up the notion that color invites the viewer into images and into the world. Yet, as Taussig makes clear, color has a history—a manifestly colonial history rooted in the West's discomfort with color, especially bright color, and its associations with the so-called primitive. He begins by noting Goethe's belief that Europeans are physically averse to vivid color while the uncivilized revel in it, which prompts Taussig to reconsider colonialism as a tension between chromophobes and chromophiliacs. And he ends with the strange story of coal, which, he argues, displaced colonial color by giving birth to synthetic colors, organic chemistry, and IG Farben, the giant chemical corporation behind the Third Reich.

Nietzsche once wrote, "So far, all that has given colour to existence still lacks a history." With What Color Is the Sacred? Taussig has taken up that challenge with all the radiant intelligence and inspiration we've come to expect from him.
University of Warwick: The Warwick Prize for Writing
Finalist

View
Recent Awards
page for more award winning books.
Choice
"In the course of reflecting on shamanism and the Native cultures of the Americas, and the relationship of symbolism, drugs, and color, and introducing such interesting concepts as 'preemptively apocalyptic knowledge' and the bodily unconsciousness, the author offers no less than an ethnology of color. . . . It is also beautifully poetic, thoroughly rational, and an excellent read."--Choice
American Anthropologist
"Michael Taussig has done it again. As with his previous books, Taussig has produced a unique account that takes readers on a journey—this time into the 'color of history'—that is electrifying, surprising, at times disconcerting and unsettling, but ultimately inspiring."
Contents
List of Illustrations
Part One          Into the Image
1. The Face of World History
2. Licensed Transgression
3. Where Stones Walk like Men
4. Color as Crime
5. Color Walks
6. The Diver
7. Could a Cat Be a Whale? 000
8. In the Time of Lapis Lazuli
9. Polymorphous Magical Substance
10. Plasma
11. A Beautiful Blue Substance Flows into Me
12. The Red Butterfly
Part Two          Color in the Colony
13. Administration by Bluff
14. Walking through Fire
15. Sailing through Color
16. Body Paint
17. The Instrument of Ethnographic Observation
18. Color and Slavery
19. Redeeming Indigo
20. Opiation of the Visual Field
21. Sex Appeal of the Inorganic
Part Three        Color in Proust
22. Crossover Men
23. Techniques of the Body: What We Falsely Call Life
24. An Hour is Not Merely an Hour
25. Cardiac Fatigue
26. What Is the Color of the Profane? 000
Part Four          Color in Coal
27. Creature of the Lightless Depth
28. As Colors Pour from Tar
29. Colored by Weather
Acknowledgments
Notes
Bibliography
Index
For more information, or to order this book, please visit http://www.press.uchicago.edu
Google preview here