---
Scientific Style and Format
The CSE Manual for Authors, Editors, and Publishers, Eighth Edition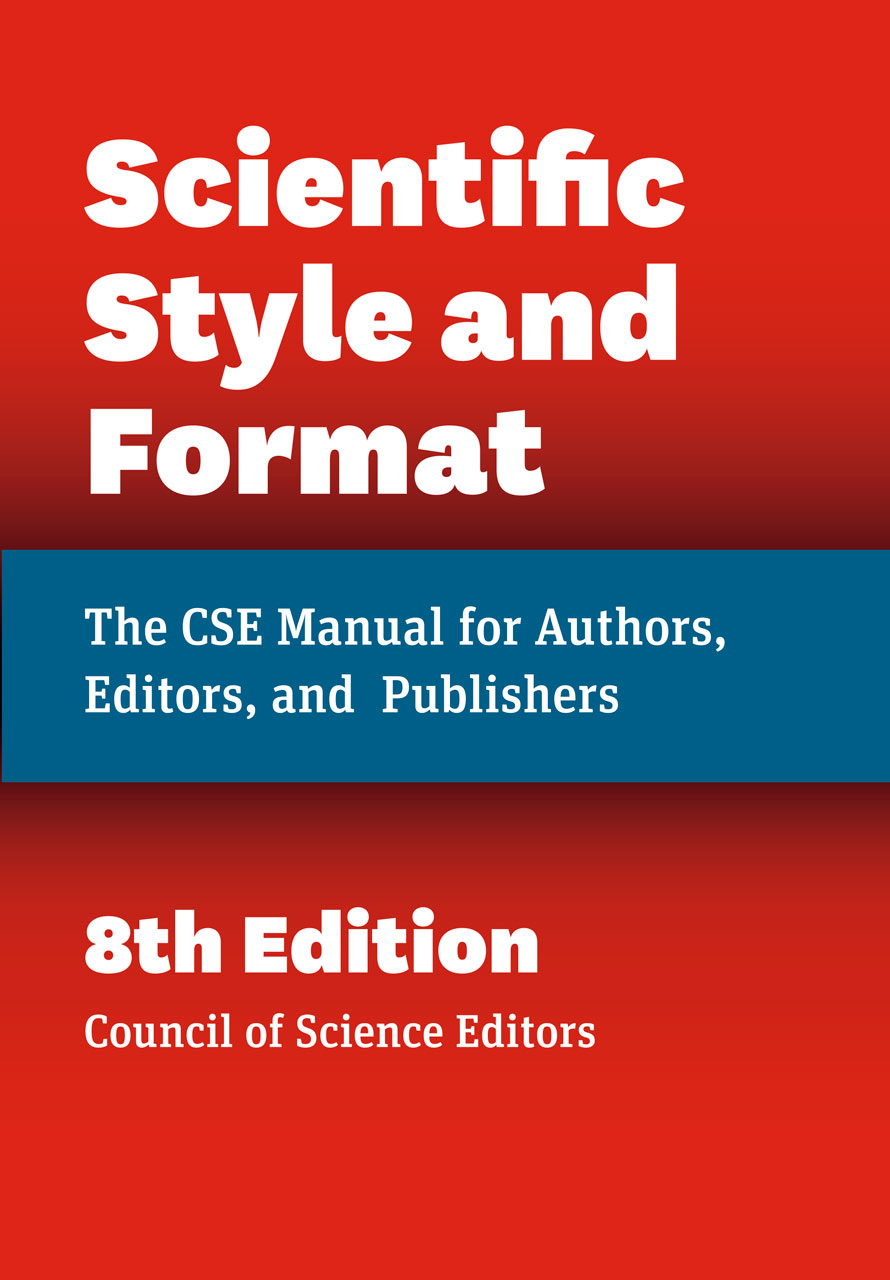 840 pages | 75 line drawings, 126 tables | 7 x 10 | © 2014
For more than fifty years, authors, editors, and publishers in the scientific community have turned to Scientific Style and Format for authoritative recommendations on all matters of writing style and citation. Developed by the Council of Science Editors (CSE), the leading professional association in science publishing, this indispensable guide encompasses all areas of the sciences. Now in its eighth edition, it has been fully revised to reflect today's best practices in scientific publishing.

Scientific Style and Format citation style has been comprehensively reorganized, and its style recommendations have been updated to align with the advice of authoritative international bodies. Also new to the eighth edition are guidelines and examples for citing online images and information graphics, podcasts and webcasts, online videos, blogs, social networking sites, and e-books. Style instructions for physics, chemistry, genetics, biological sciences, and astronomy have been adjusted to reflect developments in each field. The coverage of numbers, units, mathematical expressions, and statistics has been revised and now includes more information on managing tables, figures, and indexes. Additionally, a full discussion of plagiarism and other aspects of academic integrity is incorporated, along with a complete treatment of developments in copyright law, including Creative Commons.

For the first time in its history, Scientific Style and Format will be available simultaneously in print and online at www.scientificstyleandformat.org. Online subscribers will receive access to full-text searches of the new edition and other online tools, as well as the popular Chicago Manual of Style Online forum, a community discussion board for editors and authors. Whether online or in print, the eighth edition of Scientific Style and Format remains the essential resource for those writing, editing, and publishing in the scientific community.
Booklist
"There is no other book like this for the scientific and technological community. It should be the major desk reference for anyone writing a scientific article or book."
Copyediting
"Scientific Style and Format remains the best resource for issues related to scientific editing, and the move online makes it even more valuable. Buy it if you don't have it, and consider an upgrade if you have an earlier edition."
STM Newsletter
"No English-language author, editor or publisher in the field can do without it."
Choice
"This style manual from the Council of Science Editors does not simply tell scientists how to cite appropriately; it provides a holistic overview of preparing scientific work, from typography to specialized scientific conventions. . . . Essential."
Contents
Preface
Acknowledgments
Part 1: Publishing Fundamentals
Chapter 1 Elements of a Scientific Publication
Chapter 2 Publication Policies and Practices
Chapter 3 The Basics of Copyright
Part 2: General Style Conventions
Chapter 4 Alphabets, Symbols, and Signs
Chapter 5 Punctuation and Related Marks
Chapter 6 Spelling, Word Formation and Division, Plurals, and Possessives
Chapter 7 Prose Style and Word Choice
Chapter 8 Names and Personal Designations
Chapter 9 Capitalization
Chapter 10 Type Styles, Excerpts, Quotations, and Ellipses
Chapter 11 Abbreviations
Chapter 12 Numbers, Units, Mathematical Expressions, and Statistics
Chapter 13 Time, Dates, and Age Measurements
Chapter 14 Geographic Designations
Part 3: Special Scientific Conventions
Chapter 15 The Electromagnetic Spectrum
Chapter 16  Subatomic Particles, Chemical Elements, and Related Notations
Chapter 17 Chemical Formulas and Names
Chapter 18 Chemical Kinetics and Thermodynamics
Chapter 19 Analytical Chemistry
Chapter 20 Drugs and Pharmacokinetics
Chapter 21 Genes, Chromosomes, and Related Molecules
Chapter 22 Taxonomy and Nomenclature
Chapter 23 Structure and Function
Chapter 24 Disease Names
Chapter 25 The Earth
Chapter 26 Astronomical Objects and Time Systems
Part 4: Technical Elements of Publications
Chapter 27 Journal Style and Format
Chapter 28 Published Media
Chapter 29 References
Chapter 30 Accessories to Text: Tables, Figures, and Indexes
Chapter 31 Typography and Manuscript Preparation
Chapter 32 Proof Correction
Bibliography
Index
For more information, or to order this book, please visit http://www.press.uchicago.edu
Google preview here