---
No One Was Killed
The Democratic National Convention, August 1968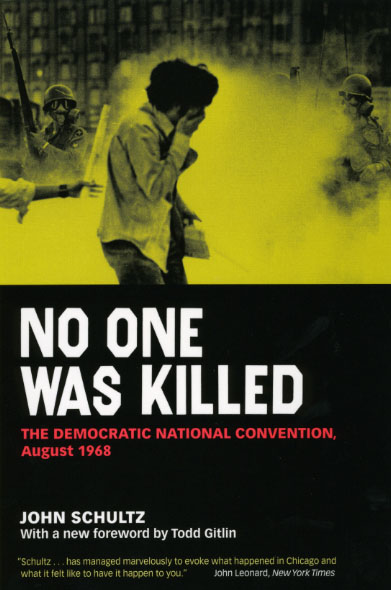 With a new Foreword by
Todd Gitlin
and a new Afterword by the author.
328 pages | 7 halftones | 5-1/2 x 8-1/2 | © 1969, 2009
While other writers contemplated the events of the 1968 Chicago riots from the safety of their hotel rooms, John Schultz was in the city streets, being threatened by police, choking on tear gas, and listening to all the rage, fear, and confusion around him. The result, No One Was Killed, is his account of the contradictions and chaos of convention week, the adrenalin, the sense of drama and history, and how the mainstream press was getting it all wrong.
"A more valuable factual record of events than the city's white paper, the Walker Report, and Theodore B. White's Making of a President combined."—Book Week
"As a reporter making distinctions between Yippie, hippie, New Leftist, McCarthyite, police, and National Guard, Schultz is perceptive; he excels in describing such diverse personalities as Julian Bond and Eugene McCarthy."—Library Journal
"High on my short list of true, lasting, inspired evocations of those whacked-out days when the country was fighting a phantasmagorical war (with real corpses), and police under orders were beating up demonstrators who looked at them funny."—Todd Gitlin, from the foreword
John Leonard | New York Times
"[Schultzz] has managed marvelously to evoke what happened and what it felt like to have it happen to you. . . . His political thinking wades hip-high through a swamp of mysticism and comes up muddy and bloody, but in the process he refuses to slough off any of those ambiguous perceptions that amount to honesty."
Christopher Chandler | Book Week
"A more valuable factual record of events than the city's white paper, the Walker Report and Theodore B. White's Making of the President combined."
Todd Gitlin
"Of all the book-length accounts I read of 1960's political and cultural confrontations, none (not even Mailer's Armies of the Night) is more lucid in its understanding of the torments and tropisms of the movements of the streets. . . . This is vivid writing that can stand as pure, suspenseful reportage."
Contents
Foreword by Todd Gitlin
Introduction to Confrontation
Blocked
I Am Here in Lincoln Park/ Wednesday Midnight Confrontation Attitudes
The Week Before the Convention: Preparatory Confrontations
Julian Bond Meets the Governor of New Jersey
Cops and Media Watch Over the Festival of Life
Platform Committee, Hale Boggs Presiding, Faces the Nation
Sunday: Overthrow
Chicago: The Prague of the West
McCarthy Arrives and Innocence Waits on the Hilton Stairs
Music in Lincoln Park/Invocation
Sunday Night/Overthrow
Monday: The Beast and the Hunt
Grant Park: Boys Capture Union General
Lincoln Park: The Barricade
Grant Park: Awakening in Front of the Hilton
The Ritual and the Hunt
Tuesday: The Demands of Revolution
McCarthy Meets California
Lincoln Park Citizens Meet Their Police Commander
World War II Vets Meet War Resisters
LBJ Birthday Party and Anti-Birthday Party
Attack at the Foot of the Cross
Demonstrators Meet Guardsmen Brothers
Wednesday: War
Vietnam War Plank
The Battle at the Bandshell
The Battle at Michigan and Balbo
Battles in the Loop and Lincoln Park
The Nation Faces the Demonstrators
Thursday: Exile
Morning
McCarthy Speaks and Speaks Again
To the Amphitheatre
War Games
Friday
McCarthy Headquarters Attacked
In the Months Afterward
When the Game Changes
Postscript
Afterword, 2008
Acknowledgments
For more information, or to order this book, please visit http://www.press.uchicago.edu
Google preview here