---
Ye Berlyn Tapestrie
John Hassall's Satirical First World War Panorama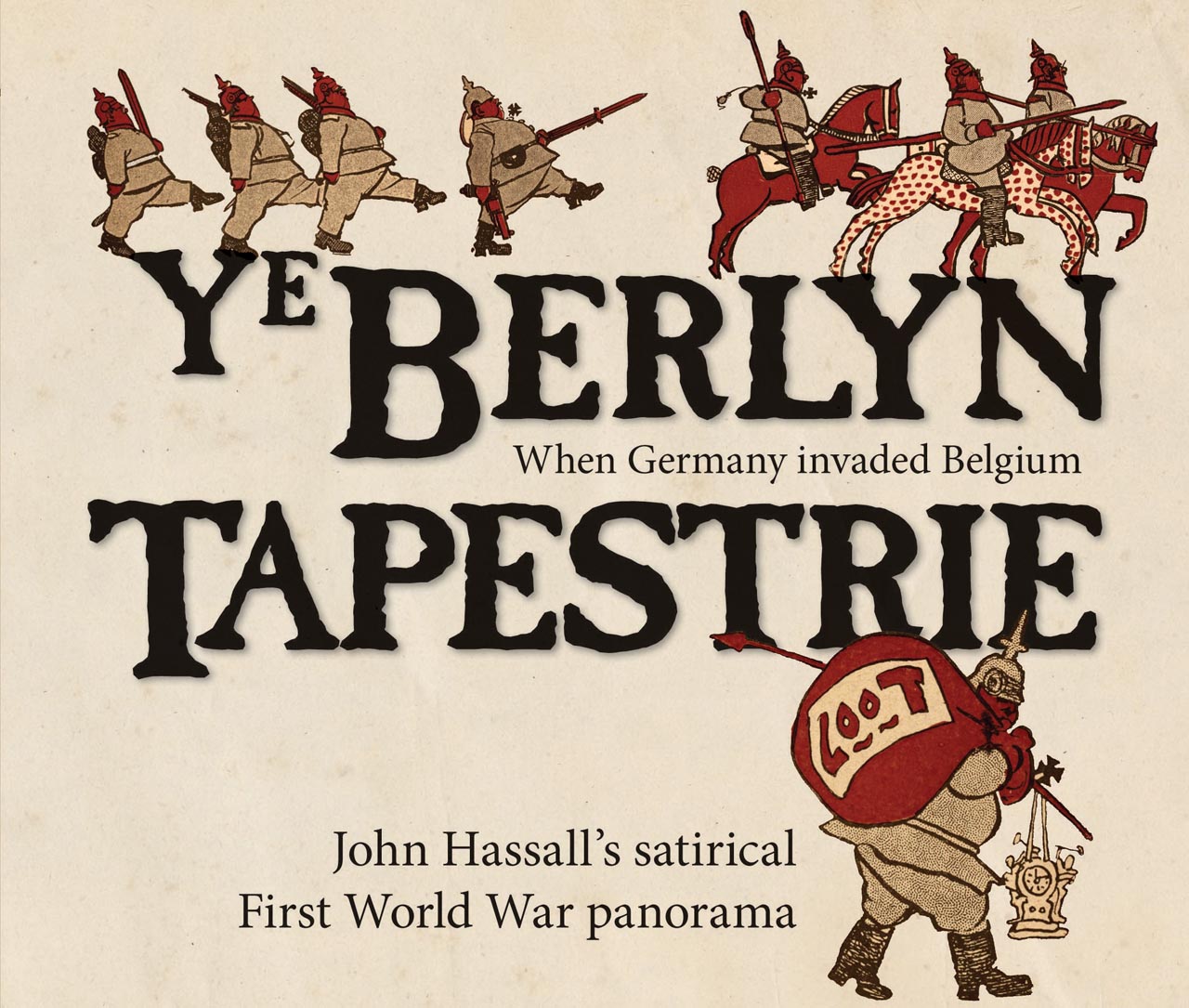 64 pages | 30 color plates | 6 4/5 x 5 3/4 | © 2014
As the devastation of German-occupied Belgium awakened Britain to the horrors of the Great War, a group of English cartoonists responded to these events with characteristic black humor. Among the most inventive responses was advertising artist John Hassall's Ye Berlyn Tapestrie, an ambitious red-and-black panorama measuring thirty panels and more than fifteen feet and modeled after the famous Bayeux Tapestry, which recorded William the Conqueror's invasion of England and the Battle of Hastings. 
           
Ye Berlyn Tapestrie adapts the format of the Bayeux Tapestry to depict Kaiser Wilhelm II's invasion of Luxembourg and Belgium. Hassall takes every opportunity to lampoon the German army, who are seen looting homes, marching shamefully through the streets behind women and children, drinking copious amounts of wine, and producing gas from sauerkraut and Limburger cheese. With comic inventiveness, Hassall has appended to the borders of the original Bayeux Tapestry stereotypical objects which the British public would have associated their enemy, from schnitzel to sausages, pilsners, and wild boar.

A fascinating example of war-induced farce, Ye Berlyn Tapestrie became itself a source of inspiration for later works, including wildly popular parodies of World War II in the Daily Mail and New Yorker. More recently, award-winning cartoonist and journalist Joe Sacco has adopted the format for his The Great War, which chronicles the first day of the Battle of the Somme. The Tapestrie is here presented in its entirety along with an introduction that sets out the historical conditions of its creation.
Table of Contents
Contents
Introduction
Ye Berlyn Tapestrie
Imprint
For more information, or to order this book, please visit https://press.uchicago.edu
Google preview here