---
Transforming Society?
Social Work and Sociology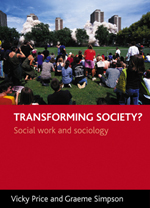 192 pages | 6.77 x 9.45
This book explores the sociological basis of contemporary society and shows how social workers experience tensions and contradictions in practice.
Table of Contents
Contents
Acknowledgements
Introduction

Part One: Social exclusion, 'the poor' and social work
1. Social exclusion and poverty
2. Social work's enduring tensions
Part Two: Production
3. Theories of work and society
4. Work, exclusion, poverty and social work
Part Three: Reproduction
5. Theoretical concepts: family, gender and discourse
6. Social work and reproduction: regulation and family life
Part Four: Consumption
7. New forms of relations and inequality?
8. Social work: the power of consumption and the creation of customers
Part Five: Community
9. A changing landscape: theoretical approaches to 'community'
10. Social work, social capital and community
Part Six: Transforming society: social work and sociology
11. Using sociology to inform practice
12. Contradictions and change?

References
For more information, or to order this book, please visit https://press.uchicago.edu
Google preview here