---
Tackling prison overcrowding
Build more prisons? Sentence fewer offenders?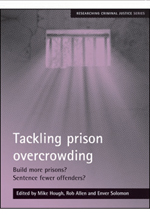 152 pages | © 2008
Tackling prison overcrowding is a response to controversial proposals for prisons and sentencing set out in by Lord Patrick Carter's "Review of Prisons", published in 2007. The Carter review proposed the construction of vast 'Titan' prisons to deal with the immediate problem of prison overcrowding, the establishment of a Sentencing Commission as a mechanism for keeping judicial demand for prison places in line with supply, along with further use of the private sector, including private sector management methods. "Tackling prison overcrowding" comprises nine chapters by leading academic experts, who expose these proposals to critical scrutiny. They take the Carter Report to task for construing the problems too narrowly, in terms of efficiency and economy, and for failing to understand the wider issues of justice that need addressing. They argue that the crisis of prison overcrowding is first and foremost a political problem - arising from penal populism - for which political solutions need to be found.This accessible report will be of interest to policy makers, probation practitioners, academics and other commentators on criminal policy.
Table of Contents
Contents
List of figures and tables
Acknowledgements
Foreword
Notes on contributors
1              Introduction
                Mike Hough and Enver Solomon
2              The prisoners' dilemma in England and Wales
                Nicola Lacey
3              Building on sand: why expanding the prison estate is not the way to 'secure the future'
                Carol Hedderman
4              Towards more consistent and predictable sentencing in England and Wales
                Jessica Jacobson, Julian Roberts and Mike Hough
5              'Titan' prisons: do size, efficiency and legitimacy matter?
                Alison Liebling
6              Private punishment? An examination of the expansion, development and employment relations of private prisons
                Sanjiv Sachdev
7              Reducing the use of custody as a sanction: a review of recent international experiences
                Julian Roberts
8              Where now?
                Rod Morgan
9              Endnote: latest developments in penal policy
                Rob Allen
For more information, or to order this book, please visit https://press.uchicago.edu
Google preview here