---
A Serious Case of Neglect: The Parental Experience of Child Rearing
Outline for a Psychological Theory of Parenting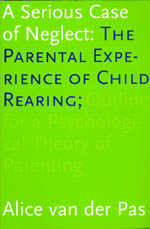 348 pages | 6 3/10 x 9 1/2 | © 2004
These days we hear a great deal about child development and child rearing, but it almost exclusively focuses on the child's remembered experiences and actions. A Serious Case of Neglect seeks to redress this one-sided perspective with a carefully considered theory of parenting and an in-depth analysis of the parenting role. Drawing on over thirty years of experience as a family counselor and therapist, Alice van der Pas illustrates her theory with clinical examples and develops a conceptual framework that breaks down the elements involved in the development of a good parent. This book is an intriguing work in family psychology that sheds new light on an issue rarely navigated from the perspective of the parent.
Table of Contents
Contents
Acknowledgements
Foreword
Part I - The Aim of this Study
Chapter 1. A different perspective
   The aim of this study
   Contents of this chapter
   Two perspectives: a clinical example
   Relevant literature: 'An inexhaustible array of subjects'
   A handbook on parenting - not parents
   Summary
Chapter 2. 'Parent' - a definition
   Contents of this chapter
   A definition
   Categories of parents
   (Dis-)similar concepts
   The issue of professional ethics
   Parental resilience and vulnerability
   Summary: A resilient and vulnerable definition
Part II - The Parental 'Work Floor'
Chapter 3. The necessity of a conceptual framework for child rearing
   Introduction of the problem: how to describe child rearing?
   Contents of this chapter
   Disconcerting facts
   Problems of measuring
   The infinite variety of parental behavior
   A much-researched, yet under-researched field
   Conclusion: An elusive subject
Chapter 4. Child rearing as a multi-determined empty box
   Introduction of the problem: Belsky's diagram of the determinants of parenting
   Contents of this chapter
   The implicit meaning of arrows
   The basic pattern of the diagram
   The choice of determinants
   The relative weight of determinant factors
   The wrong realm?
   The term 'determinant'
   Summary and conclusions
Chapter 5. On the need to explore the parental work floor
   Introduction: on skipping the work floor and jumping to conclusions
   The contents of this chapter
   Vignettes from clinical practice
   On acquainting oneself with the parental work floor and its logic
   How to focus questions and organize answers
   The social information processing model
   Proposal for a parent-focused schema
   The modest place of parental attitudes in this schema
   Summary of the chapter
Chapter 6.  Elementary child-rearing behaviors
   Introduction: five categories of child-rearing behavior
   The contents of this chapter
   Providing safety - keeping them out of harm's way
   Providing nurture - the virtues of routine
   Gauging the child - uncertainty
   Making demands - gentle and not-so-gentle messages
   Setting limits - and re-setting them
   Why these five categories?  About the nature of elementary child-rearing behaviors
   Summary of the chapter
Chapter 7. Deliberations - how parents learn and how they teach
   Introduction of the problem: parental learning - learning to teach your child
   The contents of this chapter
   Uneasy associations of parenting with development
   How parents learn
   How parents teach
   Explaining work-floor problems as 'inconclusive deliberations'
   Summary of this chapter and conclusions
Chapter 8. Regulating emotions - how parents grow
   Introduciton of the problem
   Contents of this chapter
   Sources of unpleasant emotions on the work floor
   The terms 'emotion' and 'emotion management'
   Emotion regulation by parents: three models
   Parental growth
   Conclusions
Part III - Moderator Mechanisms Protecting Child Rearing
Chapter 9.  The interrelatedness of child rearing and context
   Contents of this chapter
   Developmental contextualism - towards a wider field of observation
   Ecological systems theory: process replaces effect
   Cultural anthropology: the close interrelatedness of parenting and culture
   Sociobiology: quantity versus quality
   Summary of the chapter, and discussion
Chapter 10. From risk factors to moderating mechanisms
   Introduciton of the problem
   Contents of this chapter
   From risk factors to moderating mechanisms
   The idea of moderator mechanisms in clinical practice: 'the untreatable family'
   Summary of the chapter and concluding remarks
Epilogue
Bibliography
Name index
Subject index
Samenvatting / Summary in Dutch
Curriculum Vitae
Review Quotes
Sietske Dijkstra | Dutch Journal of Mental Health
"Van der Pas aims to develop a process theory of parenting which does justice to what parents accomplish, while not neglecting their weaknesses and failures. . . This book is too good to lay aside--a must read for those who work with parents, students and teachers of psychology"
Peter Adriaenssens | University of Leuven, Belgium
"The passion which one senses throughout the entire book, the will to develop quality services for parents, without excluding anyone--parent or child--a professional seriousness which draws on thorough knowledge of the literature and on critical reflection: these make the reader feel good"
Patsy Turrini | The New York School for Psychoanalytic Psychotherapy and Psychoanalysis
"She has discovered what every parent knows, though often cannot articulate or accept about themselves. . . Her writing can evoke nostalgia, a reappreciation of one's personal past, making this book valuable on another level"
For more information, or to order this book, please visit https://press.uchicago.edu
Google preview here