---
Russians in Alaska
1732-1867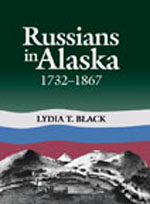 344 pages | color plates and fold-out maps, black and white photos and illustrations | 7 x 10 | © 2004
This definitive work, the crown jewel in the distinguished career of Russian America scholar Lydia T. Black, presents a comprehensive overview of the Russian presence in Alaska. Drawing on extensive archival research and employing documents only recently made available to scholars, Black shows how Russian expansion was the culmination of centuries of social and economic change.
Black's work challenges the standard perspective on the Russian period in Alaska as a time of unbridled exploitation of Native inhabitants and natural resources. Without glossing over the harsher aspects of the period, Black acknowledges the complexity of relations between Russians and Native peoples.
She chronicles the lives of ordinary men and women—the merchants and naval officers, laborers and clergy—who established Russian outposts in Alaska. These early colonists carried with them the Orthodox faith and the Russian language; their legacy endures in architecture and place names from Baranof Island to the Pribilofs.
This deluxe volume features fold-out maps and color illustrations of rare paintings and sketches from Russian, American, Japanese, and European sources—many have never before been published. An invaluable source for historians and anthropologists, this accessible volume brings to life a dynamic period in Russian and Alaskan history. A tribute to Black's life as a scholar and educator, Russians in Alaska will become a classic in the field.
For more information, or to order this book, please visit https://press.uchicago.edu
Google preview here