---
Religious Liberty and Human Rights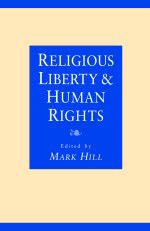 Contributors: Mark Chopko, Norman Doe, David Harte,
Mark Hill
, Ian Leigh, Javier Martínez-Torrón, Roger Ruston, Nicholas Sagovsky, Stephen Sedley.  With a Foreword by the Archbishop of Canterbury.
216 pages | 5 1/2 x 8 1/2 | © 2002
This volume of essays by distinguished contributors presents a range of complementary perspectives on a subject of fundamental importance for the Christian churches and for contemporary society. It discusses, from international, historical and theological viewpoints, how the Human Rights Act 1998 falls to be applied to instances raising issues of religious liberty and highlights the importance of the Act for future decision making within faith communities. It includes the papers delivered at the Ecclesiastical Law Society's residential conference in Trinity Hall, Cambridge in March 2001 (all of which have been substantially revised) together with four additional chapters specially commissioned for this volume.
Individual essays consider to what extent religious liberty has a distinctive nature which should be recognised in the context of state legislation on human rights and how both European and American law have sought to relate religious liberty to other conceptions of human rights. The development of theories of natural rights in political theology is given full treatment. Other major areas discussed include the effects of the Act on employment law and with regard to admission policies for state voluntary religious schools.
Table of Contents
Contents
Foreword
    Archbishop of Canterbury
Preface—Human Rights: A Judicial Approach
    Stephen Sedley
Acknowledgements

1  A New Dawn for Freedom of Religion: Grounding the Debate
    Mark Hill
2  Theologians, Humanists and Natural Rights
    Roger Ruston
3  Human Rights, Divine Justice and the Churches
    Nicholas Sagovsky
4  The Challenge of Liberty for Religions in the USA
    Mark Chopko
5  Religious Liberty in European Jurisprudence
    Javier Martínez-Torrón
6  Freedom of Religion: Public/Private, Rights/Wrongs
    Ian Leigh
7  The Development of the Law of Employment and Education
    David Harte
8  Canonical Approaches to Human Rights in Anglican Churches
    Norman Doe

Notes on Contributors
List of Subscribers
Index
For more information, or to order this book, please visit https://press.uchicago.edu
Google preview here