---
Research and Evaluation for Busy Students and Practitioners
A Time Saving Guide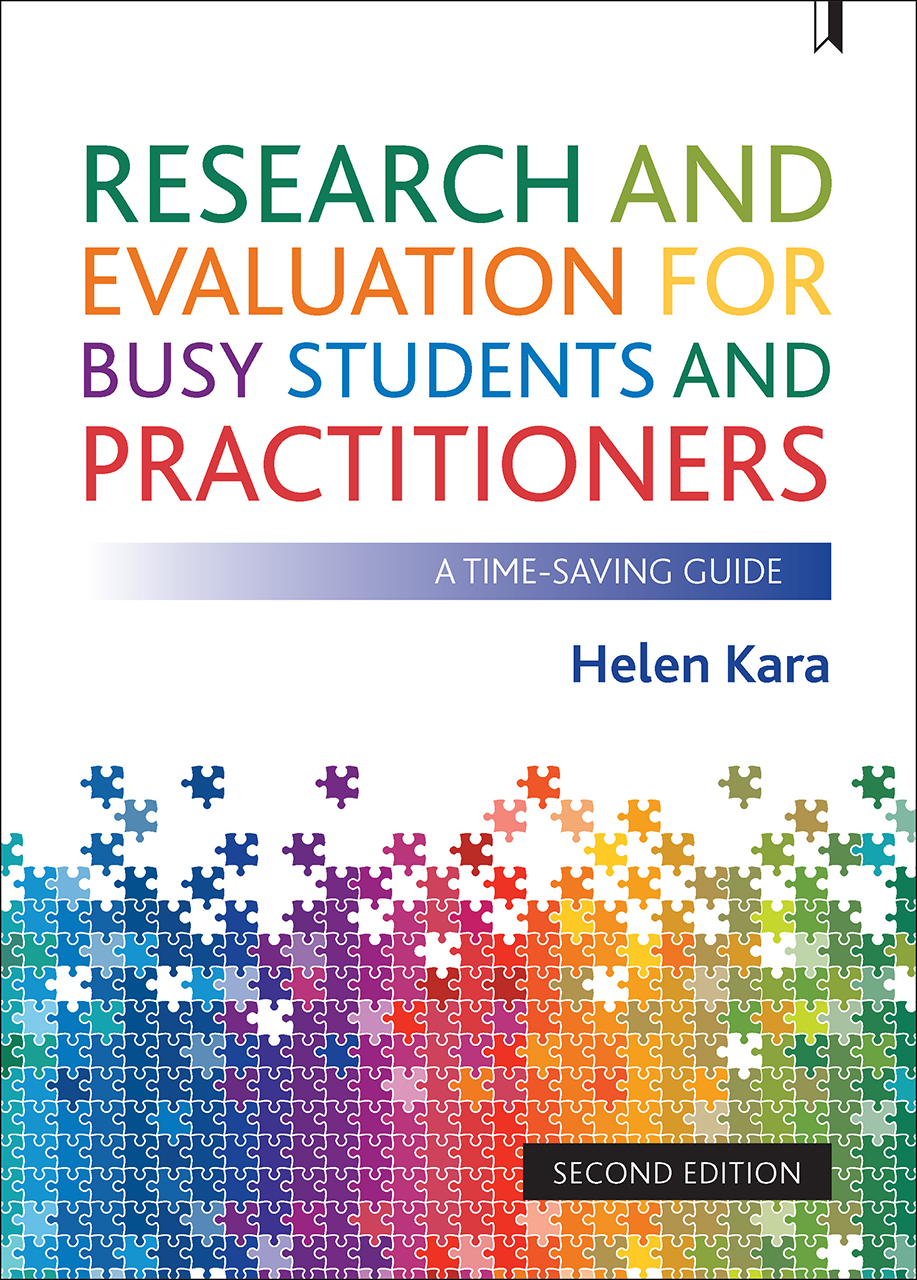 256 pages | 6 3/4 x 9 1/2
Even as the pace of research increases, researchers do not exist in a bubble. Brilliantly attuned to the demands placed on today's researchers—people who want to stay on top of their job and still have a life—this book considers how students, academics, and professionals alike can save time and stress without compromising the quality of their work. Drawing on interviews with researchers as well as the author's extensive experience, this fully revised second edition of Helen Kara's
Research and Evaluation for Busy Practitioners
provides a wealth of practical advice on a range of topics like using social media and the diversity of available methodologies, including action research, arts-based methods, and digitally mediated research. Comprehensive, global in its scope, and supportive, this second edition is also accompanied by a fully revised and updated companion website,
http://policypress.co.uk/resources/kara-research
.
Table of Contents
Contents
List of figures, tables and boxes
About the author
Acknowledgements
Foreword by Patrick Sturgis
One Introduction
Introduction
Being a researcher or evaluator
Why do practitioners do research?
Insider and outsider research
Doing research or evaluation
Managing and commissioning research or evaluation
Terminology
Structure of this book
Exercise
Note
Further reading
Two Overview of research
Introduction
Quantitative or qualitative?
Solo or collaborative?
Involving service users in research and evaluation
Highly time-consuming methods
Research and evaluation ethics
Looking after yourself
Exercises
Note
Further reading
Three Methodologies, approaches, and theories
Introduction
Methodologies, methods, and approaches
Positivist methodology
Realist methodologies
Constructionist methodologies
Interpretivist methodologies
Transformative methodologies
Ontology and epistemology
Action research
Evaluation research
Mixed methods research
Arts-based research
Digitally mediated research
The role of theory in research and evaluation
Theory, research, practice
Exercise
Further reading
Four Topics and proposals
Introduction
Choosing a research or evaluation topic
Refining your topic
From Question to data
How much data?
Qualitative or quantitative methods?
Sampling techniques
Probability samples
Non-probability sampling
What is evidence?
Bidding and tendering for research for evaluation
Research funders
Exercises
Notes
Further reading
Five Managing your research or evaluation project
Introduction
Planning
Organisation
Time management
Support from employers
Creative time management
Reward yourself
Look after yourself
What works, and what doesn't work
Exercises
Notes
Further reading
Six Background research
Introduction
Document review or literature review?
Record-keeping
Critical and strategic reading
Finding academic journal articles
How to conduct a document review
How to conduct a literature review
Using libraries
Making notes
Knowing when to stop
Exercises
Notes
Further Reading
Seven Secondary data
Introduction
Online secondary data sources
Secondary qualitative data
Archival data
Open data
Application programming interfaces
Large-scale surveys
International surveys
Working with secondary data
Exercises
Notes
Further reading
Eight Primary data
Introduction
Collecting quantitative data
Questionnaire tips
Colelcting qualitative data
Interview tips
Focus groups: pros and cons
Focus group tips
Documents as data
Observation
Visual data
Case studies
Creative methods
Collecting data online
Exercise
Note
Further reading
Nine Data analysis
Introduction
Data preparation
Quantitative data coding
Qualitative data coding
Quantitative data analysis
Qualitative data analysis
A real-life example of qualitative data analysis
Geographic informations ystems
Data synthesis
Exercises
Notes
Further reading
Ten Writing for research and evaluation
Introduction
Myths about writing
The writing process
Structure
Plagiarism
Citation
Findings versus recommendations
Editing
Polishing your writing
Exercises
Note
Further reading
Eleven Disseminating research and evaluation
Introduction
Summarising research or evaluation
Barriers to disseminating research and evaluation
Presenting findings in person
Data visualization
Dissemination methods
Disseminating workplace research
Disseminating academic research
Dissemination ethics
Closing the dissemination loop
Research and evaluation into practice
Exercise
Further reading
Twelve Conclusion
Appendix One: Job titles of interviewees
Appendix Two: Sample record-keeping grid
Appendix Three: Exchanging information electronically
Appendix Four: Ethical codes from different disciplines nad countries
Glossary
Bibliography
Index
 
Review Quotes
LSE Review of Books
"In addition to providing research and methodology guidance, the book is a great tool for continuous learning and could be recommended to researchers and evaluation practitioners at any stage of their career."
Research in Social Work
''An incredibly useful resource. . . A clearly written text which occupies a gap in the market.''
Kylie Budge, Museum of Applied Arts & Sciences
"Workplace-based researchers will find this book invaluable. Demystifying the research process, Kara provides a guide for the busy practitioner chock full of wise and pragmatic advice, useful tips and exercises."
Gemma Noon, Southern Alberta Institute of Technology
"As a postgraduate student fitting study around full-time employment and a family, I can honestly say that this book is a godsend. It offers practical advice and useful suggestions that can be implemented for both work and study purposes."
Woody Caan, editor of the Journal of Public Mental Health
"Kara's thoughtful book is based on extensive practical experience, in diverse settings. She guides a researcher through all the stages of a project, dispelling fear and confusion."
For more information, or to order this book, please visit https://press.uchicago.edu
Google preview here