---
Prison Suicide
What Happens Afterwards?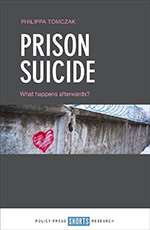 128 pages | 5 x 7 3/4
Although prison suicide is a global problem, there is little knowledge about the investigations occurring after prison suicides. Addressing this gap, this book provides the first detailed case study of the investigations that follow prison suicides: using England and Wales. Despite the large range of institutions that monitor English and Welsh prisons, suicides reached a record high in 2016, with the rate having doubled since 2012. These deaths represent the sharp end of a continuum of suffering, self-harm, despair and distress within prisons, which affects prisoners, their families and prison staff. This book details and critiques the lengthy and expensive police, ombudsman and coroner investigations that follow prison suicides. Drawing on extensive document analysis, including analysis of over 100 Prison and Probation Ombudsman fatal incident investigations, and original semi-structured interviews with stakeholders undertaken between 2016-2017, this book provides a novel analysis of prison oversight.
Table of Contents
Contents
Introduction; After prison suicide: Legal requirements and processes; Stakeholders and regulation; Looking forwards.
For more information, or to order this book, please visit https://www.press.uchicago.edu
Google preview here