---
Intimacy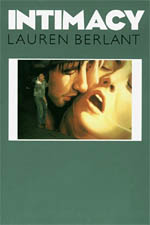 432 pages | 6 x 9 | © 2000
Last year's impeachment of President Bill Clinton demonstrated the paradox, but did not begin to explain it.

How is it that "private matters" are analyzed endlessly in public forums on a daily basis? Why is it assumed that "getting a life" means having a private relationship? Intended to unravel some of the tangled relations that fall under the broad category of "intimacy," this provocative collection of sixteen essays articulates the ways in which intimate lives are connected with the institutions, ideologies, and desires that organize people's worlds.

Locating its domain in the familiar spaces of friendship, love, sex, family, and feeling "at home," Intimacy also examines the estrangement, betrayal, loneliness, and even violence that may accompany the demise of relationships, both personal and political. These include intimacies among strangers, such as happens in times of national scandal or habits of everyday life. The contributors to this volume traverse many disciplines and cultures, tracking the processes by which intimate lives absorb and repel the dominant rhetoric, law, ethics, and ideologies of public spheres. Drawing on examples from contemporary culture, history, art, literature, and music, this book illuminates the ways in which intimacy has become linked with stories of citizenship, capitalism, aesthetic forms, and the writing of history. As it challenges conventional notions of private life, Intimacy is sure to spark controversy about its institutions as well.

Some of these essays in this book were previously published in an award-winning issue of the journal "Critical Inquiry."

Contributors include Lauren Berlant, Svetlana Boym, Steven Feld, Deborah R. Grayson, Michael Hanchard, Dagmar Herzog, Annamarie Jagose, Laura Kipnis, Laura Letinsky, Biddy Martin, Maureen McLane, Mary Poovey, Elizabeth A. Povinelli, Eve Kosovsky Sedgwick, Joel Snyder, Candace Vogler, Michael Warner, and others.

Table of Contents
Contents
Lauren Berlant - Intimacy: A Special Issue
Laura Kipnis - Adultery
Candace Vogler - Sex and Talk
Mary Poovey - Sex in America
Dagmar Herzog - "Pleasure, Sex, and Politics Belong Together": Post-Holocaust Memory and the Sexual Revolution in West Germany
Steven Feld - "The Reportedly Lick Their Own Things"
Michael Hanchard - Jody
Joel Snyder and Laura Letinsky - Coupling
Svetlana Boym - On Diasporic Intimacy: Ilya Kabakov's Installations and Immigrant Homes
Elizabeth A. Povinelli - The State of Shame: Australian Multiculturalism and the Crisis of Indigenous Citizenship
Deborah R. Grayson - Mediating Intimacy: Black Mothers and the Law
Lauren Berlant and Michael Warner - Sex in Public
Eve Kosofsky Sedgwick - A Dialogue on Love
Annamarie Jagose - First Wife, Second Wife: Sexual Perversion and the Problem of Precedence in Rebecca
Eli Zaretsky - Charisma or Rationalization? Domesticity and Psychoanalysis in the U.S. in the 1950s
Kathleen Stewart - Still Life
Critical Responses
John Frow and Meaghan Morris
Elizabeth A. Povinelli
Letters to the Editor of Harper's Magazine in response to Laura Kipnis
Laura Kipnis
Maureen McLane
Index
For more information, or to order this book, please visit https://press.uchicago.edu
Google preview here