---
I Follow in the Dust She Raises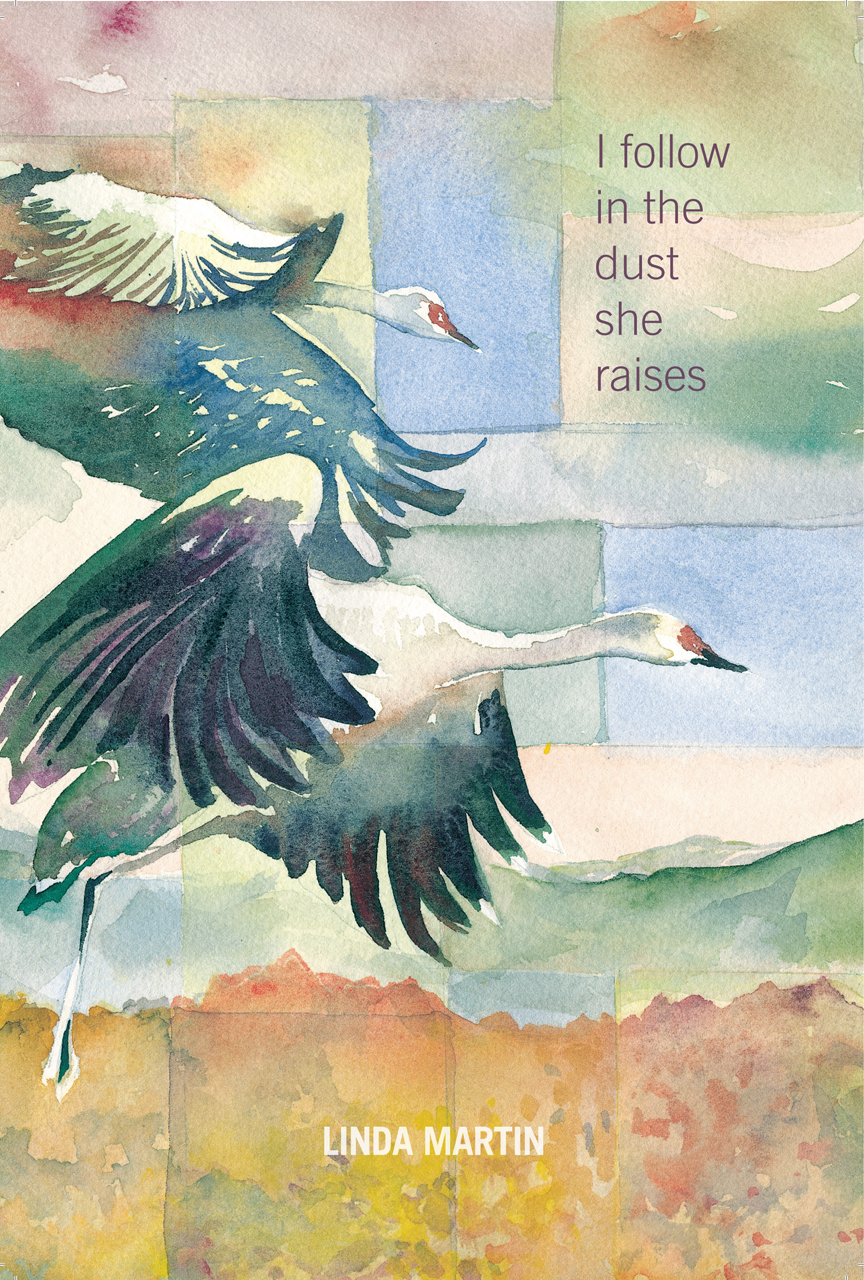 60 pages | 6 x 9 | © 2015
I Follow in the Dust She Raises is a collection of deeply personal poems born from a life sharply observed. Martin takes readers from the mountains of the West to the shores of Alaska, as she delves into the rippling depth of childhood experiences, tracks the moments that change a life, and settles into the fine grooves of age.  Exploring the ties of family and grief, Martin's unflinching poetry ripples with moments of extraordinary beauty plucked from what seem like ordinary lives.
Table of Contents
Contents
I. Running through Shadows
Visiting the Cemetery in Plains, Minnesota
Mythology
A Sumptuous Destitution
Believers
Running through Shadows
Dancing with Mama
A Visit from Aunt Rosie
Logger Song
Widowmaker
A Young Child
Pearly Everlasting
 
II. History Lesson
Watching Mama's Figure
Older Sister
Uppity
Refusing a Man
Moonwalking, 1969
Losing a Man
City Girl
History Lesson
Pigeons in Montpelier
Anonymous
Mama Calls Herself Weary
Mama's Will
The Vanished
 
III. After Years
At Home Now in Homer
After Years of Searching
Artifacts
Once Upon a Time
Building a Boat
Boy, Still Visible
Without Fame
Shopping for Satisfaction
True Minds
Marriage Vow
Migrations
Proof of Joy
 
IV. Contemplating Autumn
Anniversary
Premonition
The System
September Clouds
Ordinary Dangers
Acting My Age
Slow Day at the Glass Shop
Harboring a Mean Streak
Moose Seasons
Snowed In
Tourist
When I Brought You Home to Mama
Coupled
Contemplating Autumn
 
Acknowledgements
Review Quotes
Stan Sanvel Rubin, author of There. Here. and Hidden Sequel
"Mother, father, brother, sister, husband, daughter, son populate this book. But these relationships, past or present, are not static. As they move in time and place—Montana, Idaho, Manhattan, Alaska—the poems map an inner geography, spaces of loss and acceptance, memory and survival. They are stepping stones through a life only as ordinary as the truth of art. Martin's poems belie their artfulness almost with the ease of conversation; they ask for little but give much. Few poets can trace an itinerary of the heart with such distinctive grace and clarity."
David Biespiel, author of The Book of Men and Women and A Thousand Faces
"These are poems of a humane poet who has made communion with our great ancient stories: when she sweeps away loss, she discovers wonder, when she wipes away tears, she discovers play, and when she faces difficult deaths, she reminds us that we all must face our lives even when they skim 'lightly on the tide, white, fine as baby hair.' This is a splendid book of fire and desire."
Cleaver Magazine
"Martin's I Follow in the Dust She Raises is the kind of poetry that invites the word luminous, so impoverished by overuse it can no longer light the inside of a bulb, much less invoke noonday. Too many blurbs have been attached to a series of lesser books that make the mistake of working nature by subtraction—assuming that an endless wheat field with a tractor in it under an immense Nebraska sky—offer a limned absence that by itself could bring us to metaphysical tears. . . . To simple but potent effect, Martin starts from zero and works by addition."
Homer News
"Martin's work will take you on one woman's lifelong journey in pursuit of that intangible goal: to be content, a theme that her work so beautifully embodies. Perhaps if you faithfully journey through these pages with her, by the end, you will realize that you have found that same thing as well."
For more information, or to order this book, please visit https://press.uchicago.edu
Google preview here