---
Identity in Britain
A Cradle-to-Grave Atlas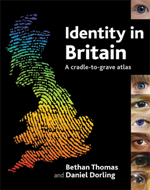 312 pages | 9 1/2 x 12 | © 2007
Sixty million people live in Britain. Imagine sixty million. Imagine a map of sixty million. What would that map look like and what story would it tell us about identity in Britain today?Bethan Thomas and Danny Dorling have brought together this outstanding atlas to provide us with a unique visual picture of identity and geography combined. "Identity in Britain" explores our changing identities as we progress from infancy to old age and tells the story of the myriad geographies of life in Britain. Features and benefits include:over 280 full colour, detailed mapsanalysis of the contemporary neighbourhood geographies of people in Britain at various life stagesclear introduction and how-to-use guide making the atlas highly accessible for a wide range of userslocational reference maps to aid interpretation of the maps on each pageAccompanying web resources, including locational cartogramsUnlike conventional atlases of human geography, it allows us to see a range of data on a single map; further it allows us to easily see what social mixing does not occur as well as what does. Never before have we had such a vivid geographical picture of identity in Britain today.The atlas is essential reading for those interested in contemporary human identity and the social geography of early twenty first century Britain. It is also an invaluable resource for researchers working in a wide range of statutory and voluntary organisations, policy makers, journalists, politicians, students and academics.
Table of Contents
Contents
Acknowledgements

Chapter 1: Introduction: seven stages
Chapter 2: At first the infant: ages 0–4
Chapter 3: Then, the whining schoolboy: ages 5–15
Chapter 4: And then the lover: ages 16–24
Chapter 5: Then a soldier: ages 25–39
Chapter 6: And then, the justice: ages 40–59
Chapter 7: The lean and the slippered pantaloon: ages 60–74
Chapter 8: To end this strange eventful history: aged 75+
Conclusion: merely players?
For more information, or to order this book, please visit https://press.uchicago.edu
Google preview here