---
History of Writing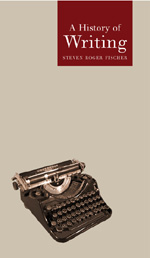 Distribution by the University of Chicago Press only to customers in the USA and Canada. Customers elsewhere should visit the UK website of
Reaktion Books
.
352 pages | 5.5 x 9.25 | © 2004
From the earliest scratches on stone and bone to the languages of computers and the internet, A History of Writing offers a fascinating investigation into the origin and development of writing throughout the world.

Commencing with the first stages of information storage, Fischer focuses on the emergence of complete writing systems in Mesopotamia in the fourth millennium BC. He documents the rise of Phoenician and its effect on the Greek alphabet, generating the many alphabetic scripts of the West. Chinese, Vietnamese, Korean and Japanese writing systems are dealt with in depth, as is writing in pre-Columbian America. Also explored are Western Europe's medieval manuscripts and the history of printing, leading to the innovations in technology and spelling rules of the 19th and 20th centuries.
Table of Contents
Contents
Preface
1. From Notches to Tablets
2. Talking Art
3. Speaking Systems
4. From Alpha to Omega
5. The East Asian 'Regenesis'
6. The Americas
7. The Parchment Keyboard
8. Scripting the Future
References
Select Bibliography
Illustration Acknowledgements
Index
Review Quotes
New Scientist
"If you're intrigued by writing's past, Fischer's book is well worth a read. . . . brilliant."--New Scientist

Nature
"[It] is wonderful . . . to see a subject that embraces so much of human civilisation handled with the wide knowledge and breadth of vision it deserves."
For more information, or to order this book, please visit https://press.uchicago.edu
Google preview here