---
The Flaming Feet and Other Essays
The Dalit Movement in India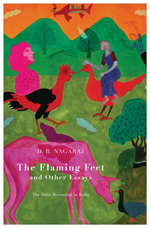 Edited by Prithvi Datta Chandra Shobhi, and with a Foreword by Ashis Nandy
282 pages | 5 1/2 x 8 1/2 | © 2010
In this volume of sixteen essays, D. R. Nagaraj, the foremost non-Brahmin intellectual to emerge from India's non-English-speaking world, presents his vision of the Indian caste system in relation to Dalit politics—the Dalit being a self-designation for many groups in the lower castes of India. Nagaraj argues that the Dalit movement rejected the traditional Hindu world and thus dismissed untouchable pasts entirely; but he believes rebels too require cultural memory. Their emotions of bewilderment, rage, and resentment can only be transcended via a politics of affirmation.

He theorizes the caste system as a mosaic of disputes about dignity, religiosity, and entitlement. Examining moments of caste defiance, he argues for a politics of cultural affirmation and creates a new cultural identity for Dalits. More significantly, he argues against self-pity and rage in artistic imagination, and for recreating the banished worlds of gods and goddesses.

Nagaraj's importance lies in consolidating and advancing some of the ideas of India's leading Dalit thinker and icon, B. R. Ambedkar. He suggests an inclusivist framework to build an alliance of all the oppressed communities of India.


Table of Contents
Contents
Foreword to the Second Edition (2010)
      Ashis Nandy
Preface to the First Edition (1993)
Editorial Note and Acknowledgements
      Prithvi Datta Chandra Shobhi
Introduction: Khadgavagali Kavya (Let Poetry Become [a] Sword)
      Prithvi Datta Chandra Shobhi

Part I: Gandhi and Ambedkar
1. Self-Purification vs Self-Respect: On he Roots of the Dalit Movement
2. The Lie of a Youth and the Truth of an Anthropologist: Two Tales in the Widening of Emotional Concern
3. Gandhi and the Dalit Question: A Comparison with Marx and Ambedkar
4. Two Imaginary Soliloquies: Ambedkar and Gandhi
Part II: Politics and Cultural Memory
5. The Cultural Politics of the Dalit Movement - Notes and Reflections
6. Threefold Tensions: Pre-Colonial History, Colonial Reality, and Post-Colonial Politics - Notes on the Making of Dalit Identity
7. Violence on Dalits and the Disappearance of the Village
8. The Problem of Cultural Memory
9. Misplaced Anger, Shrunken Expectations
10. The Pathology of Sickle Swallowing
Part III: Dalit Literature
11. Against the Poetics of Segregation and Self-Banishment
12. From Political Rage to Cultural Affirmation: Notes on the Kannada Dalit Poet-Activist Siddalingaiah
13. The Power of Poor People's Laughter
14. Between Social Rage and Spiritual Quest: Notes on Dalit Writing in Kannada
15. Cosmologies of Castes, Realism, Dalit Sensibility, and the Kannada Novel
16. Social Change in Kannada Fiction: A Comparative Study of a Dalit and Non-Dalit Classic

Bibliography
Index
Review Quotes
Ram Guha | The Hindu
"A brilliant little book."
For more information, or to order this book, please visit https://press.uchicago.edu
Google preview here