---
England's Railway Heritage from the Air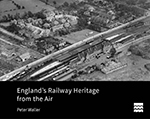 304 pages | 150 halftones | 11 x 8 1/2 | © 2018
At the height of the railway system in England, main, secondary, and branch lines stretched to virtually every corner of the realm. The early railway builders invested much in creating impressive stations for this new and revolutionary form of transport; during the nineteenth century, many of the country's leading architects undertook commissions on behalf of the burgeoning railway industry. After World War II, however, the railway's dominance declined as cars and trucks became the preferred modes of transportation, and many station buildings were swept away.
            Yet, the glory of the railway era and its imprints on the landscape are not lost. For almost a century, the Aerofilms company has been recording the changing face of England from the air, beginning just after World War I, and capturing the country's railway heritage at its zenith in the process. In fact, it is only from the air that it is possible to fully appreciate how much the railway once dominated the landscape. Even in relatively small country towns, the footprint of the railway station, with its platforms and goods yard, was significant.
            Drawing on more than one hundred images from the collection, this fascinating book explores various aspects of England's unique railway heritage, from the humble country goods yard to the ubiquitous signal box, and from the major stations in cities like Birmingham to the tunnels and viaducts scattered all over the country.
For more information, or to order this book, please visit https://www.press.uchicago.edu
Google preview here