---
The Destruction of Memory
Architecture at War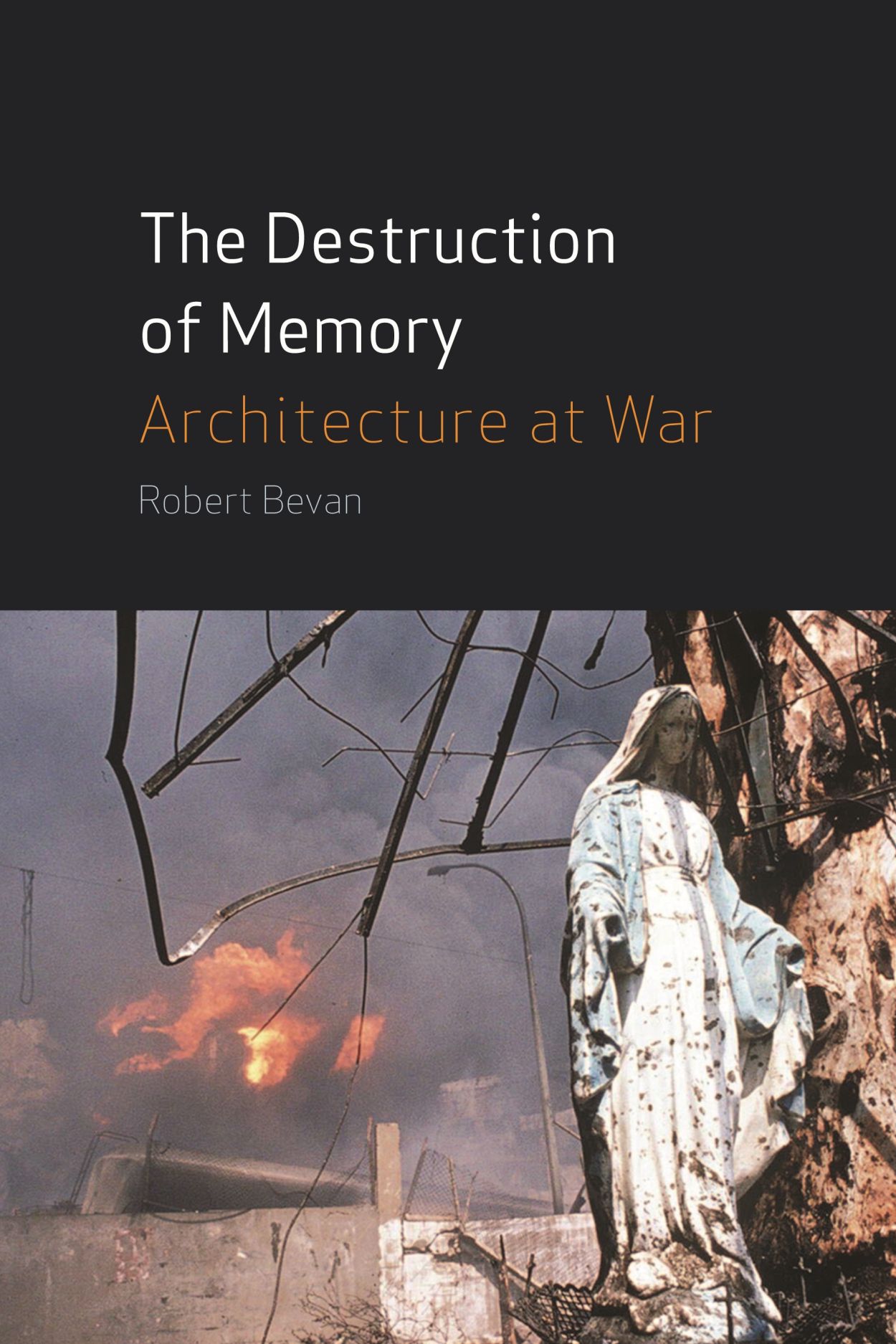 Read
an excerpt
.
Distribution by the University of Chicago Press only to customers in the USA and Canada. Customers elsewhere should visit the UK website of
Reaktion Books
.
240 pages | 67 halftones | 6 x 9 | © 2006
Crumbled shells of mosques in Iraq, the bombing of British cathedrals in World War II, the fall of the World Trade Center towers on September 11: when architectural totems such as these are destroyed by conflicts and the ravages of war, more than mere buildings are at stake. The Destruction of Memory reveals the extent to which a nation weds itself to its landscape; Robert Bevan argues that such destruction not only shatters a nation's culture and morale but is also a deliberate act of eradicating a culture's memory and, ultimately, its existence. 

Bevan combs through world history to highlight a range of wars and conflicts in which the destruction of architecture was pivotal. From Cortez's razing of Aztec cities to the carpet bombings of Dresden and Tokyo in World War II to the war in the former Yugoslavia, The Destruction of Memory exposes the cultural war that rages behind architectural annihilation, revealing that in this subliminal assault lies the complex aim of exterminating a people. He provocatively argues for "the fatally intertwined experience of genocide and cultural genocide," ultimately proposing the elevation of cultural genocide to a crime punishable by international law. 

In an age in which Frank Gehry, I. M. Pei, and Frank Lloyd Wright are revered and yet museums and temples of priceless value are destroyed in wars around the world, Bevan challenges the notion of "collateral damage," arguing that it is in fact a deliberate act of war.
Table of Contents
Contents
1.  Introduction:  The Enemies of Architecture and Memory
2.  Cultural Cleansing:  Who Remembers the Armenians?
3.  Terror:  Morale, Messages, and Propaganda
4.  Conquest and Revolution
5.  Fences and Neighbors:  The Destructive Consequences of Partition
6.  Remember and Warn I:  Rebuilding and Commemoration
7.  Remember and Warn II:  Protection and Prosecution
References
Acknowledgments
Photographic Acknowledgments
Index
Review Quotes
Brian Dillon | Scotland on Sunday
"Bevan sets down an astonishing litany of barbarism. . . . The most lasting image in this sedulously researched, calmly furious book is that of a Sarajevo librarian, in August 1992, watching the National Library go up in flames. The air was filled with black fragments from priceless volumes: carbonised texts that were legible for a moment in eerie negative, before they turned to dust in his hands."
Guardian
"As Bevan's fascinating, melancholy book shows, symbolic buildings have long been targeted in and out of war as a particular kind of mnemonic violence against those to whom they are special."
Lucy Daniel | Financial Times Magazine
"The idea of a global inheritance seems to have fallen by the wayside and lessons that should have long ago been learned are still being recklessly disregarded. This is what makes Bevan's book relevant, even urgent: much of the destruction of which it speaks is still under way."
Dan Cruickshank | The Independent
"His narrative is compelling and convincing. This important book reveals the extent of cultural warfare, exposes its nature and, by helping us to understand some of the most terrible tragedies of recent times, gives us the means and resolve to fight this evil. All who care must read this book and learn its lessons."
Simon Jenkins | The Sunday Times (UK)
"The message of Robert Bevan's devastating book is that war is about killing cultures, identities and memories as much as it is about killing people and occupying territory. War is not just licensed murder but licensed vandalism. Since people are replaceable but buildings and cultures not, the destruction of buildings is often the more ferocious."
Tom Lewis | Wilson Quarterly
The Destruction of Memory presents a dark account of how that devastation is brought about, along with a cogent argument for why it deserves recognition as an atrocity separate from the human carnage it so often accompanies. . . . Bevan's grim statistics force readers to confront yet another dimension of the savagery of our age."
David Simpson | London Review of Books
"Bevan wisely doesn't push his case to the point of strict consistence; his weighting of the role of architecture in war is not absolutely uniform from case to case, nor does it need to be. . . . It is sobering to have so many apparent facts and figures in one book. . . . Where power belongs to the aggressor, the destruction of one family's home might be taken as the first embodiment of a genocide. In reminding us of this Bevan has performed a valuable service, no matter what we may think about a rebuilt Warsaw or a cherished ruin. . . . If we accept that there is no architecturally embodied identity of a nation or people, that our current historical existence is not vitally wrapped up in relics of an imagined past except as nostalgia, then we are unlikely to worry about the occasionally destruction of buildings. Bevan's book makes clear that such insouciance (and nostalgia) is the privilege of the secure and well-defended nation-states where the continuity of home and shelter is assumed."
Joshua Arthur | In These Times
"Thoughtful and provocative. . . .Yet from the Nazi looting of synagogues to the Taliban's demolition of the Bamiyan Buddhas, deliberate destruction of the physical environment has often presaged devastating conflicts. Bevan's timely book urges us to remain attentive to such early warning signs."
Reamy Jansen | Bloomsbury Review
"His research runs deep, and his visits and interviews are wide-ranging. . . . Instructive."
Diana Muir | History News Network
"The sheer volume and scope of the material Bevan has gathered on the destruction of architectural heritage as a form of 'cultural cleansing' makes The Destruction of Memory a valuable resource. . . . The mass of absolutely fascinating, morally complex, and, to me at least, often unfamiliar material . . . makes Bevan well worth reading. . . . And yet the book is worth reading, because Bevan uses vivid narrative detail to bring ot our attention the important insight that 'the destruction of the cultural artifacts of an enemy people or nation' can be a kind of analog to genocide or ethnic cleansing."
RIBA Journal
"Concentrates on the erasure of cultures by the destruction of their buildings and is a must-read."
Leslie Sklair | Political Studies Review
"The ways in which memory inheres in all parts of the built environment is expressed clearly and this is an absorbing, sobering and scholarly book."
For more information, or to order this book, please visit https://press.uchicago.edu
Google preview here