---
[Collecting Systems]
[Learning Book #001]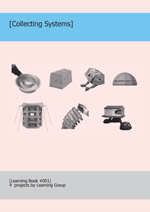 64 pages | 84 color plates, 2 halftones | 6 x 8 1/4
Factories, farms, and ecosystems all generate mountains of unused material every day. These materials—often viewed as useless leftovers—actually have rich, untapped creative potential. The artist collective Learning Group created several art projects that explore these possibilities, and [Collecting Systems] presents these projects in images and words. 

Members of Learning Group traveled to three different urban environments—Chicago; Monterrey, Mexico; and Mikado, Japan—and built structures that incorporated waste objects in unexpected and fascinating ways. Whether a cardboard house modeled after the structure of sea urchin shells, a wearable walking city, or two houses made of plastic bottles and other gathered materials, their projects recycle trash into treasure. The authors investigate the social issues connected to these projects, such as economics, labor, property rights, and environmental conditions, and they propose innovative courses of action on these issues. 

In an increasingly disposable world, [Collecting Systems] is a compelling look at how we can use the materials around us to their fullest potential.


Table of Contents
Contents
[Collecting System]
Information about [Collecting System] in Moriya, Japan
[Learning by Sea Urchin > Paper Dwelling, 1:1 Model]
[Walking City]
[Learning Poster #001]
Information about [Collecting System] in Monterrey, Mexico
[Collected Material Dwelling #002]
[Learning Poster #003]
Information about [Collecting System] in Chicago, United States
[Collected Material Dwelling #003]
For more information, or to order this book, please visit https://press.uchicago.edu
Google preview here