---
The Calvinist Copernicans
The Reception of the New Astronomy in the Dutch Republic, 1575-1750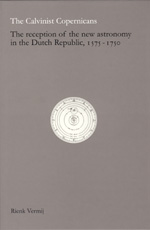 Read about
this title
on the Royal Netherlands Academy of Arts and Sciences website.
Click here
for the pdf version of this book, made available by the Royal Netherlands Academy of Arts and Sciences.
443 pages | illustrated | 7 x 10 | © 2002
When it was published in 1543, Copernicus's new astronomy had an enormous impact on intellectual life in early modern Europe, but the reception of his new ideas differed fundamentally from one country to another. Rienk Vermij discusses how—unlike in Roman Catholic lands—discussion in the heavily Calvinist Dutch Republic was initially dominated by humanist scholars who judged Copernicus's work on its mathematical merits. Yet even in this environment, it could not escape eventual philosophical, religious, and political controversies. This book shows how Copernicus's astronomy changed from an alternative cosmology into an established worldview in the Dutch Republic.
For more information, or to order this book, please visit https://press.uchicago.edu
Google preview here