---
Crime and Justice, Volume 21
Comparative and Cross-National Perspectives on Ethnicity, Crime, and Immigration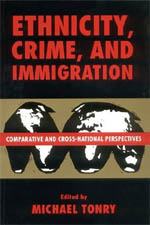 456 pages | 6 x 9-1/4 | © 1996
This volume is the first major cross-national examination of racial and
ethnic differences in criminal offending, victimization by crime, and
disparities and discrimination in justice systems. These nine essays
provide comrehensive up-to-date summaries of research and experience
concerning those subjects in Australia, Canada, England and Wales,
France, Germany, the Netherlands, Sweden, Switzerland, and the United
States. Population migration has reached an all time high in Europe and
with it, "immigration and crime" has become the single most volatile and
topical crime control issue in most of these countries.

The nine essays in this book are written by the leading specialists in
each country. Contributors include Roderic Broadhurst, Julian V. Roberts
and Anthony N. Doob, David J. Smith, Pierre Tournier, Hans-Jörg
Albrecht, Josine Junger-Tas, Peter L. Martens, Martin Killias, Robert J.
Sampson and Janet L. Lauritsen.

Michael Tonry is Sonosky Professor of Law and Public Policy at the
University of Minnesota.


Table of Contents
Contents
Preface
Ethnicity, Crime, and Immigration
Michael Tonry
Ethnic Minorities, Crime, and Criminal Justice in Germany
Hans-Jörg Albrecht
Ethnic Origins, Crime, and Criminal Justice in England and Wales
David J. Smith
Immigrants, Crime, and Criminal Justice in Sweden
Peter L. Martens
Ethnic Minorities and Criminal Justice in the Netherlands
Josine Junger-Tas
Racial and Ethnic Disparities in Crime and Criminal Justice in the United States
Robert J. Sampson and Janet L. Lauritsen
Immigrants, Crime, and Criminal Justice in Switzerland
Martin Killias
Aborigines and Crime in Australia
Roderic Broadhurst
Race, Ethnicity, and Criminal Justice in Canada
Julian V. Roberts and Anthony N. Doob
Nationality, Crime, and Criminal Justice in France
Pierre Tournier

For more information, or to order this book, please visit https://press.uchicago.edu
Google preview here