---
Belltown Paradise / Making Their Own Plans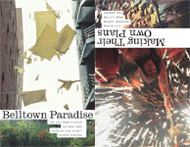 128 pages | 72 color plates, 8 halftones | 5 1/2 x 8 1/2 | © 2004
Urban communities have long tried to defend their neighborhoods from environmental and social blight. This book examines the diverse ways in which artists, environmental activists, and citizens work to revitalize their urban environments.

Belltown Paradise investigates grassroots renovation efforts in the Belltown neighborhood of Seattle, exploring the work of activists there, including their creation of the Belltown P-Patch community garden and conversion of three historic cottages into writers' residences and a community center. The volume also features the first in-depth survey of artist Buster Simpson's work in Belltown.
Making Their Own Plans examines preservation projects in Portland, Chicago, Hamburg, and Barcelona. From the Resource Center's work in Chicago to develop 6,000 acres of vacant city land into farms to the transformation of an old hospital into a community center, the book offers fascinating accounts of independent urban activism around the world.
Belltown Paradise and Making Their Own Plans present inspiring chronicles of how concerned citizens affected community change, making these volumes invaluable for activists and policymakers.
Table of Contents
Contents
Belltown Paradise
 
Foreword by Edie Adams
Introduction by Brett Bloom
Belltown P-Patch & Cottage Park by Glenn MacGilvra
The Spot by Brett Bloom
Denny Regrade to Belltown by Carolyn Geise
Perpendicular and Parallel Streetscape Stories by Buster Simpson

Making Their Own Plans
 
Introduction by Brett Bloom and Ava Bromberg
 
City Repair
The City Repair Project by Stuart Cowan, Mark Lakeman, Jenny Leis, Daniel Lerch, and Jan C. Semenza
Resource Center
How to Make a City Farm as told by Ken Dunn to Salem Collo-Julin
The Mobile City Farmstead by The Mobile City Farmstead Team
The Chicago Compost Shelter by Dan Peterman
Park Fiction
The City is Unwritten: Urban experiences and thoughts seen through Park Fiction by Christoph Schäfer
Can Masdeu
Can Masdeu: The Rise of the Rurbano Revolution by Luke Cordingley

For more information, or to order this book, please visit https://press.uchicago.edu
Google preview here