---
Beyond Mothers, Monsters, Whores
Thinking about Women's Violence in Global Politics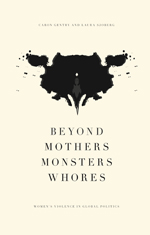 304 pages | 5 x 9 | © 2015
When we discuss violent acts committed by women, our responses are almost always rooted in deeply gendered assumptions about women. We express surprise and shock that a woman could be capable of such an act—a reaction that relies on a long history of unspoken assumptions about what is proper behavior for a woman.

With Beyond Mothers, Monsters, Whores, Caron Gentry and Laura Sjoberg apply the understanding afforded by that lens to individual violence in global politics. The authors begin by demonstrating the crucial interdependence of the individual and international levels of global politics in the lives of violent women—but they then show how this interdependence is inaccurately depicted, or ignored altogether, in public, political, or media discussions of women's violence. An eye-opening exploration of a major topic in the study of global conflict and women's lives, Beyond Mothers, Monsters, Whores will be essential for both scholars and activists.
Table of Contents
Contents
Acknowledgments

1. Introduction: A Woman Did That?

2. Seeing Gender in Theories of People's Political Violence

3. Seeing Women's Extralegal Violence

4. Saving, Supporting, and Supplicating: The Mother Narrative

5. Femininity Gone Awry: The Monster Narrative

6. Sex/Violence: The Whore Narrative

7. Conclusion: Beyond Mothers, Monsters, Whores

Sources Used
Review Quotes
Lucy Popescu | Times Literary Supplement
"Gentry and Sjoberg add to their extensive research into questions of gender and violence in global conflict. . . . [They] are not interested in the hows-and-whys of extralegal political violence, but ask, rather: 'what is political violence? What are women? What are the relationships between those concepts?'"
Choice
"This new edition falls within 'feminist IR (international relations), a subfield of political science seeking to analyze gender in global politics. Rather than view women as idealized or as victims, feminist IR seeks to examine women's agency amid violence and terrorism. The authors analyze secondary sources, without romanticizing or condoning violence, to critique portrayals of violent women as mothers ('fulfilling biological destinies'), monsters ('pathologically damaged'), and/or whores ('inspired by sexual dependence and depravity').  Most case studies come from western Asia and Eurasia. . . . Recommended."
 
For more information, or to order this book, please visit https://press.uchicago.edu
Google preview here