---
Bringing the Food Economy Home
Local Alternatives to Global Agribusiness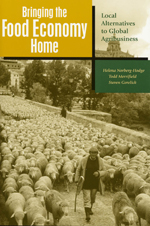 160 pages | 5.4375 x 8.5 | © 2002  
If the many social, environmental, and economic crises facing the planet are to be reversed, a good place to start is to rebuild local food economies. Food is something everyone, everywhere, needs every day, so even small changes in the way it is produced and marketed can offer immense benefits.

Bringing the Food Economy Home shows how a shift towards the local would protect and rebuild agricultural diversity. It would give farmers a bigger share of the money spent on food, and provide consumers with healthier, fresher food at more affordable prices. It would reduce transport, greenhouse gas emissions, and the need for toxic agricultural chemicals. It would lessen the need for storage, packaging, refrigeration and artificial additives. And it would help revitalize rural economies and communities in both the industrialized and the developing world.

With benefits for farmer and consumer, for urban and rural dweller, and for the economy as well as the environment, local food is a powerful solution-multiplier, one that we cannot afford to ignore.
Table of Contents
Contents
List of Illustrations
Acknowledgements
 
1. From Local to Global
 
The Global Food System
Locally Adapted Food Systems
Centuries of Agricultural "Progress"
Big Farms Get Bigger
Agribusiness Takes Over
Globalization
Speeding Up the Treadmill
 
2. The Ecology of Food Marketing
 
Reduced vs. Excessive Packaging
Small, Decentralized Shops vs. Huge Megamarkets
Transport Infrastructures
Energy Infrastructures
Broadcasting Unsustainability
 
3. The Ecology of Food Production
 
Destroying Diversity
On-farm vs. Off-farm Inputs
Integrated Livestock vs. Factory Farms
Life in the Soil
Local Adaptation vs. Genetic Engineering
 
4. Food and Health
 
Fresh is Best
Chemical Stews
Food Poisoning
Factory Farms and Human Health
 
5. Food and the Economy
 
Keeping Money in the Local Economy
Keeping Jobs in the Local Economy
Working More, Earning Less
Farming in the Third World
The Decline of Rural Economies
How Important Are Economies of Scale?
Are Large Industrial Farms More Productive?
 
6. Food and Community
 
Webs of Interdependence
The Death of Rural Communities
Misplaced Blame
Unmanageable Cities
Loss of Democracy
 
7. Food Security
 
Corporate Control
Feeding Corporations, Not the Hungry
The Dangers of a Homogenized Food Supply
Local Foods Add to Food Security
 
8. Shifting Direction
 
International Level
National Level
Local Level
People Power
 
From Global to Local
Resource Guide
Note on Measurements
Endnotes
Index
For more information, or to order this book, please visit https://press.uchicago.edu
Google preview here