---
Wolfgang Amadeus Mozart
A Biography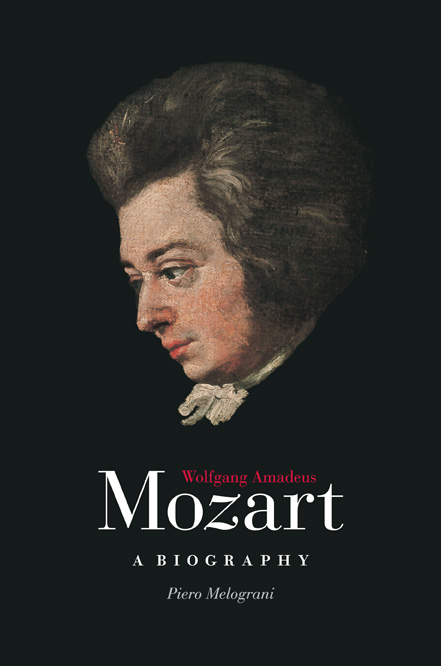 316 pages | 6 color plates | 6 x 9 | © 2006
This year marks the 250th anniversary of the birth of Wolfgang Amadeus Mozart, one of the most enduringly popular and celebrated composers to have ever lived. His substantial oeuvre contains works that are considered to be among the most exquisite pieces of symphonic, chamber, and choral music ever written. His operas too cast a long shadow over those staged in their wake. And since his untimely death in 1791, he remains an enigmatic figure—the subject of fascination for aficionados and novices alike. 

Piero Melograni here offers a wholly readable account of Mozart's remarkable life and times. This masterful biography proceeds from the young Mozart's earliest years as a Wunderkind—the child prodigy who traveled with his family to perform concerts throughout Europe—to his formative years in Vienna, where he fully absorbed the artistic and intellectual spirit of the Enlightenment, to his deathbed, his unfinished Requiem, and the mystery that still surrounds his burial. Melograni's deft use of Mozart's letters throughout confers authority and vitality to his recounting, and his expertise brings Mozart's eighteenth-century milieu evocatively to life. Written with a gifted historian's flair for narrative and unencumbered by specialized analyses of Mozart's music, Melograni's is the most vivid and enjoyable biography available.

At a time when music lovers around the world are paying honor to Mozart and his legacy, Wolfgang Amadeus Mozart will be welcomed by his enthusiasts—or anyone wishing to peer into the mind of one of the greatest composers ever known. 

Table of Contents
Contents
Preface

Prologue - June 1765: In a London Tavern
1. 1756–1767: The Rise and Decline of the Child Prodigy
2. 1767–1777: Searching for a Post with His Father
3. 1777–1778: In Search of a Permanent Post with His Mother 
4. 1778–1780: A Difficult Homecoming
5. 1780–1782: Winning Freedom
6. 1782–1786: Vienna: Difficulties and Successes
7. 1786–1790: The Great Italian Operas
8. 1791: Mozart's Last Year 

Epilogue - Mozart Lives On
Cited Works of Mozart, by Köchel Number
Note on the English
Translation Notes 
Bibliographical Notes
Index
Review Quotes
Choice
"The book brings something new to the table and in fact suceeds brilliantly. . . . [Melograni] examines Mozart's movement through various social and political strata of the late 18th century; his relationships with family memebrs, employers, and other musicians; and his efforts to forge a new kind of career. . . . The book can be read profitably by musicians and nonmusicians. Essential."
Choice Magazine: CHOICE Outstanding Academic Title Awards
Won

View
Recent Awards
page for more award winning books.
For more information, or to order this book, please visit https://press.uchicago.edu
Google preview here