---
A Planet of Viruses
Second Edition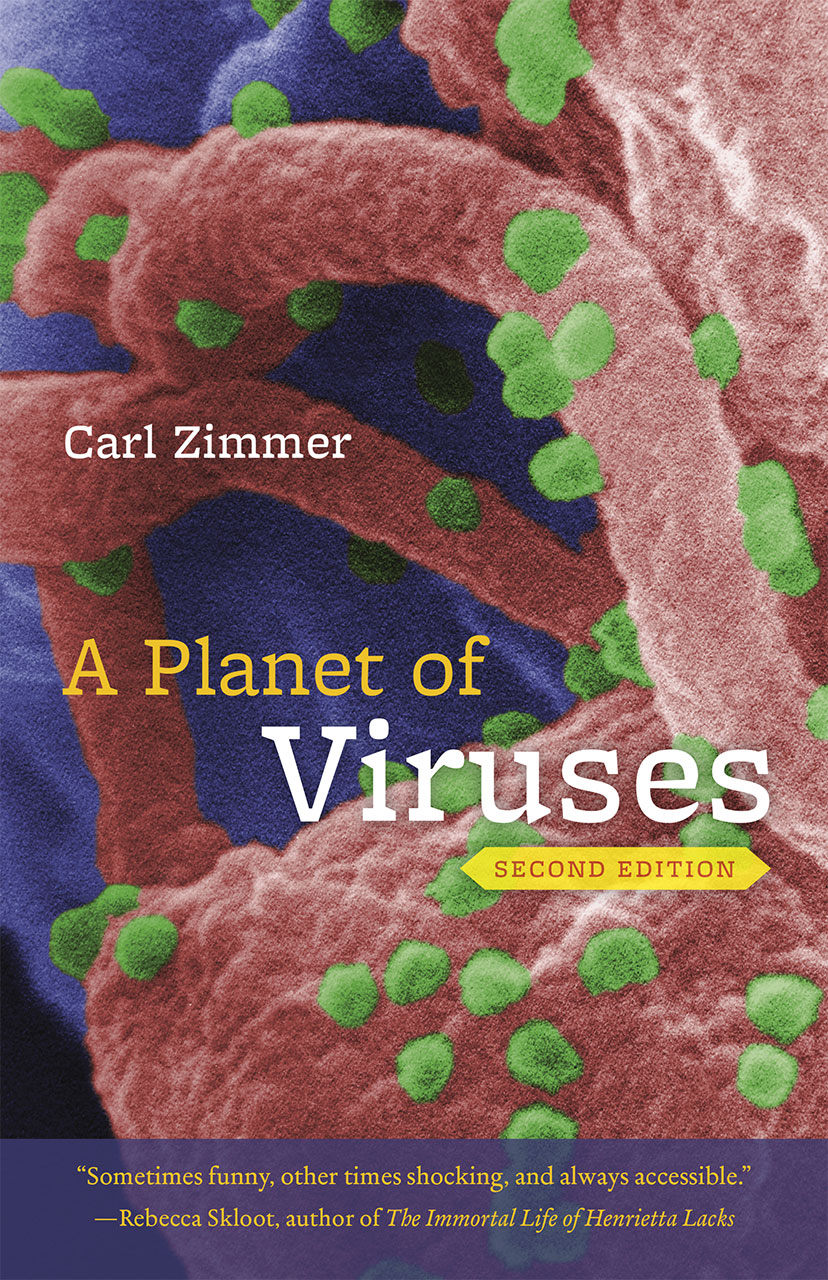 128 pages | 12 color plates | 5 1/2 x 8 1/2 | © 2011, 2015
For years, scientists have been warning us that a pandemic was all but inevitable. Now it's here, and the rest of us have a lot to learn. 

Fortunately, science writer Carl Zimmer is here to guide us. In this compact volume, he tells the story of how the smallest living things known to science can bring an entire planet of people to a halt--and what we can learn from how we've defeated them in the past.

Planet of Viruses covers such threats as Ebola, MERS, and chikungunya virus; tells about recent scientific discoveries, such as a hundred-million-year-old virus that infected the common ancestor of armadillos, elephants, and humans; and shares new findings that show why climate change may lead to even deadlier outbreaks. Zimmer's lucid explanations and fascinating stories demonstrate how deeply humans and viruses are intertwined. Viruses helped give rise to the first life-forms, are responsible for many of our most devastating diseases, and will continue to control our fate for centuries. Thoroughly readable, and, for all its honesty about the threats, as reassuring as it is frightening, A Planet of Viruses is a fascinating tour of a world we all need to better understand.
Table of Contents
Contents
Foreword by Judy Diamond and Charles Wood
 
INTRODUCTION
"A Contagious Living Fluid"
Tobacco Mosaic Virus and the Discovery of the Virosphere

OLD COMPANIONS
The Uncommon Cold
How Rhinoviruses Gently Conquered the World
Looking Down from the Stars
Influenza's Never-Ending Reinvention
Rabbits with Horns
Human Papillomavirus and Infectious Cancer

EVERYWHERE, IN ALL THINGS
The Enemy of Our Enemy
Bacteriophages as Viral Medicine
The Infected Ocean
How Marine Phages Rule the Sea
Our Inner Parasites
Endogenous Retroviruses and Our Virus-Riddled Genomes

THE VIRAL FUTURE
The Young Scourge
Human Immunodeficiency Virus and the Animal Origins of Diseases
Becoming an American
The Globalization of West Nile Virus
Predicting the Next Plague
Ebola Virus and the Many Others Like It
The Long Goodbye
The Delayed Oblivion of Smallpox

EPILOGUE
The Alien in the Water Cooler
Giant Viruses and the Definition of Life
 
Acknowledgments
Selected References
Credits
Index
Review Quotes
Choice
"A brief, highly accessible introduction to viruses and their impact on the world. . . . Highly recommended."
Choice
A Choice Outstanding Academic Title for 2016
Praise for the first edition | Forbes
"Just about everything you've always wanted to know—and a lot you'll probably wish you didn't know—about the viruses that have caused humanity so much grief throughout history."
Praise for the first edition | Washington Post
"In A Planet of Viruses, science writer Carl Zimmer accomplishes in a mere 100 pages what other authors struggle to do in 500: He reshapes our understanding of the hidden realities at the core of everyday existence. . . . Whether he's exploring how viruses come to America or picking apart the surprisingly complicated common cold, Zimmer's train of thought is concise and illuminating."
Praise for the first edition | Booklist, starred review
 "Absolutely top-drawer popular science writing. . . . Zimmer's information-packed, superbly readable look at virological knowledge awakens readers to the fact that not only are viruses everywhere but we couldn't live without them."
Praise for the first edition | Boing Boing
"A smart, beautiful, and somewhat demented book that's likely to give you a case of the willies. In the best way possible."
Choice Magazine: CHOICE Outstanding Academic Title Awards
Won

View
Recent Awards
page for more award winning books.
For more information, or to order this book, please visit https://press.uchicago.edu
Google preview here