---
Leaving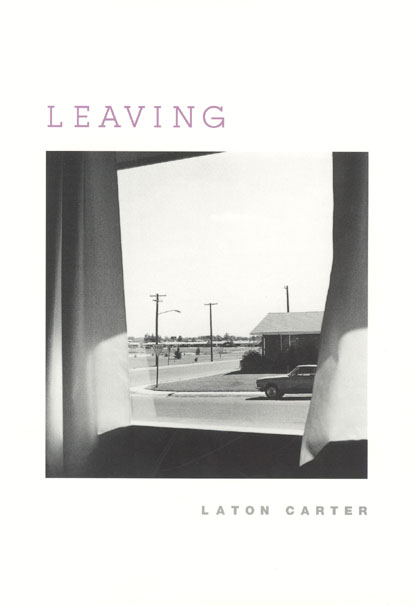 96 pages | 6 1/8 x 8 1/2 | © 2004
Whether charting the moments before or after work, the unspoken emotions accompanying separation and reunion, or the necessity of a grocery store as a "last place" for people to engage publicly, Laton Carter's poems attend to the parts of our lives that are easiest to ignore, like solitary highway drivers passing in their cars and the unspoken link binding people together. In poem after poem, the speaker relentlessly pulls the reader to spaces, both physical and emotional—fearful of the inability to bridge the gap between ideas, places, and individuals, yet unable to avoid trying. Mining the territory of responsibility and longing, these poems remind us that the minutiae and variation in our private lives combine to serve up a larger public identity. An impressively mature first collection of poems, Leaving is a bold book that eschews the superfluous, leaving only that which is most essential and meaningful.
Contents
Acknowledgments
 
Oblique
Diurnal
Brief Hesitation
Continuous
Counter
Silence
Tentative
With
Interval
Yield
Sleep
Render
The Geese
Away
Sequence
Momentum
Ever
Twilight
Finding One's Way
Getting Lost
Indication
Story
Scarce
Decision
Between
Separate
After
New Distances
Highway, Waiting
Shaving
Return
Two
Unspoken
Into 
Gesture


Literary Arts, Inc.: Oregon Book Awards
Won

View
Recent Awards
page for more award winning books.
For more information, or to order this book, please visit https://press.uchicago.edu
Google preview here