---
In the Shadow of Slavery
African Americans in New York City, 1626-1863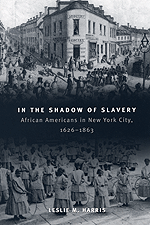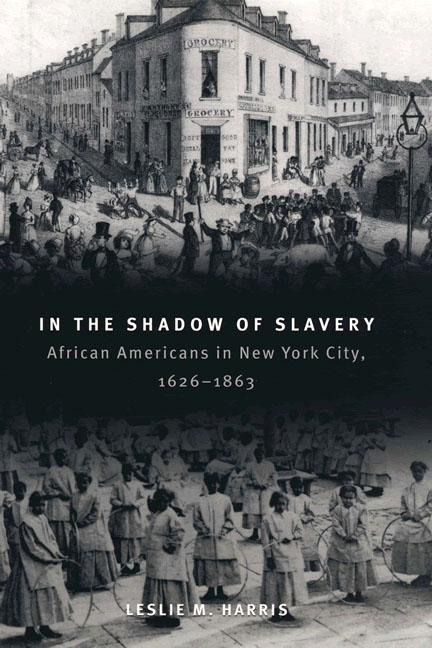 387 pages | 20 halftones, 7 maps | 6 x 9 | © 2002
"The black experience in the antebellum South has been thoroughly documented. But histories set in the North are few. In the Shadow of Slavery, then, is a big and ambitious book, one in which insights about race and class in New York City abound. Leslie Harris has masterfully brought more than two centuries of African American history back to life in this illuminating new work."—David Roediger, author of The Wages of Whiteness

In 1991 in lower Manhattan, a team of construction workers made an astonishing discovery. Just two blocks from City Hall, under twenty feet of asphalt, concrete, and rubble, lay the remains of an eighteenth-century "Negro Burial Ground." Closed in 1790 and covered over by roads and buildings throughout the nineteenth and twentieth centuries, the site turned out to be the largest such find in North America, containing the remains of as many as 20,000 African Americans. The graves revealed to New Yorkers and the nation an aspect of American history long hidden: the vast number of enslaved blacks who labored to create our nation's largest city.

In the Shadow of Slavery lays bare this history of African Americans in New York City, starting with the arrival of the first slaves in 1626, moving through the turbulent years before emancipation in 1827, and culminating in one of the most terrifying displays of racism in U.S. history, the New York City Draft Riots of 1863. Drawing on extensive travel accounts, autobiographies, newspapers, literature, and organizational records, Leslie M. Harris extends beyond prior studies of racial discrimination by tracing the undeniable impact of African Americans on class, politics, and community formation and by offering vivid portraits of the lives and aspirations of countless black New Yorkers.

Written with clarity and grace, In the Shadow of Slavery is an ambitious new work that will prove indispensable to historians of the African American experience, as well as anyone interested in the history of New York City.
Table of Contents
Contents
List of Illustrations
Acknowledgments
Introduction
Chapter 1: Slavery in Colonial New York
Chapter 2: The Struggle against Slavery in Revolutionary and Early National New York
Chapter 3: Creating a Free Black Community in New York City during the Era of Emancipation
Chapter 4: Free but Unequal: The Limits of Emancipation
Chapter 5: Keeping Body and Soul Together: Charity Workers and Black Activism in Post-emancipation New York City
Chapter 6: The Long Shadow of Southern Slavery: Radical Abolitionists and Black Political Activism against Slavery and Racism
Chapter 7: "Pressing Forward to Greater Perfection": Radical Abolitionists, Black Labor, and Black Working-Class Activism after 1840
Chapter 8: "Rulers of the Five Points": Blacks, Irish Immigrants, and Amalgamation
Chapter 9: The Failures of the City
Postscript
Notes
Works Consulted
Index
Review Quotes
Christine Stansell | New Republic
"[Among] the first books to bring a rich knowledge of New York history to a precise and detailed analysis. . . . Announces the arrival of a strong interpretation: New York City was full of slaves; slavery was central to the metropolitan economy of the eighteenth and early nineteenth centuries; and slavery unraveled only by degrees, the pace excruciatingly slow. . . . The most thorough and intricate portrait that we have of an assertive and influential Northern black community. . . . Harris provides a sophisticated account of the tragic counterpoint between the assertive black politics forged by these people and a hardening color line that opposed them. She corrects the common mistake of casting anti-slavery as a white movement by putting black abolitionists at the very center where they are seldom seen but rightfully belong."
Richard Stott | Civil War History
"[The book] is intelligent, well organized, clearly written, and fair minded. This is an impressive addition to what has become an important body of work on New York's African American community in the antebellum era."
Nikki Taylor | Journal of African American History
"This is an absolutely superior work of social history. . . . Thoroughly researched, perceptively analyzed, cleverly argued, beautifully written."
Scott Miltenberger | Journal of Social History
"For its treatment of antebellum class relations and urban community development, Harris' In the Shadow of Slavery ought to become a staple of undergraduate reading lists for several years to come."
Patrick Rael | CRM: The Journal of Heritage Stewardship
"A powerful story of New Yok City's African Americans from the colonial period through the Civil War. The strength of the book lies in its capacity to synthesize a tremendous amount of scholarship on antislavery and black activism while simultaneously offering novel interpretations. . . . Few have done as much as Harris to challenge historians to weave the African American experience into a retelling of the national narrative. The book is a stunning achievement—an insightful and wide-ranging work that may long stand as definitive."
Bruce Dain | William and Mary Quarterly
"Harris's rigor and sobriety result in the most complex and convincing portrait of free black class and community formation in the existing literature.  She argues that, in their obsessive concern with race, many historians have treated the relationship of free black communities to labor as unchanging and uninteresting—when in fact that relationship constantly changed and interacted with the larger context of New York City's labor market and class consciousness."
Phyllis F. Field | Journal of the Early Republic
"Harris [provides] not only a richly textured description of African-American social life but a glimpse at how black presence could ultimately influence white working-class identity, cultural attitudes, and political culture."
American Historical Association: Wesley-Logan Prize
Won

View
Recent Awards
page for more award winning books.
For more information, or to order this book, please visit https://press.uchicago.edu
Google preview here