---
Information Now
A Graphic Guide to Student Research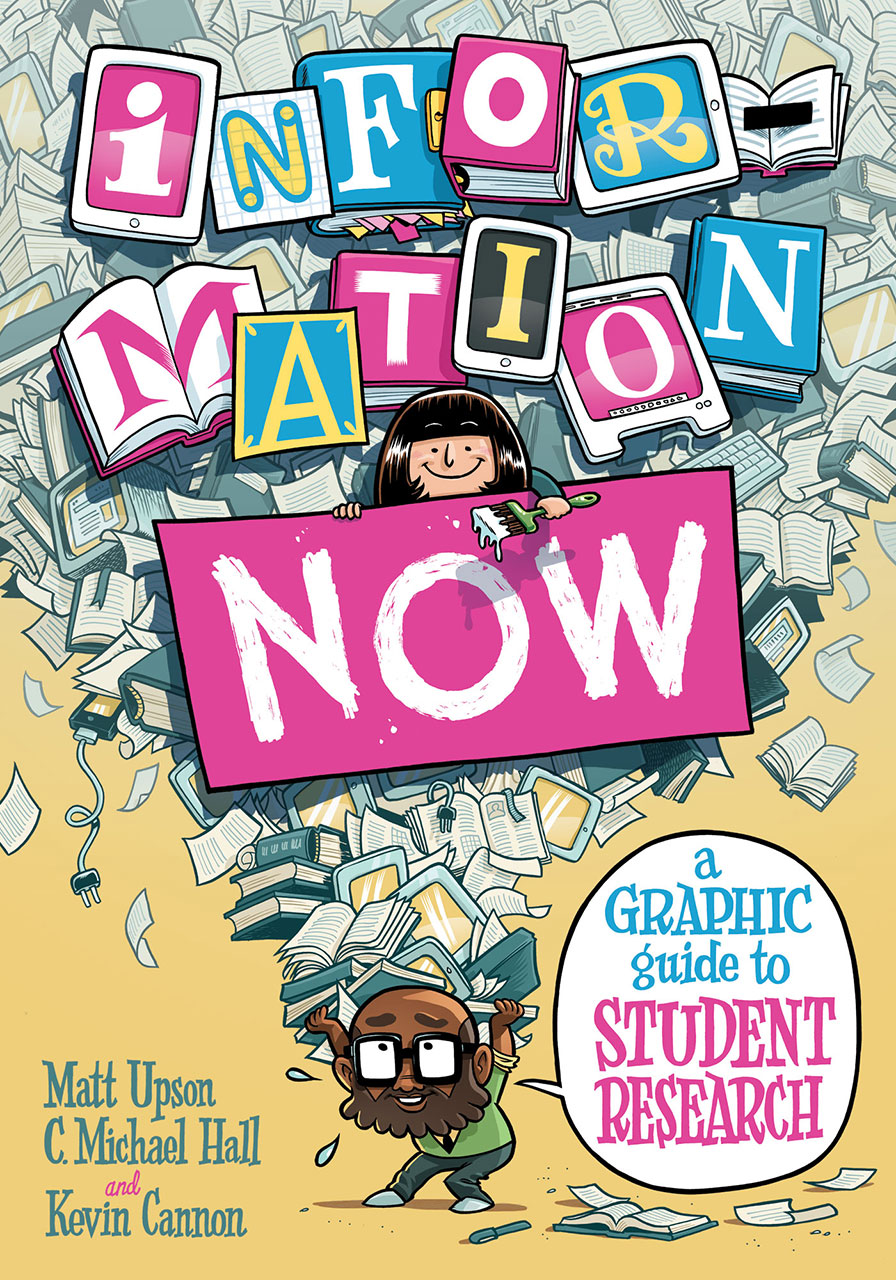 128 pages | 7 x 10 | © 2015
Every day researchers face an onslaught of irrelevant, inaccurate, and sometimes insidious information. While new technologies provide powerful tools for accessing knowledge, not all information is created equal. Valuable information may be tucked away on a shelf, buried on the hundredth page of search results, or hidden behind digital barriers. With so many obstacles to effective research, it is vital that higher education students master the art of inquiry.

Information Now is an innovative approach to information literacy that will reinvent the way college students think about research. Instead of the typical textbook format, it uses illustrations, humor, and reflective exercises to teach students how to become savvy researchers. Students will learn how to evaluate information, to incorporate it into their existing knowledge base, to wield it effectively, and to understand the ethical issues surrounding its use. Written by two library professionals, it incorporates concepts and skills drawn from the Association of College and Research Libraries' Information Literacy Competency Standards for Higher Education and their Framework for Information Literacy for Higher Education. Thoroughly researched and highly engaging, Information Now offers the tools that students need to become powerful consumers and creators of information.

Whether used by a high school student tackling a big paper, an undergrad facing the newness of a university library, or a writer wanting to go beyond Google, Information Now is a powerful tool for any researcher's arsenal.
Table of Contents
Contents
PREFACE

INTRODUCTION: INFORMATION OVERLOAD

1 THE PROCESS: STEPS TO FINDING AND USING THE RIGHT INFORMATION. ANYTIME. ANYWHERE.
2 HOW INFORMATION IS ORGANIZED AND FOUND: THE BASICS
3 SEARCHING AND LIBRARY CATALOGS: UNDERSTANDING THE HUNT FOR INFORMATION
4 JOURNALS AND DATA BASES
5 SEARCHING THE OPEN WEB
6 EVALUATING YOUR SOURCES
7 USING INFORMATION ETHICALLY
8 CONCLUSION

ACKNOWLEDGMENTS
GLOSSARY
Review Quotes
Library Journal
"A useful guide to developing an essential skill for students."
Booklist
"The nontraditional format will likely draw in both high-school and college students, and the accessible information will set them well on their way toward becoming expert library users."
Journal of Information Literacy
"A valuable resource. . . . Text and illustrations are used engagingly and to communicate the depth of the problem before moving on to present solutions in a reassuring and practical way. Critical thinking exercises are integrated to give students an opportunity to ensure that they understand the importance of the topics covered, to reflect on their relevance and to apply them to their work."
Communications in Information Literacy
"In this guide that is styled as a comic, authors and illustrators Matt Upson, C. Michael Hall, and Kevin Cannon introduce new college students to information literacy concepts that will serve them in both their academic careers and their everyday lives. The authors have coupled a conversational tone with their informal, graphic style, and they have succeeded in presenting a book that feels easy for students to approach and understand."
VOYA Magazine
"Information Now brilliantly takes advantage of the graphic novel structure in order to bring informational literacy to life. Not only do the drawings add humor, they also provide real-life examples that clarify difficult research concepts. Written with the college freshman in mind, the majority of the text is actually accessible to students as young as middle school. Readers will find themselves laughing at the clever analogies in the text, while simultaneously understanding the research process in an entirely new way."
Carol L. Tilley, Graduate School of Library and Information Science, University of Illinois at Urbana-Champaign
"Upson and Hall's experience as instruction librarians ensures that Information Now's presentation of information literacy aligns with professional standards and practices, while cartoonist Cannon's wry, animated style serves to reassure readers. Let their intrepid librarian help guide your students through morasses such as information overload, controlled vocabulary, scholarly publishing, the deep Web, and plagiarism. You won't regret it."
Lizz Zitron, instruction librarian, Pacific Lutheran University
"Information Now is the research guide undergrads, faculty, and librarians did not know they were waiting for. Combining the fun of comics with wit and useful knowledge, Information Now provides new researchers a visually engaging guide to succeed in the world of academic research. I highly recommend librarians and faculty use it to help undergraduates actively engage with the research process in a meaningful, yet super fun way. By using the comic format to ease undergrads into the challenging world of academic research, the authors have created one of the most relevant, accessible, and entertaining guides to research available.

Upson, Hall, and Cannon might not save the world with this book, but they are definitely saving the sanity of overwhelmed undergraduates facing their first college papers. Highly recommended for academic library collections and classroom instruction."
Robert G. Weiner, popular culture librarian, Texas Tech University
"In today's world of information overload, it is often difficult for students, the average citizen, and even faculty to wade through the mass of clutter out there in the world. So much of the information we encounter in our day-to-day lives is not only irrelevant, it's often wrong. Increasingly, information literacy is a skill that everyone needs to function in our complex world and without it most of us are lost trying to navigate through the maze. Upson, Hall, and Cannon's Information Now provides a practical guide for all of us to find our way around. They show us HOW and WHY it's important to think about information literacy and the steps to take to make sure we do it correctly. It's all here in this sequential art textbook: searching techniques, critical thinking, how information is organized, problems of plagiarism, copyright, and correct citation, databases, peer reviewed sources, metadata, Boolean operators, and much more. Information Now is a godsend and I can't wait to use it in the classroom."
For more information, or to order this book, please visit https://press.uchicago.edu
Google preview here