---
Catharsis
On the Art of Medicine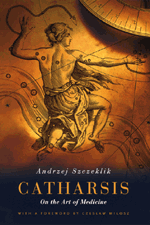 172 pages | 12 line drawings | 5 1/2 x 8 1/2 | © 2005
The ancient Greeks used the term catharsis for the cleansing of both the body by medicine and the soul by art. In this inspiring book, internationally renowned cardiologist Andrzej Szczeklik draws deeply on our humanistic heritage to describe the artistry and the mystery of being a doctor. Moving between examples ancient and contemporary, mythological and scientific, Catharsis explores how medicine and art share common roots and pose common challenges.

The process of diagnosis, for instance, belongs to a world of magic and metaphor; the physician must embrace it like a poem or painting, with particular alertness and keen receptivity. Speculation on ways to slow aging through genetics, meanwhile, draws directly on the dream of immortality that artists and poets have nourished through the ages. And the concept of catharsis itself has made its way from the writings of Aristotle to today's growing interest in the benefits of music to health, especially in newborns. As Szczeklik explores such subjects as the mysteries of the heart rhythm, the secret history of pain relief, the enigmatic logic of epidemics, near-death or out-of-body experiences, and many more, he skillfully weaves together classical literature, the history of medicine, and moving anecdotes from his own clinical experiences. The result is a life-affirming book that will enrich the healing work of patients and doctors alike and make an invaluable contribution to our still-expanding vision of the art of medicine.
Table of Contents
Contents
Foreword, Czeslaw Milosz
1. Ribbons
2. Constellations
3. The Elixir of Life
4. A Tangle of Serpents
5. In between Art and Science
6. The Rhythm of the Heart
7. A Purifying Power
8. Suffering
9. Exitus
10. Chimera
11. After the Genome
12. Alterations and Returns
Notes

Review Quotes
Library Journal | starred review
"Szczeklik does a convincing job of showing us how, despite modern technology, medicine is still as much an art as it is a science. The general public will enjoy the journey through the mind of this renaissance thinker, and instructors will find plenty of topics for class discussions. A real gem, this book is highly recommended."
Niall O'Higgins | Times Higher Education Supplement
"Drawing on mathematical ideas, physics, music, mythology, clinical science and clinical practice, Szczeklik never forces the issues or compels. He treads lightly. He reminds and explains. He draws attention to details of physiology that can be explained and those that remain mysterious. He shifts gears effortlessly between the known and the mysterious. . . . He approaches the questions of pain, suffering and death that confront the doctor daily and that the world regards as "terrible, futile and destructive". Here he stresses the immense value of the experienced doctor in helping patients in the loneliness of pain. . . . The kathartai, forerunners of doctors in pre-Hippocratic Greece, were said to purify the soul by the soothing and calming combination of music, dance, poetry and song. Szczeklik is in tune with them."
Kevin Barraclough | British Medical Journal
"This is a book about the soul of medicine--and about the relationship of medicine to science. . . . It is medicine not as audited technical expertise but as an art as old as human suffering--and therefore as old as humanity itself. I know nothing about the author . . . but I suspect he was a Renaissance polymath in another life. And whoever translated him into English is clearly the Seamus Heaney of Eastern Europe, because every sentence resonates."
Joseph Perloff | American Journal of Cardiology
"Szczeklik foregrounds medicine as a skill derived from magic in which art and science are inseparably woven into a seamless fabric that dissolves traditional boundaries. The book provides contemporary physicians with access to humanistic sources that are the wellspring of their profession and provides humanists with biomedical sources to which they have unwittingly but materially contributed."
Dorian Deshauer | Canadian Medical Association Journal
"Balancing titans, heroes, medical history and individual accounts is tough to pull off, but the author manages a unique, even poetic synthesis. . . . A thoughtful expression of a life dedicated to medicine."
For more information, or to order this book, please visit https://press.uchicago.edu
Google preview here