---
Changing Works
Visions of a Lost Agriculture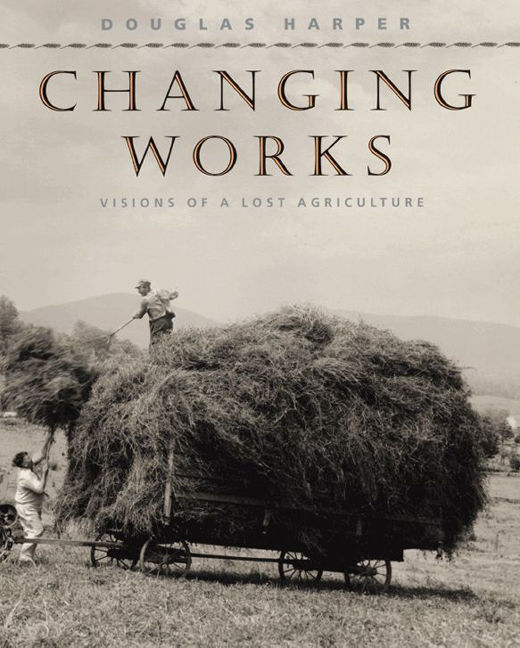 304 pages | 136 halftones, 7 tables | 8 x 10 | © 2001
The work of Douglas Harper has for two decades documented worlds in eclipse. A glimpse into the life of dairy farmers in upstate New York on the cusp of technological change, Changing Works is no exception. With photographs and interviews with farmers, Harper brings into view a social world altered by machines and stuns us with gorgeous visions of rural times past. As a member of this community, Harper relates compelling stories about families and their dairies that reveal how the advent of industrialized labor changed the way farmers structure their work and organize their lives. His new book charts the transformation of American farming from small dairies based on animal power and cooperative work to industrialized agriculture.

Changing Works combines Harper's pictures with classic images by photographers such as Gordon Parks, Sol Libsohn, and Charlotte Brooks-men and women whose work during the 1940s documented the mechanization and automation of agricultural practices. Part social history and part analysis of the drive to mass production, Changing Works examines how we farmed a half century ago versus how we do today through pictures new and old and through discussions with elderly farmers who witnessed the makeover. Ultimately, Harper challenges timely ecological and social questions about contemporary agriculture. He shows us how the dissolution of cooperative dairy farming has diminished the safety of the practice, degraded the way we relate to our natural environment, and splintered the once tight-knit communities of rural farmers. Mindful, then, of the advantages of preindustrial agriculture, and heeding the alarming spread of mad cow and foot-and-mouth disease, Changing Works harks back to the benefits of an older system.
Contents
Introduction
The Project: An Overview
The Standard Oil of New Jersey archive
Research with Photographs
Historical Frameworks
The Machine in the Garden
Horses and Tractors
Horses and Tractors, Standard Oil of New Jersey Photographs
Making Hay
Oats and Corn: Changing Works
The Corn Revolution
The Meaning of Changing Works
Gendered Worlds
Souping Up Cows
The History since Then
Craft and Factory Farms, circa 1989
Factory farms and Megadairies
The Scene at the Turn of the Millennium
Notes
References
Index
Society for Visual Anthropology: Collier Prize for still photography
Won

North Central Sociological Association: North Central Sociological Assoc. Award
Won

View
Recent Awards
page for more award winning books.
For more information, or to order this book, please visit https://press.uchicago.edu
Google preview here