Click on each thumbnail photo to open a larger version in a pop-up window.
Mike Royko, Korea, 1953
One of only a couple photos I have (the other is included in the Royko In Love book) of Dad from 1953, when he was in Korea with the United States Air Force. It's also a rare picture of Dad in uniform. He was 20 or 21 years old.

The Duckmans on Mike's worst day
Mom's (first) wedding day, on her eighteenth birthday, November 21, 1952. The marriage wouldn't last long, but Carol looks happy in this photo with her parents and brother, oblivious to her close friend Mickey Royko's broken heart. From left to right: Fred Duckman, Mildred Duckman, Carol, Bob Duckman.

5408 N. Central Avenue, Chicago, in the early 1950s
Following her separation from Larry Wozny in January 1954, after barely a year of marriage, Mom moved into her parents' home at 5408 N. Central Avenue in the Jefferson Park neighborhood of Chicago, where Dad addressed his letters to Carol Wozny, then Carol Duckman, and finally Carol Royko. When he was transferred from Blaine, Washington to the Air Force base at O'Hare in January 1955, Mom and Dad lived in an apartment, but eventually they moved into the third floor of the Central Avenue house, which had been the Fred R. Duckman Funeral Home, a short-lived (around 1950 to the mid-'50s) family business run by Carol's mortician brother Bob (his middle name) and their parents. By the time I was born in 1959, the funeral home was out of business, and we lived on the second and third floors, while my grandparents, Fred and Mildred Duckman, lived on the first floor. By 1969, my grandfather (an electrician) had retired and they moved to 9510 Nerbonne in Franklin Park, and we moved to 6657 N. Sioux Avenue, Chicago. Before selling it, Gramps and Uncle Bob gave the house—built in the 1880s—a fresh coat of white paint from top to bottom. It was for naught—a developer bought it to tear down and replaced it with a couple of three-flats. These are the only photos I have of the house. (The one on the right is water-damaged, not taken after a blizzard.)

Putting up the sign: Carol's father Fred (left) and her brother Bob (right)—who seems to be dressed in his mortician's garb—erect a sign for the Fred R. Duckman Funeral Home. I don't know who is helping them. It's striking how rural the Jefferson Park neighborhood still looked in 1950.

Mike Royko & Joe Kahwaty, Mt. Baker, Easter, 1954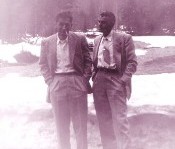 A photo taken by Don ("Chris") Karaiskos. Joe (on the right), one of the airmen who stood up for their wedding, was described in a letter by Dad as "a Syrian boxer from Brooklyn, 3 years of college, dark, handsome, and a very good friend." Dad wrote to Carol, "The only thing that made the trip worthwhile was the effect we had on the skiers at the lodge. Everyone up there was dressed in ski togs so when we entered the lodge dressed in suits & white shirts we stood out like sore thumbs. After dinner we returned to the car, took out our golf clubs, strolled casually to the edge of a cliff, teed up the balls in the snow, hit them, and walked back to the car. Everyone stood around looking bewildered so before they could summon the men in the white suits, we departed."

Mike Royko the young golfer, Blaine, Washington, ca 1954
A couple photos from Don ("Chris") Karaiskos of Dad the airman, on a course near the base. In a letter to Carol from around this time, he said, "I think I'll write a book someday exposing the numerous flaws in the Air Force. I'll call it
From Here to the Golf Course
, or
The Blaine Mutiny
."
The base from the air
The 757th Radar Squadron—Mike's base in Blaine, Washington, photographed from the air (a Fairchild 22) by Don Karaiskos in the Spring of 1952.

Mike and "Chris"—Blaine, April 1954
Courtesy of Don "Chris" Karaiskos, here they are (Dad's on the left) with the car they shared, in the countryside around the base.

Carol's diary
We have all of Dad's letters to Mom, but none of her's to him. However, she did keep a diary—sporadically—during this period, and I have included several passages from it in
Royko In Love
. This is the diary, and her entry from the day she received Dad's first letter to her with his huge confession.
A rare Royko/Duckman gathering, ca 1954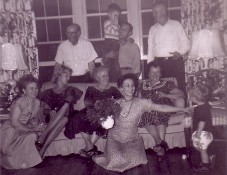 As my Uncle Bobby (Dad's younger brother) said recently when he saw this photo for the first time, "This is a great shot and one of the most unlikely groups you would ever expect." I myself have no recollection of ever being together at the same time with my mother's and father's sides of the family, which is interesting considering that my father's niece, Barbara, married my mother's brother, Bob! The gathering in this photo, based on the ages of the kids, very possibly took place when Dad was in town on leave from the Air Force base in Blaine, when he formally proposed to Mom. Dad probably took the picture. Uncle Bobby helped me in identifying everyone.
Standing (L-R): Michael Royko Sr. (Dad's father), Corky Ozag (Eleanor's son), Joe Pardell/Padolski (Helen Zak-Royko's 2nd husband), Fred Duckman (Carol's father).
Sitting (L-R): Marie Royko (2nd wife of Michael Sr.), Mom (Carol), Mildred Duckman (Carol's mother), Eleanor Royko-Ozag (Dad's sister), Helen Zak-Royko (Dad's mother and the 1st wife of Michael Sr.), Michael Ozag (Eleanor's son).

Mike Royko & Carol, his mother Helen & nephew Michael, ca 1954
From the same gathering, Mom and Dad with his mother, Helen, and Eleanor's son, Michael.

New sisters-in-law Carol Duckman-Royko & Eleanor Royko-Ozag
Another from the same 1954 gathering, my mother and Dad's sister Eleanor with son Michael on her lap.

The letters
With the box Mom kept them in.

Carol and Mike engaged, September 1954
Mom is dressed for her job in the doctor's office. This was taken alongside the house at 5408 N. Central, on Dad's leave when he proposed; by his expression, you would've thought she said "no!" Maybe that's what their faux-argument was about.
On her way—Carol's flight to Seattle
The round-trip ticket cost $97.90, which is more than $765 in today's dollars. But at least she got a dinner, even at that ungodly hour.
The wedding cake topper from November 6, 1954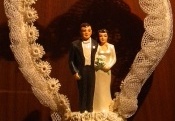 The honeymoon
Hard to believe, but I don't think any photos exist of Mom and Dad's wedding or honeymoon. In a small box that Mom kept of wedding-related items, there is this postcard from the Lake Wilderness Lodge, 30 miles southeast of Seattle, where they honeymooned. Now owned and operated (as of 2010) by the City of Maple Valley, in 1954 it was new. Tucked away in the pocketbook Mom carried when she died in 1979 was a black-and-white picture that seemed to be torn from a brochure of the same photo of the lodge that was used for this postcard, and folded with it was the dateline from a newspaper, "November 6, 1954," their wedding day. Finally, Mom wrote to her parents on the back of the postcard, but never got around to sending it, or else mailed it in an envelope.