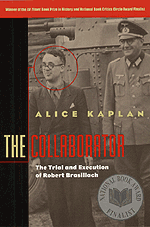 Nominee for the 2000 National Book Critics Circle Award for General Nonfiction
Finalist for the 2000 National Book Award for Nonfiction
"The Collaborator is one of the best-written, most absorbing pieces of literary history in years."—David A. Bell, New York Times Book Review
"The James Dean of French fascism, as historian Alice Kaplan calls Robert Brasillach in her lucid and gripping new book, met a dismal fate that was shared by countless other collaborationists. But Brasillach's death was different [because he] was executed for intellectual rather than military or political crimes. The questions posed by Kaplan are still disturbing and poignant today, for Brasillach was essentially executed for what we would now call 'hate speech.'"—Lawrence Osborne, Salon
"In this rare scholarly page-turner, Kaplan employs the skills of a biographer and literary critic to flesh out the life of Robert Brasillach, a prolific and controversial French critic who was executed for treason, at age 35, after France's liberation from the Nazis…Everyone in the courtroom comes to life here…Kaplan…brilliantly demonstrates how a trial, and the lives of individuals, can serve as a metaphor for the entire nation."—Publishers Weekly, starred review
"The first scholar to have had access to dossiers in the case, she presents stunning portraits of the accused, the prosecutor, the court—whose members had themselves served the discredited collaborationist Vichy regime—members of the jury, and the defense. An important contribution to the voluminous literature on a dark period in French history."—Choice
"This gripping reconstruction of his trial—with portraits of judge and jurors and accounts of the defense and prosecution speeches—shows that Brasillach was perhaps unlucky to be executed; on the other hand, Kaplan is dismissive of any attempts to rehabilitate the reputation of what the prosecutor called a 'magnificent talent, which was useless because it wasn't merciful.'"—The New Yorker
"The riveting tale of an episode…that continues to affect French life and politics and raises profound moral issues…Kaplan focuses her resonant work on the enduring question of the responsibility of writers and intellectuals to their societies…An important contribution to French history."—Kirkus Reviews
An interview with
Alice Kaplan
author of The Collaborator:
The Trial and Execution of Robert Brasillach


Read an excerpt from the book.

Q. Who was Robert Brasillach?
A. He was a talented, prolific writer and a passionate ideologue, editor of the major fascist and anti-semitic newspaper in Paris. And he was executed by firing squad in 1945 for collaborationist treason with the Nazis—the only really respectable writer who went to his death during the post-war purge of collaborators. He died at 35, leaving behind volumes of his writing and a political legacy that is part of the story I'm telling.
Q. In the aftermath of the war 50,000 French men and women were tried for collaboration and 1,500 were executed. Why is the story of Brasillach more worthy of retelling than those of other collaborators? What makes him special?
A. Among all the collaborators who were tried and punished in the liberation era, Brasillach is special because he was condemned to death for his words—fighting words. A writer, a bookish type like Brasillach, who gets himself in that much trouble is interesting!
He went to court at the height of the purge in a theatrical trial that was a symbolic reckoning for post-war France. When you read the trial today, the positions represented—Vichy versus the resistance—are a great knot of competing French ideologies.
Let me put it another way: this is a trial where a man's life is at stake, and so is the future of a nation, its sense of its own history, and the way it understands the power of the written word. Everyone in the courtroom knows this and acts accordingly. I've seen a lot of spectacular trials on TV and in the movies, and none of them has the drama of Robert Brasillach's treason trial.



Brasillach visits the Eastern Front, 1943
Q. What effect did the trial and execution of Brasillach have on the writers and intellectuals of France? Were there writers who supported him, or at least disagreed with the verdict or sentence?
A. A group of writers and intellectuals circulated a petition to be sent to DeGaulle, asking him to pardon Brasillach. Camus signed it, but only because he was opposed to the death penalty. He said he had no respect for Brasillach—the man or the writer. Sartre and Beauvoir refused to sign. The petition was signed by several well known men of the theater, and by a number of conservatives in the Académie Française. François Mauriac, the distinguished Catholic novelist and member of the resistance, did all he could to gather signatures—an extraordinarily charitable gesture since Brasillach had attacked him viciously in print during the Occupation. Even among the writers who refused to sign, it was a shock when Brasillach went to death, because—good or bad—he was one of them.
Q. Who remembers Brasillach today and why?
A. In France Brasillach is a martyr for the extreme right, a politically charged figure. His brother-in-law, who died in 1998, was a mentor to holocaust revisionists, as well as the guardian of Brasillach's literary legacy. Readers of my memoir, French Lessons, may remember the chapter where I describe interviewing him. But even among those who detest everything Brasillach stood for, his case is still an occasion for debate, and his conviction and execution remain an ethical and moral dilemma. This dilemma has been heightened by the recent crimes against humanity trials of Vichy bureaucrats involved in the deportation of 75,000 Jews from France. Why was a writer killed, when others with more direct responsibility for the deportations went free?
Q. Your other books have also explored—in much different ways—the theme of collaboration in France; you've uncovered some of the buried past of French fascism. Why do you return to this theme? What keeps that pick and shovel in your hand through three books?
A. I've explored theories of fascism in Reproductions of Banality (Minnesota 1986), and I've written about my own personal stake in the study of fascism in French Lessons (Chicago, 1993). My father was a prosecutor at the war crimes trials at Nuremberg, and that's given me a deep curiosity about all the issues in the Brasillach case. When I was a graduate student at Yale in the 1970s, I studied fascism in Paul de Man's French department, without realizing that he himself had been a journalist at Le Soir, a collaborationist newspaper in Belgium that took political and cultural positions very close to Brasillach's. So the theme of collaboration and fascism has followed me around—and I've followed it! But it isn't just my theme. My sense is that the post-68 generation in general has been fascinated by the study of WWII in relation to our parents' and grandparents' personal histories. What was especially meaningful to me in writing The Collaborator was to get to the other side—the liberation of France, with its great expectations but also its tremendous conflicts and contradictions. I realized when I started writing about the liberation of Paris that I was at the end of a trilogy.
Q. What conclusions can we draw from Brasillach's story about the role of the intellectual in the affairs of the nation?
A. There aren't many intellectuals today—and certainly not many literary intellectuals—who have the political influence and power that Robert Brasillach had in France in a moment of national crisis. What power do we want intellectuals to have in our society, and what do we trust them to do with it? Do we even have intellectuals anymore? That's the subject for an essay, or a good long conversation. . . .