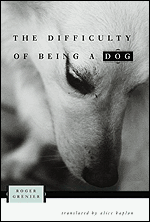 "Charming . . . . Mr. Grenier, a well-known novelist and essayist in France, recounts many stories about the significance of dogs to men and women, and offers some interesting ruminations on the nature of dogs themselves. The 43 frugal essays that make up this volume . . . are literate, light, and lighthearted. They make up a kind of anthology of literary musings about dogs based on Mr. Grenier's extensive readings in everything from Faulkner to the Japanese novelist Junichiro Tanizaki."—Richard Bernstein, New York Times
"[A] very superior commonplace book of canine characteristics, the mixture of Grenier's own anecdotes with quotations from other intellectuals making it far from the average gift-shop item—as if Roland Barthes had opted for domestic animals rather than for fashion or photography."—John Stokes,Times Literary Supplement
"In this collection of several dozen delightful and poignant anecdotal pieces, [Grenier] ranges over our 12,000-year relationship with dogs, from those who appeared in Greek and Roman mythology—like the three-headed Cerberus, who guarded the gates of Hell—to the dogs that appear in our dreams. . . . With whimsical humor and mordant wit, he applies a broad and deep knowledge of literary dog lovers from Homer to Flaubert and Faulkner, elaborating not only on their insights into dog-love and hate but also on what these writers' revelations tell us about ourselves. . . . [A]n appealing gift item, this slim volume will make lovers both of literature and canines sit up and take notice."—Publishers Weekly
Use the website Paris en photos to take a virtual stroll down the rue du Bac.
An excerpt from
The Difficulty of Being a Dog
Roger Grenier


The Walk down the Rue du Bac

For years I used to walk Ulysses in our neighborhood, so we ended up knowing a lot of people. Dogs are like Emmanuel Kant, who always wanted to take the same walk. The less it changes, the happier they are. Leaving the house, we would turn left. Unless, inadvertently, I uttered the word "Tuileries," in which case there was nothing to be done; Ulysses would turn right and I had to follow him. We would march across the rue de Varenne under the surveillance of the policemen who guard the intersection in front of the Matignon, the official residence of the prime minister. These security police, many of them from rural areas, would compliment the Saint-Germain pointer on his beauty or ask me about his hunting skills. Depending on the day, I would lie or tell the truth, the truth being that he didn't hunt.

A little farther on, Dora, the big black dog that guarded the Catholic Rescue Mission, would have smelled our arrival. She would start to cry with emotion, with desire. She would thrust her muzzle through the bars of the gate to kiss her beloved. Dora, the black sinner in a pious community of bishops, priests, saintly women.

The next house belonged to the writer Romain Gary. On our first outing at 7:30 in the morning, we would often meet him strolling down the street, going to buy the newspaper or to have a cup of coffee across the way. Gary said that the rue du Bac was his country. Tartar, Jew, Russian, Pole: he was a mix of so many things that he had no desire to be a citizen of the world, a European, or even a Frenchman. What he required was membership in a tiny province or someplace even smaller. Hence the rue du Bac. "Come here, you jerk," he would say to Ulysses, who would advance immediately, stretch his hind legs, and rub up against him.

One day in September 1980, we met Gary near the front of his building. As usual he said, "Come here, you jerk!" We approached. I said to Romain: "I'm afraid this is the last time you'll see Ulysses. He's going to be put to sleep."

Romain let out a violent sob and hid in his entryway.

Ulysses died September 23; Gary died December 2.

In one year, Gary's former wife (the actress Jean Seberg), Gary himself, and Ulysses all died, and the street was empty. I might as well speak of all three in the same breath, since we loved one another.

We would pass the Clermont-Tonnerre mansion, where Chateaubriand spent the last ten years of his life. From there, we'd follow the same short path the writer used to take to Madame Récamier's house at the Abbaye-aux-Bois, a stone's throw from Sèvres-Babylone. But in the end, he was paralyzed and she was blind.

The concierge of one of the most aristocratic abodes on our street always had small dogs, which gave us a chance to stop for a moment and exchange dog talk. On one encounter she announced the death of a little fox terrier, more than fourteen years old, and added, "Since Easter is coming and we're going home to the country, my daughter has put her in the fridge."

Walking the length of the Bon Marché department store, we'd take the rue Babylone down to Boucicaut Square. Our car was parked there, in the underground garage. Ulysses would push his luck and take to the stairs. No, not today, no car, no walk in the "dog meadow" at the Bois de Boulogne. Just a turn around this wretched square, made even uglier by a block of lard purporting to represent that do-gooder Madame Boucicaut, surrounded by charitable ladies. The turn around the square was always counterclockwise. Sometimes during our last nightly outing I would cross paths with shadows that already belonged to the past: the Italian filmmaker Marcello Pagliero, the male lead in Rome Open City, walking a little dog; the singer Marianne Oswald, who ended her days in a rented room on the attic floor of the Hotel Lutétia (Marianne once appeared dressed as a red flame reciting Cocteau's Anna la bonne); an old gentleman on roller skates, dragged down the street by two labradors and guaranteed to fall flat on his face. In the square, a strange bag lady dressed in khaki, a French flag and the word "patriot" sewn on her knapsack, had set up on a bench for the night. Her bicycle was beside her. She said she was General de Gaulle's niece. One day she too disappeared. The city creates phantoms, then swallows them up.

Once in awhile this bag lady would come to Gallimard, the publishing house where I work, claiming that her manuscript had been stolen. On one occasion she asked to see Gaston Gallimard. "But Monsieur Gallimard is dead," the receptionist said, only too happy to have an irrefutable alibi at her disposal. "That's not true," the bag lady replied. "I saw him at Jean-Paul Sartre's funeral." (Sartre was still alive.)

Once we'd finished our tour of the square, it was time to start for home.

At night, too, I used to spot Ronald Dubillard, who lived in the same building as Gary, crossing the street to buy a bottle of whiskey at Pucinella's, a grocery that stayed open late. I mention Dubillard because he, like Rilke, refused to love dogs for fear of making them suffer: "It would hurt me to make a dog suffer, a dog that was mine by virtue of that suffering and of everything that made that suffering possible. That's why I hate dogs."

Many years earlier, when I was working as a journalist, Nicole Ladmiral, the star of Robert Bresson's film, Diary of a Country Priest, had asked me to interview Dubillard, who wasn't as well known as he deserved to be. We sat a good half hour face-to-face without speaking. My method was to say nothing, because people usually can't tolerate silence. So they start to confess. But with him it didn't work. In the end we burst out laughing. This good memory is associated with a tragic one: the awful death of Nicole Ladmiral, who threw herself under a Metro train.

I'm quite glad to have Chateaubriand for a neighbor. His amorous adventures amuse me. But it was still more exciting, during World War II, to walk down the rue d'Amsterdam every day on my way to work and to pass the Hôtel de Dieppe, where Baudelaire lived. Or, even today (to stay close to the rue du Bac), I'm happy when I cross the rue Paul-Louis Courier, formerly called the Passage Sainte-Marie, and remember Stendhal: "Suddenly I see myself in a room on the third floor, with a view of the rue du Bac; you entered this lodging from the Passage Sainte-Marie, so beautiful and so changed today. A humble staircase led to my garret room."

He insists that he was very ill there and almost died. But he had already convinced himself that the ultimate happiness was to live in a garret in Paris and to write. On the same corner where the young Henri Beyle had his room in 1799, there now sits a café. With the first ray of sun, a crowd mobs the outside tables, while the boulevard Saint-Germain stretches out below like an arm of the sea. This is our beach.

Our village has always attracted writers. I can identify my neighbors in the portraits adorning the windows of the Gallimard bookshop on the boulevard Raspail. Most of them are alive, and I meet them on the street. But sometimes I see the faces of friends who have gone. The photo of Romain Gary that they have there adds to my sadness because it shows Gary holding his dog Pancho in his arms, a dog that looks at you seriously, almost severely, and that died in Majorca, run over by a car. When that portrait is on display, a visit to the bookshop feels like a pilgrimage.

On June 19, 1841, more than forty years after starting out on the rue du Bac, Stendhal wrote to Romain Colomb from Citavecchia: "I have two dogs, which I love tenderly. One is a black English spaniel, a handsome dog, but sad and melancholic. The other, Lupetto, is café au lait, gay, lively—a young Burgundian, in short. It made me sad to have nothing to love."

Four months later, Stendhal left Citavecchia forever. Nine months later he was dead. What became of his dogs?

When you love a dog and it loves you, the lack of synchronization between human and animal life is bound to bring sorrow. I remember a phone call from Madame Simone: "My dog has died. You seem to know about these things. Could you tell me where I might get another?"

She was 95 at the time. What optimism! Perhaps she was right, since she lived to be 107, some say 110. So she still had just about the duration of a canine existence before her.