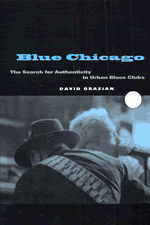 "Blue Chicago offers a revealing look at an important part of Chicago life. David Grazian spent lots of time in blues clubs all over the city, schmoozing with musicians, bartenders, club owners, and audiences, sometimes even taking the stage himself. What he uncovers is how people involved with the Chicago blues scene define the blues experience and how they make use of those definitions when performing and producing the music. This is a wonderful book."—Howard S. Becker, author of Outsiders
Elsewhere on the web:
The Real Chicago Blues
An interview with David Grazian
author of Blue Chicago: The Search for Authenticity in Urban Blues Clubs

Question: The blues weren't invented in Chicago, but they were certainly shaped here: urbanized, electrified, and set to a danceable beat. Suppose I want to hear the real stuff, some authentic Chicago blues, and I go to a local blues club. What will I find there?
David Grazian: Nowadays a lot of Chicago blues clubs feel like Hollywood movie sets. On the surface they feel ramshackle and rusty—the barstools are worn out, the plaster is falling off the walls, and the floor seems barely mopped. But if one pans across their smoke-filled, dimly lit rooms, one begins to notice the bouncers with their headsets; the souvenir shops loaded with t-shirts, trinkets, and other tourist trap fare; and the well-heeled out-of-towners who arrive by limousine and tour bus, oblivious to the fact that many of these seemingly dilapidated clubs are located in some of the richest neighborhoods in the city, including Lincoln Park and the Near North Side. Like Hollywood's best film noir, these clubs are in the business of producing middle-class fantasies of urban life, thrilling and dark. But in reality, most of these places feel more like Disneyland with booze.
Question: OK, forget the contrived shabbiness of the club; the music is what's important anyway. When the band plays "Sweet Home Chicago," you can't get much more authentic than that, right?
Grazian: Chicago blues bands typically perform the same cover songs night after night. These standards include "The Thrill Is Gone," "Mustang Sally," "Every Day I Have the Blues," "Call It Stormy Monday," and, of course, "Sweet Home Chicago." In my conversations with local musicians, one referred to this collection of songs as the "Set List from Hell," while another moaned, "You know, we have to play them, because they're the songs that people know and they want to hear. I'm so sick of playing those songs."
Question: Not all blues clubs are in upscale neighborhoods. For example, what about a place like the Checkerboard Lounge, which has often been described as the classic Chicago blues joint. After all, Keith Richards jammed with Muddy Waters there. Can I get an authentic blues experience at the Checkerboard?
Grazian: Today even some of the city's ghetto neighborhoods have become commodified as tourist attractions where middle-class consumers fantasize about what they think it must feel like to be poor. At the recently shuttered Checkerboard Lounge, these kinds of patrons derived satisfaction from the grittiness of the club's cheaply fashioned interior as emphasized by its ripped orange booths, tables lined with fading contact paper, and bathroom floors tiled with flattened cardboard boxes from old beer cases. In their never-ending search for authenticity, these customers were often dismayed by how popular the Checkerboard had become among tourists just like themselves, as it diminished their fantasy of having discovered such a place on their own.
Question: So is my search for the authentic Chicago blues experience just wrongheaded or what?
Grazian: The search for authenticity is more often based on what we think places and people ought to be like, instead of what they actually are like. It is based on stereotypes, and, like all stereotypes, images of authenticity are fantasies based on a mix of prevailing myths and popular prejudices. In the context of the local blues club, these symbols of authenticity take the form of a familiar set of overblown caricatures. According to these stereotypes, authentic blues clubs are hole-in-the-wall joints with broken front doors and rattling sound systems; they are unbearably smoky and smell as funky as their music sounds. They serve cheap beer and hard whisky all night long and are located in slightly dangerous black urban neighborhoods, or else off the deserted highway, deep in the sticks. They only hire authentic-looking blues musicians, who are generally uneducated men afflicted by blindness, or else they walk on a wooden leg or a second-hand crutch; as they are defiantly poor, they drive beat-up Fords and old Chevy trucks and usually cannot read or write their own name.
Most of all, dominant images of authenticity in the blues are informed by racial stereotypes. As a guitarist explained to me at a jam session late one night, "It's because white audiences and owners are ignorant. The owners know that tourists will ask at the door, 'Well, is the band playing tonight a black band, or is it a white band?' Because the tourists only want to hear black bands, because they want to see an authentic Chicago blues band, and they think a black band is more real, more authentic. When they come to Chicago, it's like they want to go to the 'Disneyland of the Blues.' You know, it's like this: people want German cars, French chefs, and, well, they want their bluesmen black. It's a designer label."
Blues musicians come in all sizes. They are black and white, Japanese and German. When they are not playing at night, some maintain straight jobs as day laborers, but many others are schoolteachers and computer programmers. I have met black musicians who learned to play the blues in Mississippi and in the cutthroat jam sessions of Chicago's West Side clubs; but I have also met those who discovered the blues at the University of Illinois, Boston University, and in other learned, middle-class contexts. Are these musicians less authentic than their less educated counterparts? Most audiences cannot seem to tell the difference when they hear them play, but their desire for a so-called "authentic" experience often lends strength to more erroneous stereotypes of what blues musicians ought to look and sound like.
Question: Let's talk a bit more about these musicians. If the crowd is looking for the same blues standards night after night, how do musicians, black or white, deal with that? What's authentic to the blues musician?
Grazian: Musicians rely on a different set of standards when contemplating authenticity in the blues. For instance, they tend to deemphasize the race or the educational background of their fellow musicians, but they think a lot about how they play. Some musicians are self-proclaimed traditionalists and only have respect for those players who affect a sound reminiscent of the 1950s Chicago sound. Meanwhile, others feel burdened by the weight of tradition and defend their authenticity on the basis of their creativity and willingness to artistically experiment with the blues. As one performer explained to me backstage one night, "Some guys, they want to put the blues in a straitjacket. But not me—I'm not a purist. You see, the blues is evolutionary. If you keep the blues stagnant, it can't grow."
One also has to remember that for a lot of these musicians, the blues is more than a hobby: this is what these men and women do for a living. To most musicians, a good gig is simply a job that pays well in a hassle-free environment. If that club happens to be in the suburbs, so be it. As Dizzy, a local singer, remarked to me one evening, "Man, it's not about having fun. It's about makin' money—now that's what it's all about." Alas, not all musicians can afford to be as "authentic" as their fans would like them to be.
Question: If the musicians in the popular blues clubs are expected to be black, what's it like to be a white blues musician? Where do they play?
Grazian: Being a blues musician must be one of the only jobs in the country in which workers are penalized for being white. As one such musician emphasized to me, "The truth is, if you're white you have to go out there and prove yourself even more. . . . I have to work twice as hard, play twice as good, because I'm white. In the world of blues, I am affirmative action." As a result, white musicians have a difficult time procuring gigs in high-paying downtown clubs. So where do they play? Ironically, many white musicians perform in small clubs located in black neighborhoods, where local audiences tend to care a lot less about the race of the musicians than they do in more tourist-oriented spots. (As one might imagine, tourists find it most frustrating when they travel down to the South Side of Chicago for some authenticity, only to find that the performers are the same white guys they were trying to avoid in the first place.)
Of course, a more traditional racism still pervades the world of the blues. As just one example, black performers who arrive late to their gigs because of car trouble are often accused of being lazy and unreliable, whereas whites might be given the benefit of the doubt during such mishaps. Also, it is important to remember that among the top blues performers in the music industry, white musicians—Eric Clapton, Bonnie Raitt, Stevie Ray Vaughan—have faired much better financially than their equally talented black counterparts.
Question: In Chicago, the blues audience is mostly a white audience. Why aren't there more blacks in the audience?
Grazian: The blues fell out of favor with middle-class blacks in the late 1950s and early 1960s because it was considered "gutbucket," "low-class" music that recalled the countrified terrain of Mississippi, Alabama, Oklahoma, and other southern spaces that their families had left behind. Also, since the blues has always been characterized as the music of poor people, it therefore did not resonate with upwardly mobile black audiences the way that more contemporary urban soul, rhythm and blues, and jazz music could.
Meanwhile, the blues grew in popularity among white audiences during this same period of time for several reasons: the blues was the progenitor of early rock 'n' roll; white artists such as Elvis Presley had gained prominence singing old blues songs like "That's All Right," "Reconsider Baby," and "Hound Dog"; and young white music fans craved the authenticity represented by black blues singers like Muddy Waters and Howlin' Wolf.
Today the Chicago blues audience continues to be mostly white, whereas many black consumers prefer hip-hop and rap, reggae, jazz, and dance music. (At the same time, one should also bear in mind that the black community is hardly monolithic; it is constituted by a diverse array of individuals with varying musical tastes.) But in spite of the relative homogeneity of the audiences, blues clubs still represent some of the most racially integrated public spaces in the city.
Question: The Chicago Blues Festival is now in its twentieth year. How does the city of Chicago use the blues—and authenticity—to promote itself?
Grazian: It's funny; while the city's designation as the "Home of the Blues" seems rather self-evident, Chicago largely ignored the cultural resources of its segregated black neighborhoods during the now-celebrated "heyday" of the Chicago blues in the 1950s. In fact, the city only began incorporating its blues legacy into its presentation of itself after its blues clubs began attracting white audiences. Today, the city relies on the blues to attract tourists from all over the world and promotes the blues in its promotional brochures, hotels, music festivals, and local neighborhood tours of the city. In fact, a few years back the Department of Environment used the city's blues heritage to promote its landfill conservation and waste management strategies, drawing on its inflated reputation as the "Home of the Blues" to advertise its blue-bag recycling campaign on the sides of public city buses. When Robert Johnson penned his well-known ode to the city, "Sweet Home Chicago," it is unclear whether this is quite what he had in mind.
Question: A similar issue of authenticity is threaded through country music. Bob Dylan incurred the wrath of folk purists when he picked up the electric guitar. Indie rock bands were judged by how resolutely they avoided commercial success. And many early-music aficionados want to hear Bach only on period instruments. Is the issue of authenticity common to all kinds of music?
Grazian: I would say so, although authenticity comes in many flavors. In classical music, some fans are quite traditionalist, and so to them authenticity is measured according to an orchestra's ability to perfectly reproduce a court performance from the eighteenth century. Hip-hop fans evaluate the authenticity of rappers on the basis of their ability to "keep it real," or stay "true" to themselves, without "forgetting where they came from." Meanwhile, indie rockers bemoan the loss of authenticity in the wake of commercial success and widespread popularity. And as one digs deeper within these different music worlds they discover that even the experts disagree as to what authenticity actually is. So I would agree that the search for authenticity is common to all types of music, but it is likely to be characterized in relatively unique ways, depending upon the context.
Question: Congress has decreed that 2003 is the year of the blues. Any parting thoughts for the year?
Grazian: Even though this year has been designated as the centennial anniversary of the blues, the blues was actually born even earlier than 1903. The blues borrows from traditional and colonial African music, early American folk traditions, and the work songs as well as spirituals sung by black slaves and field hands during the nineteenth century. W. C. Handy's "discovery" of the blues in 1903 does not exactly mark the beginning of the blues; it marks its shift away from an oral tradition and its subsequent commercialization through the distribution of written sheet music. Also, perhaps it is a bit ironic that the blues, which had often served as an expressive form of black protest and celebration early in the twentieth century, is being promoted by a Republican-led Congress and White House that has spent the past year turning back the clock on civil rights, race-based affirmative action, health care, and welfare aid to poor people of all races. During this "Year of the Blues," I encourage readers to learn more about this wonderful music and draw on its power to help contribute to a more racially integrated society and equitable democracy.