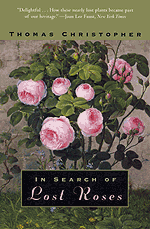 "What sticks in the mind after reading Thomas Christopher's wonderfully titled In Search of Lost Roses is the stories he tells and the people he's met, researched or gone to look for—the mad, passionate, wildly uncompromising people, fixed on a flower."—Beverly Lowry, New York Times
"Destined to become a classic. . . . So interesting one is tempted to read it all in one sitting. . . . An essential addition to the library of anyone interested in roses, but equally fascinating reading for anyone else."—Dick Streeper, San Diego Union-Tribune
An interview with
Thomas Christopher
author of In Search of Lost Roses


Read an excerpt from the book.

Question: What are "lost roses," and how did they get that way?

Christopher: Traditionally, gardeners grew a tremendous diversity of roses—some 6,000 different kinds were introduced by nurserymen in the nineteenth century alone. Not all of these roses were available at any given time, but still, a century ago gardeners took for granted that they would have access to roses of all sorts of sizes and colors, from tiny five-petalled roses very little different from the wild species, to huge, petal-packed puffs as much as six inches in diameter.

This situation changed at the beginning of the twentieth century. The nursery industry consolidated, so that the growing of roses was handled by a few giant firms. To maximize profits, these businesses trimmed the product lines, eliminating the less than best-selling roses. Eventually, the rose growers focused on the production of the widely-popular new hybrid tea roses to the exclusion of almost everything else.

The other roses, the heritage of 2,500 years of breeding and gardening, disappeared from nursery catalogs and eventually from gardens, too. They were lost and presumed dead until a handful of imaginative rosarians made it their business in the 1970s and 1980s to search out specimens surviving in abandoned gardens, cemeteries, and other inadvertent sanctuaries. My book is the story of these collectors and their crusade.

Q: How are these old roses different from more contemporary varieties?

Christopher: Until recently, contemporary roses almost universally followed the hybrid tea pattern. That is, they bore long-stemmed blossoms of the familiar, florist rose type on twiggy, disease-prone bushes. The old roses were united only in that they didn't follow this modern pattern. Springing from dozens of species of wild roses, they offered shrubs of every imaginable stature, from tiny dwarfs a few inches tall to climbers whose canes might stretch to thirty feet. The blossoms of the old roses offered countless different visions of beauty. The old roses also offer richer and more varied fragrances; some breathe a scent of spices such as cinnamon or cloves, others have a bouquet of fruits such as apples, citrus, or mango. It is said that a century ago, rose connoisseurs could identify any rose you held up to their noses, simply by fragrance.

On a practical level, old roses, because of their genetic variability, offer better adaptations to conditions found in different regions of the United States. Contemporary hybrid tea roses will not thrive without coddling outside of the Southwest. Wherever you garden, though, there is some race of old roses that will flourish in your soil and your climate.

Q: What are a couple of your favorite old roses? Can you tell us the stories of their (re)discovery?

Christopher: One of my favorite old roses is the "Hole Rose," a vigorous shrub that bears pale yellow blossoms touched with a blush of pink. It was discovered by Pamela Puryear, a founder of the Texas Rose Rustlers, growing up through the weeds in the yard of an abandoned cottage in Navasota, Texas. I helped Pam to collect cuttings from this bush to share with the other rustlers at the annual old rose rustle. Later, we learned that this shrub was actually a specimen of a tea rose of 1871 from Belgium, 'Marie van Houtte.' How this exotic shrub found its way to rural Texas and survived a century of Texan summers I cannot imagine.

Another favorite of mine is the Eglantine, Rosa eglanteria. This is a wild rose common throughout northern Europe. Its fresh appley scent is in the foliage—the perfume is released when you crush a leaf or when rain wets the bush. This wild rose is found all through the gold rush country of California, growing around the old mining camps where it was planted by the homesick Welsh and Cornish miners who came to teach the Americans how to extract gold from the underground veins.

Q: You met a lot of colorful characters during your quest to find the lost old roses. Can you introduce us to a few of them?

Christopher: Pam Puryear was certainly one of the most colorful, a well-educated but reclusive Texan lady who lived in a crumbling mansion her grandfather had built according to a pattern purchased from a magazine. Pam used to carry an old cavalry saber with her while out rose hunting to ward off the snakes.

Another remarkable personality was Fred Boutin, a self-employed botanist who lived in a genuinely attractive house fashioned from a converted railroad car, and who had discovered over two hundred different kinds of old roses in the former gold rush country of California's Tuolumne County. Just for his own amusement, Fred was reproducing the breeding programs of the old-time nurserymen, producing contemporary versions of their antiques.

Q: Where are the best places to find old roses "in the wild"? Do any public gardens in the United States have especially fine collections of old roses?

Christopher: Old cemeteries remain the best places to find old roses. It was formerly the custom to plant mother's favorite flower beside her grave, and as often as not, the favorite was a rose. Unlike gardens, gravesites are not relandscaped every generation, so the old roses survived in cemeteries after they were pushed out of our gardens.

Many public gardens have fine collections of old roses. The collection at the Huntington Botanical Gardens in San Marino, California, is probably the best in the United States. The collections at the New York Botanical Garden and the Brooklyn Botanic Garden are also outstanding.

Q: What's the best way for people who want to plant old roses in their gardens to get started?

Christopher: Contact the nearest botanical garden and see if that institution has a collection of old roses you can visit. Consider joining the American Rose Society (P.O. Box 30,000, Shreveport, LA, 71130); the Society will put new members in touch with experienced rose gardeners in their area. Above all, learn how to root a cutting and start collecting your own specimens of lost roses. They are all around you, no matter where you go in this country.

Q: How did you first become interested in old roses?

Christopher: I was restoring the grounds off an old estate that had become a Columbia University campus. I had planted a small garden of modern hybrid tea roses which was beautiful when in bloom but which cost me many hours of spraying, feeding, watering, etc. to maintain. Even with my best care, I lost at least 10 percent of those modern shrubs every winter. Eventually I noticed that among the fifty-year-old survivors of the original estate plantings were several roses. These had flourished, despite total neglect, and it occurred to me that I should be planting more roses of those kinds. My quest to identify those old timers introduced me to a number of old rose experts and collectors—I found them to be fully as colorful as the roses they collected.

Q: What do you find most rewarding about gardening with old roses?

Christopher: The fragrances are simply astonishing. I enjoy those flowers best with my eyes closed, just letting all the perfumes wash over and through me. I've also enjoyed all the by-ways down which these flowers have taken me. I never would have seen the backroads of Texas, the old neighborhoods of Lynchburg, Virginia, or the cemeteries of my own New England had it not been for the lost roses.

Q: What are your current gardening projects?

Christopher: I'm planning a small orchard of vintage cider apples—I've become interested in recreating the classic hard ciders of New England.