---
Vincent Everywhere
Van Gogh's (Inter)National Identities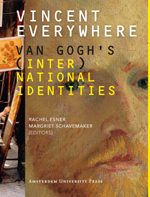 184 pages | 24 halftones | 6 3/4 x 9 | © 2010
In this thorough and original retrospective, scholars of history, culture, art history, media, and literary studies explore the relative cultural significance of Vincent van Gogh and his work across time and around the world. The journey begins in present-day Amsterdam with an examination of the Dutch master's legacy in a country now troubled by issues of identity, migration, and globalization. It continues with accounts of Hollywood's embrace of van Gogh, which is in contrast to a colder reception from European cinema; the struggle between French and German philosophers to find the true meaning of the painter's famous depiction of worn shoes; the unique affection for van Gogh found in Japan; and the unstable inclusion of the artist's letters in the French literary canon. The book ends with an analysis of van Gogh in his own time, when he was acutely aware of his own foreignness as an immigrant in England, Belgium, and France, and when conflicts first arose over the location, both figurative and literal, of his artistic legacy.   
Table of Contents
Contents
Note to the Reader
Introduction
    Rachel Esner and Margriet Schavemaker
Twenty-First Century
Van Gogh and the National Canon of Dutch History
      Christine Delhaye
A Young Negro at Dawn: Van Gogh and Barack Obama in a Poem by Derek Walcott
      Thijs Weststeijn
Van Gogh Was a Moroccan
      Fouad Laroui
Twentieth Century
History versus Mythology: Reading Van Gogh for Dutchness
      Griselda Pollock
What Are the Shoes?
      Katherine Chandler
Van Gogh as an Export Product of the Stedelijk Museum, 1945–1973
      Caroline Roodenburg-Schadd
Imprisoned by Hollywood? Van Gogh in the Mass Media
      Margriet Schavemaker
A Mutual Love: Van Gogh and Japan
      Kris Schiermeier
'J'écrirais': Vincent van Gogh as a French Author
      Wouter van der Veen
Ruisdael in Provence
      Carel Blotkamp
Nineteenth Century
Beyond Dutch: Van Gogh's Early Critical Reception, 1890–1915
      Rachel Esner
Van Gogh: A Dutch Traveler in France
      Louis van Tilborgh
Epilogue
Notes
For more information, or to order this book, please visit http://www.press.uchicago.edu
Google preview here