---
The Twilight of the Avant-Garde
Spanish Poetry, 1980-2000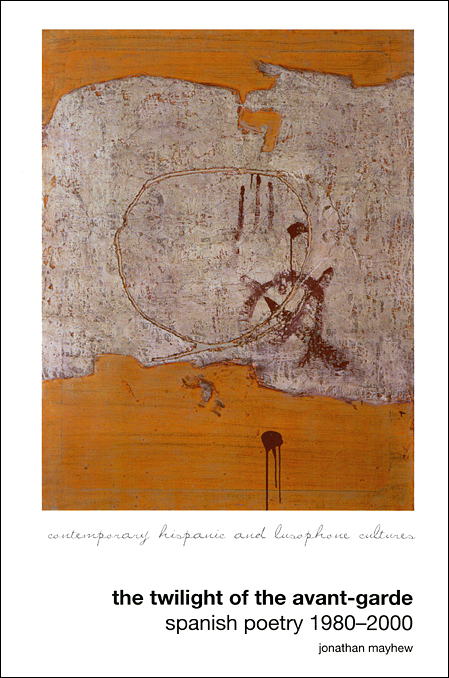 A PDF version of this book is available for free in open access via the OAPEN Library platform.  Please click
here
for a free copy.
Distributed for Liverpool University Press
192 pages | 6 x 9 | © 2009
Twilight of the Avant-Garde addresses the central problem of contemporary Spanish poetry: the attempt to preserve the scope and ambition of modernist poetry at the end of the twentieth century. Offering a critical analysis of Luis Garcìa Montero's "poetry of experience," and the work of José Angel Valente and Antonio Gamoneda, among others, Mayhew challenges received notions about the value of poetic language in relation to the society and culture at large. Ultimately championing the survival of more challenging and ambitious modes of poetic writing in the postmodern age, this volume argues that the cultural ambition of modernist poetics remains alive and well in our age of cynicism.
Contents
Acknowledgments
Preface
Part One: The Avant-Garde and its Discontents: The Place of Poetry in Contemporary Spanish Culture
1    Aesthetic Conservatism in Recent Spanish Poetry
2    Three Apologies for Poetry
3    Poetry, Politics, and Power
Part Two: Valente, Gamoneda, and the "Generation of the 1950s"
4    In Search of Ordinary Language: Revisiting the "Generation of the 1950s"
5    José Angel Valente's Lectura de Paul Celan: Translation and the Heideggerian Tradition in Spain
6    Antonio Gamoneda's Libro de los venenos: The Limits of Genre
Part Three: Women Poets of the 1980s and 1990s
7    Gender Under Erasure (Amparo Amorós, Luisa Castro)
8    Desire Deferred: Ana Rossetti's Punto umbrío
9    Concha García: The End of Epiphany
10  Lola Velasco's El movimiento de las flores and the Limits of Criticism
Afterword
Bibliography
Index
For more information, or to order this book, please visit http://www.press.uchicago.edu
Google preview here
Literature and Literary Criticism: Poetry