---
The Prosecutor and the Judge
Benjamin Ferencz and Antonio Cassese - Interviews and Writings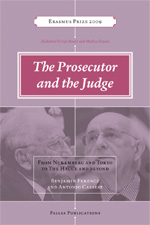 200 pages | 6 3/10 x 9 1/2 | © 2009
Earlier this year, the Praemium Erasmianum Foundation bestowed its annual award—the Erasmus Prize—on Benjamin Ferencz and Antonio Cassese, two pioneers in the field of international law. Ferencz, a leading American prosecutor, author, and lecturer, was present at the American war crimes trials in Dachau and was the chief prosecutor in the Einsatzgruppen trials in Nuremburg. Like Ferencz, Cassese was a key figure in the development of international criminal law, serving as the first president of the International Criminal Tribunal for the former Yugoslavia and president of the European Committee for the Prevention of Torture, and chairman of the UN Commission of Inquiry into Violation of Human Rights and Humanitarian Law in Darfur. Cassese is currently the president of the Special Court for Lebanon.
                
In The Prosecutor and the Judge, Heikelina Verrijn Stuart and Marlise Simons provide in-depth, revealing interviews with these two advocates of international law. Supplementing the interviews are several key articles written by Ferencz and Cassese that highlight the two men's achievements and set the development of international law in context.
Table of Contents
Contents
Preface, meeting Benjamin Ferencz and Antonio Cassese
Heikelina Verrijn Stuart
The Prosecutor: Interview with Benjamin Ferencz
Heikelina Verrijn Stuart and Marlise Simons
The Judge: Interview with Antonio Cassese
Heikelina Verrijn Stuart and Marlise Simons
BENJAMIN FERENCZ
Removing the Lock from the Courthouse Door
Reconciling Legitimate Concerns
Compensating Victims of the Crimes of War
Seeking Redress for Hitler's Victims (1948-1956)
ANTONIO CASSESE
Soliloqui
My Early Years: Hesitating between Law and Humanities
Reflections on the Current Prospects of International Criminal Justice
Is the Bell Tolling for International Universality?
A Plea for a Sensible Notion of Universal Jurisdiction
Index
Review Quotes
Robert Cryer | Journal of Conflict and Security Law
"[The book] is a fitting tribute to two people who can be said to personify . . . the discipline of international criminal law. . . . What comes across in the interviews with both of these doyens of the subject is the human side of international criminal law. It is often asked if international criminal law offers 'humanity's justice.' What this much deserved tribute to two of the greats of international law provides is that whether or not international criminal law is humanity's justice, it is also human justice, with all the pros and cons that entails."
For more information, or to order this book, please visit http://www.press.uchicago.edu
Google preview here