---
Hiding Making - Showing Creation
The Studio from Turner to Tacita Dean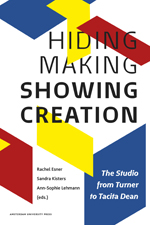 216 pages | 45 halftones | 6 x 9
The artist, at least according to Honoré de Balzac, is at work when he seems to be at rest; his labor is not labor but repose. This observation provides a model for modern artists and their relationship to both their place of work—the studio—and what they do there. Examining the complex relationship between process, product, artistic identity, and the artist's studio—in all its various manifestations—the contributors to this volume consider the dichotomy between conceptual and material aspects of art production. The essays here also explore the studio as a form of inspiration, meaning, function, and medium, from the nineteenth century up to the present. 
Table of Contents
Contents
Foreword
Introduction
Rachel Esner, Sandra Kisters, Ann-Sophie Lehmann
 
PART I
Introduction: Old and New Studio Topoi in the Nineteenth Century
Sandra Kisters
1. Studio Matters: Materials, Instruments and Artistic Processes
Monika Wagner
2. Jean-Léon Gérôme, His Badger and His Studio
Matthias Krüger
3. Showing Making in Courbet's The Painter's Studio
Petra Ten-Doesschate Chu
4. Making and Creating. The Painted Palette in Late Nineteenth-Century Dutch Painting
Terry Van Druten
5. 14, rue de La Rochefoucauld. The Partial Eclipse of Gustave Moreau
Maarten Liefooghe
6. The Artist as Centerpiece. The Image of the Artist in Studio Photographs of the Nineteenth Century
Mayken Jonkman
 
PART II
Introduction: Forms and Functions of the Studio from the Twentieth Century to Today
Rachel Esner
7. The Studio as Mediator
Frank Reijnders
8. Accrochage in Architecture: Photographic Representations of Theo van Doesburg's Studios and Paintings
Matthias Noell
9. Studio, Storage, Legend. The Work of Hiding in Tacita Dean's Section Cinema (Homage to Marcel Broodthaers)
Beatrice Von Bismarck
10. The Empty Studio: Bruce Nauman's Studio Films
Eric de Bruyn
11. Home Improvement and Studio Stupor. On Gregor Schneider's (Dead) House ur
Wouter Davidts
12. Staging the Studio: Enacting Artful Realities through Digital Photography
Sarah de Rijcke
 
Epilogue: "Good Art Theory Must Smell of the Studio"
Ann-Sophie Lehmann
 
Index
Review Quotes
Choice
"[A] valuable collection of case studies. . . . Recommended."
For more information, or to order this book, please visit http://www.press.uchicago.edu
Google preview here