---
How Democracy Works
Political Representation and Policy Congruence in Modern Societies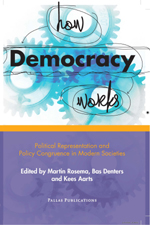 280 pages | 9 1/2 x 10
In this book, a group of leading scholars analyzes the functioning of modern democracies by focusing on two basic principles: political representation and policy congruence. Drawing on recent survey data from a variety of national and international research projects, they demonstrate how political representation works and mostly leads to a fair degree of policy congruence between citizens and their representatives. They also present new insights on the sources of satisfaction with democracy and the impact of the economy on elections and political trust.
 This book is published on the occasion of the retirement of Jacques Thomassen as distinguished professor of political science at the University of Twente. The contributors include Russell Dalton, Hans‐Dieter Klingemann, Pippa Norris, Ola Listhaug, Hanne Marthe Narud, Jan van Deth, Peter Mair, Cees van der Eijk, Hermann Schmitt, Sören Holmberg and Rudy Andeweg.
 
Martin Rosema, Bas Denters and Kees Aarts are affiliated with the Centre for the Study of Democracy (CSD) and the Institute for Innovation and Governance Studies (IGS) at the University of Twente.
Table of Contents
Contents
Preface
1 How Democracy Works: An Introduction
   Martin Rosema, Kees Aarts and Bas Denters
2 The Dynamics of Political Representation
   Russell J. Dalton, David M. Farrell and Ian McAllister
3 Approaching Perfect Policy Congruence: Measurement, Development, and Relevance for    Political Representation
   Rudy B. Andeweg
4 Dynamic Representation from Above
   Sören Holmberg
5 Is Governing Becoming more Contentious?
   Peter Mair
6 Democratic Congruence Re-Established: The Perspective of 'Substantive' Democracy
   Christian Welzel and Hans-Dieter Klingemann
7 Does Democratic Satisfaction Reflect Regime Performance?
   Pippa Norris
8 Citizens' Views about Good Local Governance
   Bas Denters, Oscar Gabriel and Lawrence E. Rose
9 Patterns of Party Evaluations
  Kees Aarts and Bernt Aardal
10 The Electoral Consequences of Low Turnout in European Parliament Elections
   Cees van der Eijk, Hermann Schmitt and Eliyahu V. Sapir
11 Assessing the Quality of European Democracy: Are Voters Voting Correctly?
  Martin Rosema and Catherine E. de Vries
12 The Impact of the Economic Crisis in Europe: ''I'm doing fine''
  Jan W. van Deth
13 The Changing Macro Context of Norwegian Voters: From Center-Periphery Cleavages to     Oil Wealth
   Ola Listhaug and Hanne Marthe Narud
List of Contributors
Appendix: Publications by Jacques Thomassen
References
For more information, or to order this book, please visit http://www.press.uchicago.edu
Google preview here