---
The Essential Shakespeare Live Encore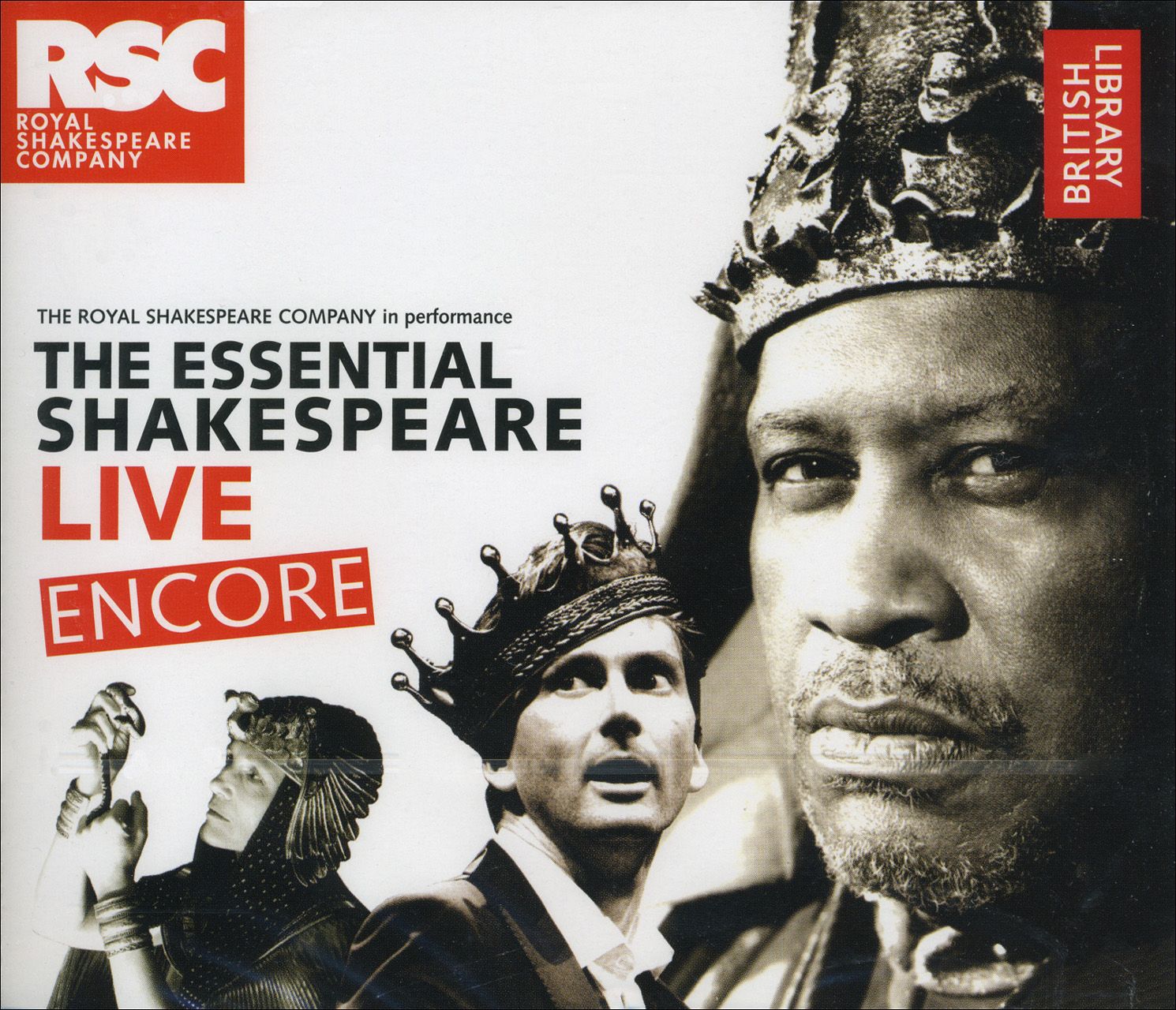 2 CDs with booklet
The British Library and the Royal Shakespeare Company (RSC) join forces to publish this remarkable audio treasury of live Shakespearian performances. Selected from an extensive collection of recordings made by the British Library Sound Archive, these two double CD sets offer scenes and speeches from some of the most celebrated Shakespeare productions in the history of the Royal Shakespeare Company. The extracts cover almost half a century of productions, from Laurence Olivier as Coriolanus in 1959 to Ian McKellen as King Lear in 2007.  Both Essential Shakespeare Live and Essential Shakespeare Encore! also include booklets that reproduce the play-text of each recorded extract in full along with introductions by Gregory Doran, Chief Association Director of the RSC.
      On Essential Shakespeare Encore! the roll-call of prestigious portrayals runs from Paul Robeson's legendary Othello in 1959 to David Tennant's highly-acclaimed Hamlet in 2008. Among the other memorable productions are Peter Hall's Henry IV Part 1, Trevor Nunn's The Winter's Tale, John Barton's The Merchant of Venice, Adrian Noble's Macbeth, Sam Mendes's Troilus and Cressida, and the recent Histories cycle of Michael Boyd. Notable actors include Ian Holm, David Suchet, Juliet Stevenson, Ian Richardson, Jonathan Pryce, Simon Russell Beale, Harriet Walter, Patrick Stewart, and Ian McKellen.
Table of Contents
Contents
2 Discs - 147 minutes

Actors include:

Sinead Cusack
Judi Dench
Ray Fearon
Alan Howard
Ian Holm
Ben Kingsley
Jane Lapotaire
Anton Lesser
Ian McKellen
Jonathan Pryce
Ian Richardson
Paul Robeson
Juliet Stevenson
Patrick Stewart
David Suchet
David Tennant
Harriet Walter

Plays include:

Cymbeline
Hamlet
Henry V
King John
King Lear
Love's Labour's Lost
Macbeth
A Midsummer Night's Dream
Much Ado about Nothing
Othello
Pericles
The Taming of the Shrew
The Winter's Tale
Timon of Athens
Review Quotes
Plays International
"It was a superb idea first time round and continues to be so. . . . There are so many good things here."
Telegraph (UK)
"What a treasure trove these discs prove for lovers of Shakespare and great acting. In the new volume you can hear Paul Robeson's magically voiced Othello, still sounding wonderfully fresh and sonorous 50 years on, and time travel through the decades right up to David Tennant's Hamlet last year, with its magical mixture of sharp intelligence, humour, and depth of feeling. . . I cannot recommend them too highly to anyone who loves Shakespeare."
For more information, or to order this book, please visit http://www.press.uchicago.edu
Google preview here