---
Top 40 Democracy
The Rival Mainstreams of American Music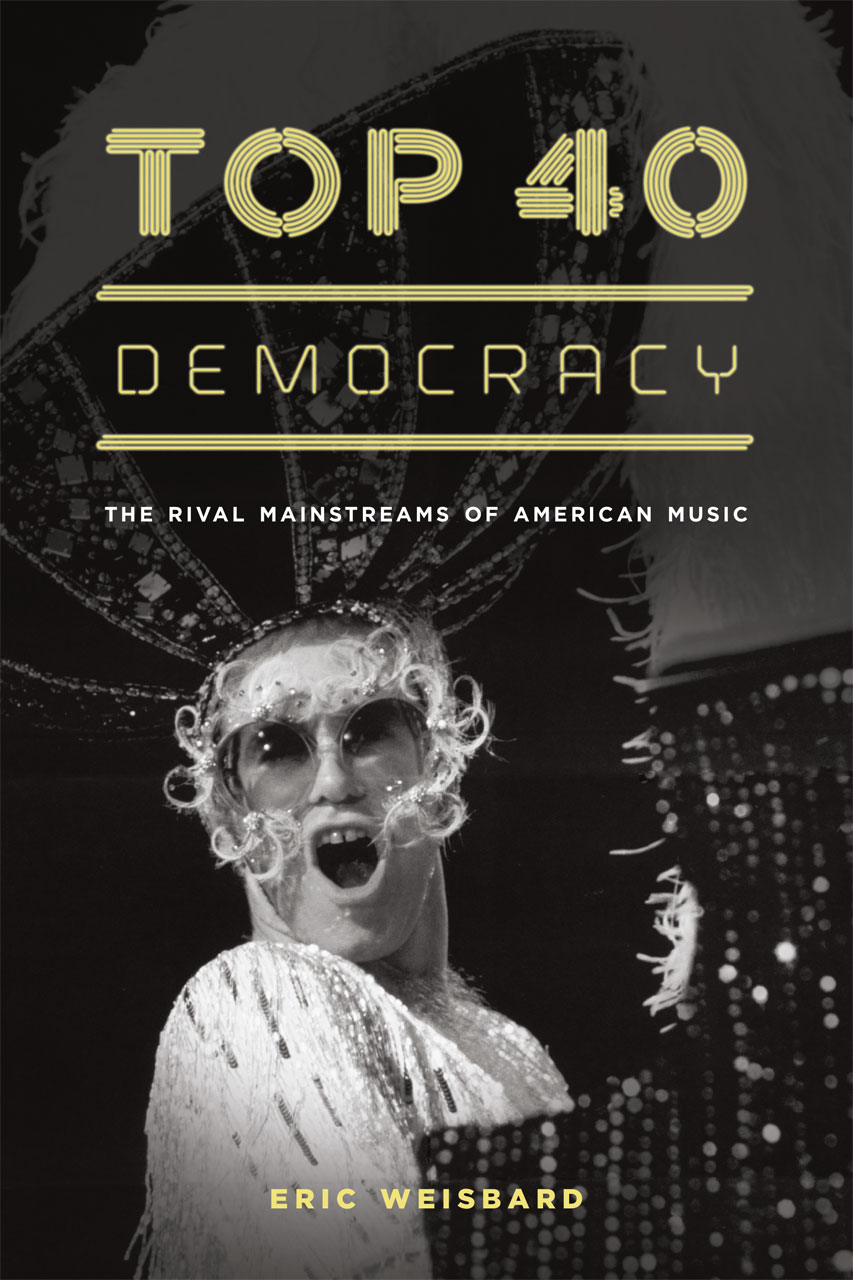 312 pages | 30 halftones | 6 x 9 | © 2014
If you drive into any American city with the car stereo blasting, you'll undoubtedly find radio stations representing R&B/hip-hop, country, Top 40, adult contemporary, rock, and Latin, each playing hit after hit within that musical format. American music has created an array of rival mainstreams, complete with charts in multiple categories. Love it or hate it, the world that radio made has steered popular music and provided the soundtrack of American life for more than half a century.

In Top 40 Democracy, Eric Weisbard studies the evolution of this multicentered pop landscape, along the way telling the stories of the Isley Brothers, Dolly Parton, A&M Records, and Elton John, among others. He sheds new light on the upheavals in the music industry over the past fifteen years and their implications for the audiences the industry has shaped. Weisbard focuses in particular on formats—constructed mainstreams designed to appeal to distinct populations—showing how taste became intertwined with class, race, gender, and region. While many historians and music critics have criticized the segmentation of pop radio, Weisbard finds that the creation of multiple formats allowed different subgroups to attain a kind of separate majority status—for example, even in its most mainstream form, the R&B of the Isley Brothers helped to create a sphere where black identity was nourished.  Music formats became the one reliable place where different groups of Americans could listen to modern life unfold from their distinct perspectives. The centers of pop, it turns out, were as complicated, diverse, and surprising as the cultural margins. Weisbard's stimulating book is a tour de force, shaking up our ideas about the mainstream music industry in order to tease out the cultural importance of all performers and songs.
Table of Contents
Contents
Introduction

Chapter 1. It's Whose Thing?: The Isley Brothers and Rhythm and Blues
Chapter 2. Duets with Modernity: Dolly Parton and Country
Chapter 3. Contemporary Adults: A&M Records and Middle of the Road
Chapter 4. Madman across the Water: Elton John and Top 40
Chapter 5. The Wrath of the Buzzard: WMMS and Rock
Chapter 6. This Generation's Radio: Music Formats in the Early 2000s

Acknowledgments
Notes
Index
Review Quotes
Wall Street Journal
"Consistently provocative and engaging. Compared with record producers, broadcasters have been shown limited respect by both scholars and critics, and Weisbard's book deserves much praise simply for taking them seriously. His pointed business narrative gives a fascinating look at how programming decisions actually get made, and unmade."
Simon Frith, author of Taking Popular Music Seriously
"Weisbard was a smart music journalist and is an even smarter music academic. I used to read his reviews and feel compelled to listen to music I didn't know. Reading this book compelled me to rethink music I thought I knew only too well. Weisbard's history of the mainstreams of American popular music and his analysis of the surprising complexities of American format radio is persuasive and entertainingly detailed. As an account of the cultural and political effects of the kind of commercial pop music that is usually taken for granted, Top 40 Democracy shows eloquently and exuberantly why pop music must be central to our understanding of social history."
Pitchfork
"Smart but not inaccessibly so. . . . In Weisbard's view, Top 40 isn't simply the place where Rick Dees and Casey Kasem's voices oozed from transistors, but a vast virtual stage for Elton John to import a brash British pop sensibility to American rock audiences, queering the top of the pop charts long before he was out of the closet."
Karl Hagstrom Miller | University of Texas at Austin
"Combining a close attention to sound, money, demographics, and the ties that bound them together in an ever-shifting constellation of radio formats since the 1970s, Weisbard brilliantly rewrites pop music as we know it. Weisbard is one of our top pop music scribes, and Top 40 Democracy is the best kind of revisionist history. It takes something familiar and makes it strange again. It enables us to listen with fresh ears and find beauty and meaning in music too often dismissed for lacking both. I wanted to turn it up and sing along at the top of my lungs."
Carl Wilson, author of Let's Talk About Love: Why Other People Have Such Bad Taste
"Forget the canonical version of pop's past and learn to think like a radio, that surprisingly persistent force in shaping our listening lives. It can tame and it can maim, but it adds a jostling vitality that crackles with the tensions of history. Weisbard is a wide-viewed, big-eared, provocative analyst of how it's all worked via fickle formats, tuned-in stars who've never received such smart critical attention (Dolly! Elton! The Isleys! Herb Alpert!), 'record men,' meathead rock jocks, and more. There's a fact or insight on every page that will spin your dial. So you better do as you are told: you better read about your radio."
Diane Pecknold, author of The Selling Sound: The Rise of the Country Music Industry
"This spin around the radio dial is an engrossing, unpredictable tour of the multiplicity of imagined communities inhabiting the pop mainstream, and Weisbard's innovative theorizing of format as an alternative to genre logic transforms the idea of a Top 40 democracy from a utopian metaphor into a material political economy. It's a book for everyone who takes music seriously and every auto executive who would consider producing a car without a radio receiver."
Rob Sheffield, author of Love Is A Mix Tape and Turn Around Bright Eyes
"A brilliantly expansive tour of American pop radio, in all its sleaze and conflict, as a fantasy republic that stretches through the nation. Eric Weisbard, a true scholar and a true fan, masterfully follows the yellow brick road through the boomtowns and wastelands of American culture, from Vegas to Dollywood, with revelatory and challenging insights about how these competing musical visions both unite and divide."
Planet Weekly
"[A] sharp, detailed history. . ."
Corduroy Books
"Top 40 Democracy is not only smart and interesting and fun, but insightful, and done in such a way that makes how much you learn from it feel as surprising as discovering Doritos-flavored broccoli."
Rain Taxi
"Inventively researched and subtly argued."
Journal of American History
"Rare is the scholar who is willing to make a signifi­cant case for mainstream acts or labels. In this sense, Weisbard's Top 40 Democracy is an ambitious corrective. . . . Weisbard provides a significant illu­mination of a slice of American popular his­tory."
Popular Music
"Top 40 Democracy is rooted in a cultural studies tradition that advocates the progressive and political nature of popular culture. From this perspective, Weisbard challenges the tendency to frame rock (and its subgenres) as a force of authenticity and supremacy over popular or mainstream culture. Citing recent debates and questions about rockism and poptimism, Weisbard critiques our affinity for identifying with genres over formats. After all, formats are a means by which to reach listeners."
For more information, or to order this book, please visit http://www.press.uchicago.edu
Google preview here